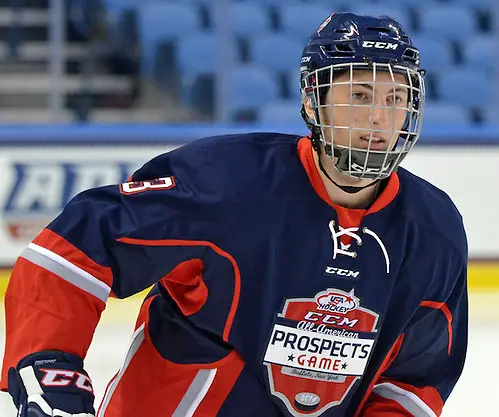 Zach Werenski had hardly settled into his new surroundings in Ann Arbor, Mich., when he had his "Welcome to the Wolverines" moment.
The raw, 17-year-old freshman defenseman had barely broken a sweat in his initial Michigan practice session when onto the ice stepped Wolverines hockey incarnate, legendary coach Red Berenson.
What had already been a brisk skate suddenly approached warp speed when Berenson, 74 years old and still going strong, took his first glance of his 31st Michigan squad.
"When Coach Berenson stepped on the ice," said Werenski, who will be the youngest ever to don the Maize and Blue in the Berenson era, "I had to say I was pretty nervous. It was pretty intimidating. You could see the tempo in practice pick up."
Being the native Michigander (Grosse Pointe) that he is, Werenski really didn't need any introduction to the man who has guided the Wolverines since 1984, a full 13 years before Werenski was born.
Still, the thought of sharing the same ice as Berenson was enough to give him pause.
"Him being such a hockey legend," said Werenski, "he's been around forever, it seems like. He's a great coach and has won so many games. You hear about him so much, being from Michigan. When you talk about college hockey, [he's] the first thing that comes to my mind. And now I'm going to get to play for him. It's just an honor."
And in some ways, a unique one.
Most Division I recruits will spend an extra year or two in junior leagues such as the USHL or NAHL to get varsity-ready.
This, however, is a year like none other.
Bright and talented youngsters such as Werenski, Jack Eichel (Boston University) and Noah Hanifin (Boston College) all will make their college debuts this fall after cramming an entire senior year of high school into one hectic summer.
In Werenski's case, it was Berenson and his staff who first suggested that he hit the academic accelerator.
"It was a lot of thought that went into it," Werenski said before playing in the USA Hockey All-American Prospects Game in Buffalo, N.Y. "On our end and on their end. I think they [the Wolverines] had to have trust in me to finish school as an underager, and play as a freshman. They were comfortable with that.
"They thought I was ready to do that and asked me to come in early. Me and my family thought about it. We knew it would be tough at first, with all the summer school I would have had to take. But once we thought about it a little bit more, we knew it was where I wanted to be."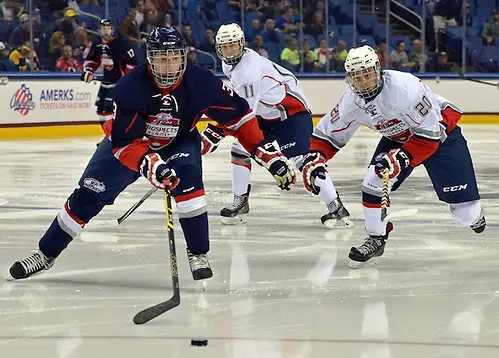 Once that was decided, Werenski stayed in Ann Arbor, where he spent last year split between the NTDP Junior and National U-17 teams, and began to cram, cram and cram some more.
And yet he still found time to skate and work out, and sleep, too.
If there were 25 hours in a day, Werenski would have had no trouble filling the extra hour.
"That's pretty much what my summer consisted of," he said. "I finished that the day I moved onto campus. I was pretty relieved to have it all done."
Now, of course, comes the real work, as Werenski fights to earn his spot on a Michigan defense that already boasts returnees Michael Downing, Brennan Serville and Nolan De Jong, all of whom are NHL draftees.
Werenski is eligible for the 2015 draft, and he knows that with a strong first year he will make himself a desirable commodity. The eighth-ranked Wolverines open the season Saturday at No. 9 Ferris State.
After all, what NHL team wouldn't want a shot at a big (6-foot-2, 215 pounds) puck-moving blue liner like Werenski?
Even so, Werenski knows that putting that kind of pressure on his shoulders isn't going to get him any more ice time or help him help get Michigan back to the NCAA tournament.
"I'm just going out there and [playing] my game," he said. "Hopefully the coaches like it. I'm hoping to be an impact player this year. There's a great group of 'D' and I'm going to have to work my way into it. I think I can do that. I think I'm capable of it."