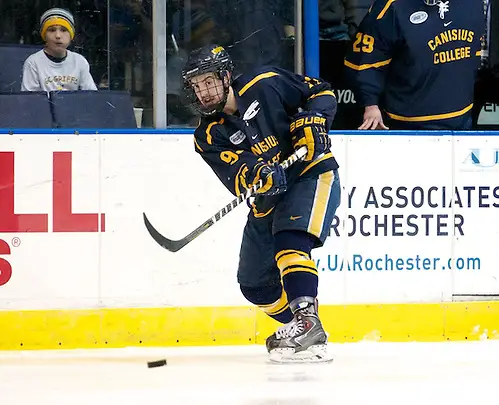 After coming from a seventh-place regular season finish in 2012-13 to win the playoff championship and advance to the NCAA tournament for the first time, Canisius almost did it again last season.
As Robert Morris got hot at the end of last season and pulled off playoff upset after upset along the way, the Colonials sometimes were referred to as "this year's Canisius."
But the Golden Griffins were a game away from also being "this year's Canisius," taking out Bentley on the road in a wild three-game series and then top-seeded Mercyhurst in double overtime in the semifinals.
While Robert Morris was the lone Cinderella standing after a 7-4 win over Canisius in the Atlantic Hockey championship game, the Griffs look to build on two straight trips deep into the postseason as well as a shiny new arena to continue to reach new milestones under coach Dave Smith.
A new home, Buffalo's HarborCenter, brings Canisius hockey to downtown Buffalo, right next door to the Sabres.
"I just had a walk through of the HarborCenter and it's fantastic," Smith said during a preseason coaches conference call. "We're very excited to call it home."
A new facility — Canisius had played most of its home games at Buffalo State for the past 15 years — is another page to turn for the Griffins, who at the end of last season said farewell not only to their old digs, but to three players that defined the program over the previous four seasons.
Forward Kyle Gibbons (152 career points), defenseman Ben Danford (played in all 158 games during his career) and goaltender Tony Capobianco (a school-record .920 career save percentage) are gone, but Smith said there are others ready to pick up the mantle.
"[Gibbons, Danford and Capobianco] were given opportunities and they capitalized on them," he said. "But behind those players there's another layer that can rise to the top. [Junior forward] Ralph Cuddemi quietly was tied for our lead in goals (15) last season. [Junior defenseman] Chris Rumble is a great story, coming back from leukemia. He has the opportunity to fill Ben Danford's shoes. And Keegan [Asmundson], if you look at his numbers [in goal], he was better than Capo last season."
Canisius returns what Smith considered to be his top line last season: Cuddemi, junior Mitch McCrank and sophomore Shane Conacher. They combined for 30 goals and 50 points last year.
"We're looking for those guys to continue," he said. "We all talk about how tight this league is and that's why we rely on our returning guys to set the tone, especially early in the season."
Eight freshmen will lace them up for the Golden Griffins this season, and Smith has liked what he's seen so far.
"We had a great recruiting class," he said. "We can't win without our freshmen. If you don't get enthusiasm and energy from your freshmen, you're missing something.
"That said, we need our experienced players to set the tone."
About the Golden Griffins
2013-14 overall record: 17-21-3
2013-14 AHA record: 11-13-3 (tie, seventh)
2014-15 predicted finish (coaches poll): Sixth
Key losses: F Kyle Gibbons, D Ben Danford, G Tony Capobianco
Players to watch: F Keegan Asmundson, F Ralph Cuddemi, F Mitch McCrank
Impact rookie: Ryan Schmelzer is one of several Canisius rookies who put up good numbers in juniors. The Cleveland native racked up 138 points in three seasons with the Buffalo Jr. Sabres, captaining the team last season.
Why the Golden Griffins will finish higher than the coaches poll: The Griffs have exceeded expectations the past two seasons. Why not again?
Why the Golden Griffins will finish lower than the coaches poll: Canisius has a lot coming back, but it may take time for players to step into new roles.