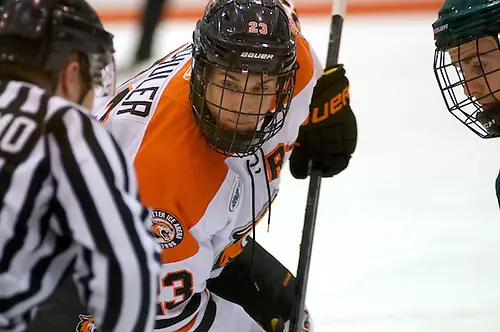 For Rochester Institute of Technology, one poor season could be chalked up as an aberration, but two in a row begins a trend that the Tigers would like to put to an end.
RIT had finished no lower than third in its first six seasons in Atlantic Hockey, but wound up in seventh place in 2013 and ninth last season.
A large freshman class and a new arena, the spacious Gene Polisseni Center, are two reasons to give the Tigers what they hope is a clean slate.
"Last year left a bad taste in our mouths in terms of where we finished and how the season ended," said coach Wayne Wilson, whose team lost in overtime in a deciding third game of a first-round playoff series at Holy Cross.
On the league's media day, Wilson was upbeat and excited to talk about new players and a new home, which officially opens for his team on Oct. 10 against St. Lawrence. The $38 million Polisseni Center has twice the capacity of Ritter Arena, the Tigers' former digs.
"It's been great to call [the Polisseni Center] home and be able to practice there and getting settled in," Wilson said. "The buzz has been justifiable. It's a great facility."
While the new arena has a lot of bells and whistles, it's the basics that RIT needs to attend to on the ice. The Tigers' special teams were a bright spot last season, combining for seventh-best in the nation. But RIT struggled to score at even strength, and its defense finished the year 51st out of 59 teams in Division I.
Wilson's large sophomore class had a baptism by fire as rookies in 2013-14, but the Tigers should benefit this year from the experience.
"I like our chemistry so far," he said. "We're extremely deep on defense. Greg Amlong [a transfer from Massachusetts-Lowell] is going to be eligible to play this season, and that gives us a boost."
There are no senior blueliners for the Tigers this season, as Amlong, a junior, joins classmates Alexander Kuqali and Brad Shumway as the most experienced defensemen. There are three rookie defensemen for the Tigers this season, including identical twins Chase and Brady Norrish.
Up front, the Tigers return two of their top four goal scorers from last season: sophomore Todd Skirving (8 goals) and junior Dan Schuler (a team-leading 13 goals). Also back is senior forward Matt Garbowsky, who was sidelined eight games into last season and didn't return until March.
"We're expecting big things from [Garbowsky]," said Wilson. "He was our leading scorer heading into last season, and he was our leading scorer when he got hurt. He's one of the top forwards in the league."
As usual, goaltending will be key, and the Tigers return a netminding corps that struggled to find its rhythm in 2013-14. Both senior Jordan Ruby and sophomore Mike Rotolo had stretches of quality play, but also several games where they struggled.
Wilson again is looking for someone to take the reins this season.
"Whoever plays well is going to get more chances," said Wilson. "It's as simple as that. "Whoever gets into the net first, expect to play again if they play well, and if they don't expect to give someone else the opportunity."
The Tigers open the season with a difficult stretch that includes St. Lawrence, Clarkson, Boston College and then road series at Air Force and Robert Morris.
"It's a great proving ground for us early," said Wilson. "We're obviously going to be tested. We'll have a real good idea of where we stand."
About the Tigers
2013-14 overall record: 12-20-5
2013-14 AHA record: 10-14-3 (ninth)
2014-15 projected finish (coaches poll): Seventh
Key losses: F Michael Colavecchia, D Greg Noyes, F Ben Lynch
Players to watch: F Matt Garbowsky, F Dan Schuler, F Todd Skirving
Impact rookie: Identical twins Brady and Chase Norrish were each highly decorated blueliners for Yorktown in the SJHL.
Why the Tigers will finish higher than the coaches poll: A shiny new rink makes it easier for the Tigers to put last season's disappointments behind them.
Why the Tigers will finish lower than the coaches poll: The Tigers return the same goaltending corps that didn't see a leader emerge last season.