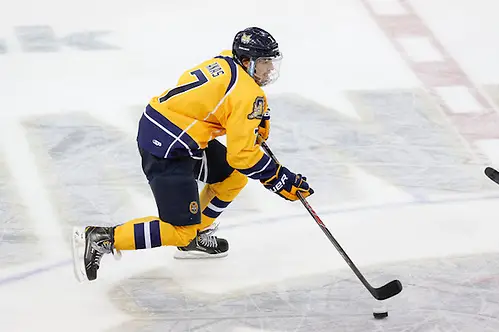 Quinnipiac coach Rand Pecknold has been here before. A year after losing 11 players from the 2012-13 Frozen Four team, the Bobcats once again enter the year minus a number of key producers.
Gone are twins Kellen and Connor Jones, along with sniper Jordan Samuels-Thomas. Junior Bryce Van Brabant turned a breakout junior season into a professional contract with Calgary and became the first Quinnipiac player to play in the NHL.
Forward Cory Hibbeler and defensemen Zach Tolkinen might not have gotten the same recognition as the aforementioned players, but each was a solid contributor as well.
"We're young and we're probably going to have some growing pains," said Pecknold, whose team has 18 freshmen and sophomores.
But the Bobcats have several veteran forwards coming back, including the dynamic Matthew Peca and junior Travis St. Denis, who almost doubled his point production from his freshman to sophomore year. They're joined by sophomore Sam Anas, whose 22 goals were tops in the nation among rookies last season.
"Sam looks great," Pecknold said. "He put on 11-12 pounds of muscle and beefed up this summer. I don't know if he'll have as many points, but he'll be a more well-rounded player. He's someone we're going to count on heavily."
After ending last season with Connor and Kellen Jones, Anas starts on a line with Peca at center, and a to-be-determined player at the other wing.
"There will be a line out the door of guys who want to play with those guys," Pecknold said.
Junior goalie Michael Garteig was steady in net last season and should have a strong defensive group in front of him this year. Senior Danny Federico has become one of the league's top defenders, while sophomores Connor Clifton, Derek Smith and Devon Toews took their bumps as freshman but also showed considerable promise. Toews was taken by the New York Islanders in the fourth round of June's NHL entry draft.
They'll be joined by New Hampshire transfer Justin Agosta, who had 26 points as a senior last year for the Wildcats and will use his last year of eligibility at Quinnipiac after not playing in any games as a freshman at UNH.
With a number of key offensive players gone, the Bobcats might not run off the scoring binges last year's team was capable of, but a deep and talented defense along with some returning high-end forwards should have Quinnipiac in the mix for a first-round bye and a third straight NCAA tournament appearance.
About the Bobcats
2013-14 overall record: 24-10-6
2013-14 ECAC Hockey record: 12-6-4 (third)
2014-15 predicted finish: Fifth in the coaches poll, third in the media poll
Key losses: F Connor Jones, F Kellen Jones, F Jordan Samuels-Thomas, F Cory Hibbeler, D Zach Tolkinen
Players to watch: F Matthew Peca, F Sam Anas, F Travis St. Denis, D Devon Toews, D Danny Federico
Impact rookies: F Tanner MacMaster, F Landon Smith
Why the Bobcats will finish higher than predicted: The defense and Garteig are strong, while whomever skates with Peca and Anas gives Quinnipiac one of the more dynamic lines in the nation.
Why the Bobcats will finish lower than predicted: Quinnipiac gets little offensive contributions from anyone other than Peca or Anas. Garteig and the defense can't bail the Bobcats out of every game.