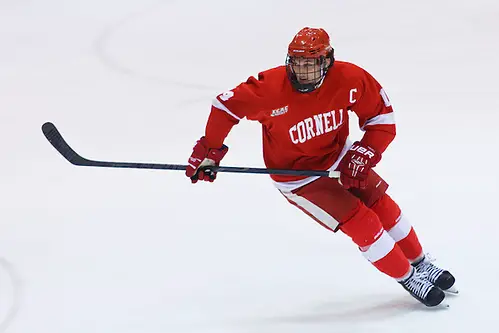 Cornell engineered another good-if-not-great campaign in 2013-14, achieving more or less what many observers expect out of the Big Red: A top-four finish and accompanying first-round bye, a second-round series victory (edging Clarkson) and a spot among ECAC Hockey's postseason final four.
With such a rich history and consistent recent success, it's not an exaggeration to say that anything less than a March trip to Lake Placid may be considered a disappointment in Ithaca.
On that note, while the Big Red did make it to the league semifinals for the eighth time in 10 years, they gutted out a number of tight, low-scoring games in order to get there, and they ultimately fell when their offense was unable to bail out an overmatched defense.
This time around, seasoned coach Mike Schafer knows that the offense will have to do more, especially in light of the early departure of top scorer Brian Ferlin (13 goals, 27 points in 32 games played).
"Brian was a great player, and he scored some big goals for us; you don't replace that kind of player automatically," Schafer said. "[Our returners and freshmen] need to score more goals this year."
Cornell's tri-captains this season are also three of last year's top six point-producers, and they will be expected to improve on last year's numbers.
Seniors Joakim Ryan (eight goals, 24 points), John McCarron (7, 24) and Cole Bardreau (7, 16) will guide a roster that returns three-quarters of its goal and point production from last year, having lost only five starters.
Beyond Ferlin, however, arguably an even greater loss is the graduation of 118-game goaltending fixture Andy Iles. The Ithaca native finished his career with a .917 save percentage and 2.26 GAA, not to mention nine shutouts.
Fortunately, Schafer has been around Cornell's golden goalie grove (see: LeNeveu, McKee, Scrivens) long enough to know that panic is neither an option nor a necessity. Sophomore Mitch Gillam served reliably as Iles' backup last season and likely will earn the first shot at the starter's role this fall.
"Over the course of time, it always seems that someone rises to the challenge," Schafer said. "You just hope it happens quick."
About the Big Red
2013-14 overall record: 17-10-5
2013-14 ECAC Hockey record: 11-7-4 (fourth)
2014-15 predicted finish: Third in the coaches poll, fourth in the media poll
Key losses: F Brian Ferlin, D Kirill Gotovets, G Andy Iles, F Dustin Mowrey
Players to watch: F Joel Lowry, F John McCarron, D Joakim Ryan
Impact rookies: F Jared Fiegl, F Dwyer Tschantz
Why the Big Red will finish higher than predicted: The traditional home of the collegiate über-goalie will bloom yet another, supporting the unproven offense until it can hit its stride.
Why the Big Red will finish lower than predicted: Goals won't come soon enough to stabilize the as-of-yet unproven goaltending, leading to a dreaded "gripping the stick" epidemic.