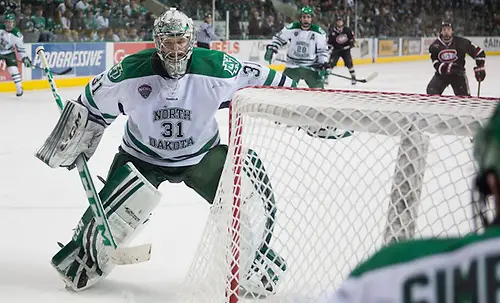 This time last year, amid the uncertainty of how the inaugural regular season of the NCHC would shake down, Miami was heralded as many media members' favorite to finish at the top of the pile.
The RedHawks did find themselves in the NCHC playoff final against Denver on March 22. Up until the postseason, however, it was a struggle — Miami picked up only six wins between Nov. 30 and March 7 en route to finishing the regular season in last place.
Even with that information in mind, many prognosticators are sticking to what they perceive to be their guns.
Alongside North Dakota and defending Penrose Cup champion St. Cloud State, the RedHawks are among the league media's favorites to finish the 2014-15 season on top. UND came in first in the league's preseason poll with 12 first-place votes, ahead of Miami with nine and St. Cloud State with three.
Minnesota-Duluth, Nebraska-Omaha, Western Michigan and Colorado College made up the poll's bottom half.
Going into last season, the consensus among the league's eight head coaches was that the NCHC would be balanced highly enough that every team would beat up on each other every week and that parity would win out.
In hindsight, it appears they were spot on.
St. Cloud State winning the regular season title wasn't at all unfathomable. However, having the Nos. 5 and 8 teams from the regular season take part in the NCHC's playoff championship game didn't seem to be in the script until that meeting at Minneapolis's Target Center actually happened.
"You look at the [league playoffs], and I think that's a pretty good indication," North Dakota coach Dave Hakstol said regarding the influence parity had on the NCHC's first season. "We went three games [at home against Colorado College] and had to scratch and claw just to get to the Target Center, and Miami comes in and upsets St. Cloud, and that was a different series with how close and tight everything was.
"I think that tells you a little bit about what the regular season is going to be like again this year. The nice thing for me is that, after [the preseason], the polls and all that stuff will be done and we can just go play."
Hakstol continued: "I think the polls are fun and they're great and they generate excitement and I don't mind talking about them. But now we can go play and prove who we are as a team and earn any accolades that there are out there and, boy, in this league, you're going to have to earn everything you get."
As to whether any of the NCHC's teams created separation from the rest of the pack last season that could be carried over into the new campaign, some coaches had more specific views than others.
When asked about it, Omaha coach Dean Blais didn't speculate on how his own team might stack up against the rest of the league. He did, however, get into particulars about what might happen among the Mavericks' rivals.
"Miami was picked I think first at the start of last year but had just everything go wrong for them and had one of their character players hurt," Blais said in assessing Miami's issues last season, including forward Blake Coleman missing a large chunk of the season due to injury.
"But now they have Riley Barber and Austin Czarnik back and they're All-Americans, and I wouldn't be surprised to see Miami turn things around a little and challenge North Dakota for the top spot.
"I don't think Denver can do it or Colorado College can do it, but I think St. Cloud might be able to push North Dakota and Miami, but we'll see."
Upon being asked the same question, Miami coach Enrico Blasi was significantly more guarded with his answer.
He couldn't be drawn on speculation as to whether last season's success stories in the NCHC could tell themselves over again in the new season. Instead, he referred to the perceived oddity of who the last two NCHC teams standing in Minneapolis last March were.
"You saw an eighth-place team play a fifth-place team in the final," Blasi said. "So you tell me."
If the NCHC will prove to be as unpredictable this season as the league's first campaign was in places, then Blasi's taking the right approach. Simply put, that logic states, we'll just have to wait and see what happens.
Listed below are links to USCHO's NCHC team previews, listed in alphabetical order (see below for predictions). Click on each school's name for a full team preview complete with capsule information.
The state of Colorado dropped its second college hockey coaching legend in as many years over the summer when CC parted ways with Scott Owens, but new coach Mike Haviland is confident that a fresh approach is what the Tigers need.
The Pioneers had a respectable 2013-14 season under first-year coach Jim Montgomery, but he hopes to address the consistency and offensive issues that combined to deal his team a bottom-half finish.
Enrico Blasi's RedHawks couldn't live up to the hype surrounding them last season after they were picked to finish first in the league, but with nearly all of its personnel from 2013-14 back and healthy, Miami is getting another shot to prove prognosticators right.
After finishing at the .500 mark last season both in the NCHC and overall, Scott Sandelin's Bulldogs are hoping to take a step forward this season and place UMD among its league's elite teams.
Dean Blais is welcoming to Omaha arguably the best freshman class in program history, but the Mavericks veterans may need to hold down the fort until the newcomers get fully up to speed.
Following the devastation of losing the national semifinal game in the final second, UND is motivated to finish its business this time around.
The Huskies have huge shoes to fill following the departures of Hobey Baker Award finalist Nic Dowd and starting goaltender Ryan Faragher, but several key pieces of perhaps the NCHC's best team last season are back.
The Broncos' two leading scorers from last season both departed and there's a battle for the starting goaltender job in Kalamazoo, but despite all that, Western could again prove to be a tough out for its opponents.
Candace Horgan's picks
1. Miami
2. North Dakota
3. St. Cloud State
4. Minnesota-Duluth
5. Denver
6. Nebraska-Omaha
7. Western Michigan
8. Colorado College
Matthew Semisch's picks
1. Miami
2. North Dakota
3. St. Cloud State
4. Minnesota-Duluth
5. Nebraska-Omaha
6. Denver
7. Western Michigan
8. Colorado College