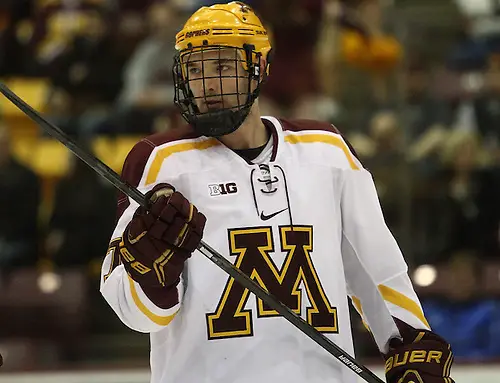 Minnesota fell one win short of the ultimate goal last season.
Bring back the nucleus of the team, subtract a couple role players, add some highly touted freshmen, and it's hard to see a reason why the Gophers won't have a similar opportunity this season.
The Gophers had a younger team going into 2013-14, with multiple early departures from the season before. That meant that the typical sky-high expectations in the Twin Cities weren't quite as lofty.
That is not the case this year.
"Well, I think in our program there's always going to be expectations," coach Don Lucia said at the Big Ten media day in late September. "You try to put that on the back burner, and we always talk about the process of getting better during the course of the season."
One thing that could help Minnesota live up to those expectations is the same thing that helped last season when the younger players were getting acclimated to the game early in the season: The Gophers have the conference's reigning top goaltender in Adam Wilcox.
Lucia said that on a team where any player could step up and score a big goal, Wilcox was the constant last season.
Minnesota dodged the early departure bullet this season. Kyle Rau, Mike Reilly, Brady Skjei and Wilcox all chose to not sign professional deals.
"We are fortunate that even though four guys had an opportunity to sign professional contracts, they all elected to return, which was good for us this past season," Lucia said. "I like the kids that we have on our team because they're pretty goal oriented and focused on doing what they can for the University of Minnesota, and I think that was a big reason why we had the kind of success that we had a year ago."
About the Golden Gophers
2013-14 record: 28-7-6
2013-14 conference record: 14-3-3 (first)
Predicted finish: First
Key losses: F Nate Condon, D Justin Holl, D Jake Parenteau, G Michael Shibrowski
Key returnees: F Kyle Rau, F Sam Warning, D Brady Skjei, D Mike Reilly, G Adam Wilcox
Impact rookies: F Leon Bristedt, D Ryan Collins, D Jack Glover, F Robin Höglund, D Steve Johnson, G Nick Lehr.
Why the Gophers will meet expectations set in the coaches poll: Minnesota is an experienced team that can get scoring from multiple different sources with a rock-solid goaltender.
Why the Gophers will finish lower than the coaches poll: Being the preseason favorite in not only the conference but the nation, Minnesota will get every team's A-game night in and night out throughout the season.