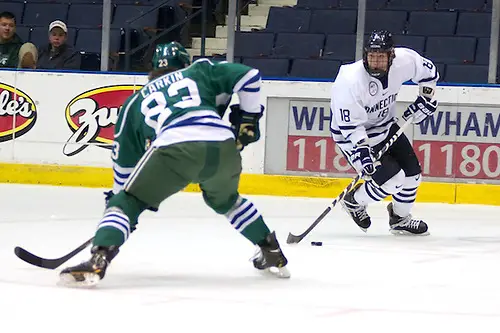 The Connecticut Huskies will be the new kids on the block in Hockey East this year, completing the league's two-year expansion after Notre Dame joined a season ago.
And while UConn will play the role of new kid, when it comes to Hockey East, there is a lot about the team that isn't so new.
The women's team was a founding member of Hockey East's women's conference. And men's coach Mike Cavanaugh is a familiar face in the league, having served as assistant and associate head coach under Jerry York at Boston College for 18 seasons.
That fact is something that Cavanaugh relishes after having led the Huskies through a single season in Atlantic Hockey following his move from BC.
"In some respects, the competition is going to be a much bigger challenge for us," said Cavanaugh, "but the preparation will be much easier than it was last year [in Atlantic Hockey].
"I had no idea who [some of the] players were. It was a league that I wasn't familiar with. But coming into this league, I've been away one year, but I still know who [BU's Matt] Grzelcyk or [Evan] Rodrigues is. I still know who [Providence's Mark] Jankowski or [Jon] Gillies is. From that standpoint, it's a much easier transition."
That said, there will be nothing easy about stepping up to Hockey East from a competitive standpoint. Without disrespect to Atlantic Hockey, nonconference records alone prove Hockey East's elevated level of play. That is an area where UConn will struggle early.
Cavanaugh will attempt to put forth a product that can compete and has had a year to recruit talent capable of winning in this league. But even in recruiting, there are disadvantages.
At least for a year or two, UConn will play its home games at the XL Center in Hartford, a venue 26 miles from the campus in Storrs, Conn. And while the students and fan base are accustomed to traveling for sports with the team's football stadium just outside of Hartford, there is a distinct difference in popularity for football versus hockey on that campus.
Still, Cavanaugh is quick to point out that Hockey East isn't just picking up a hockey team committed to success. It also inherits an athletic program that has long been a symbol of success throughout NCAA athletics.
"The one thing Hockey East is getting is a first-class athletic department," said Cavanaugh. "We have 19 national championships over four different sports. The athletic department has had a great tradition of success. The full support on campus, and from the alumni and fan base through the state, once hockey gets to Hartford, and they start seeing the competitive program we are fielding and the teams we are bringing it, I think it's going to be a hot ticket."
Still, the program on the ice needs to prove its mettle, and that starts with being competitive within the league. So is there a formula for success to do that in year one? According to Cavanaugh, it's in not looking too far ahead.
"We haven't set goals. I want to focus more on, 'What is going to be your commitment to the program?'" said Cavanaugh. "We have to stay away from looking at the whole Hockey East schedule and thinking, 'Oh my god, this is overwhelming,' and just play it one game at a time."
About the Huskies
2013-14 record: 18-14-4
2013-14 conference record: 15-9-3 (fourth in Atlantic Hockey)
2014-15 predicted finish (coaches poll): 12th
Key losses: F Billy Latta, F Brant Harris, F Jordan Sims, G Matt Grogan
Key returnees: G Rob Nichols, F Shawn Pauly, F Trevor Gerling
Why the Huskies will finish higher than predicted in the coaches poll: Coming into a new league is never easy, but coach Mike Cavanaugh, former longtime assistant at Boston College, probably knows more about Hockey East than the league the Huskies depart, Atlantic Hockey. That alone could be advantage enough.
Why the Huskies will finish lower than the coaches poll: You can't finish lower than the bottom, where UConn was picked, but obviously the step up to Hockey East could produce significant growing pains. It could be a very long season in Storrs.