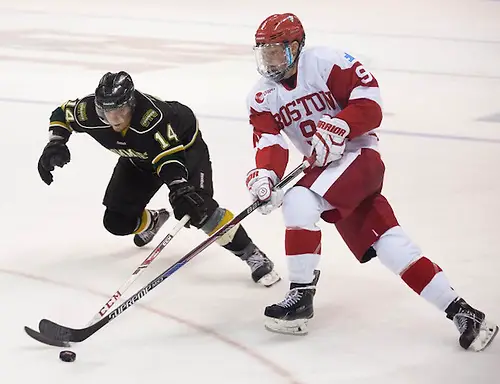 As one of the most highly touted rookies to enter Hockey East in recent memory, you knew that Jack Eichel would have a number of big games in the 2014-15 campaign.
What we might not have known is his first game would be one of them.
Eichel helped blow open what was a 2-1 game against Massachusetts after two periods last Friday night, combining with linemates Danny O'Regan and Ahti Oksanen to score four goals in less than 11 minutes in an 8-1 victory. He finished the night with two goals, two assists and a team-best plus-5 rating.
"Jack's a special player. We all know that," said BU coach David Quinn. "He did some pretty special things."
While Eichel was certainly headline-grabbing, Quinn left Friday feeling pretty good about a number of his players. O'Regan, who posted an impressive 38-point rookie campaign, dipped significantly last season, netting just 10 goals and 22 points. His two goals on Friday proved to Quinn that hard work put in during the offseason is paying dividends.
"Danny O'Regan's first goal [on Friday] was a great goal," Quinn said. "Danny's worked hard on his shot. Those two goals he scored [on Friday], I don't think he could've scored last year. You don't shoot a puck like that through osmosis. It takes a lot of hard work. He's put the work in. I'm happy to see him get rewarded for it."
The third member of that line, Oksanen, converted from defense to forward this season, something Quinn discussed with the junior at the conclusion of last season. It's a move Quinn is confident will pay off for his team and for Oksanen's future.
"[Ahti] and I spoke at length about [converting to wing] beginning last spring," said Quinn. "He had been here for two years and played a lot of hockey. Obviously, he's a very skilled and talented defenseman. I just thought with his skill set he'd be a better winger.
"He obviously has a desire to play in the National Hockey League, as do most Division I players. He and I talked about it and I said, 'It's been two years since you've been here and you haven't been drafted. With your skill set you'll be a better winger."
Friday also provided Quinn a first look in a game situation at rookie goaltender Connor LaCouvee. With Sean Maguire not returning this season, still suffering the effects of a concussion suffered late last season, it is critical that Quinn's Terriers team has additional support for returning junior Matt O'Connor.
"I thought [LaCouvee] played great. You win 8-1 and you don't mention your goalie," said Quinn. "But once it got to 5-1, I thought we got sloppy and all of a sudden they get some chances. It could've been 5-3 in a hurry but he bailed us out."
Interesting to note of Friday's win at UMass for the Terriers was that all 10 of the team's freshmen were in the lineup. There are often headlines of large recruiting classes like BU's, but when you look at the box score each weekend you realize that only a handful of those freshmen are playing.
That likely won't be the case for the Terriers this season, as all 10 of the first-year players seem game-ready.
"It's a very diverse [freshman] class," said Quinn. "But these guys fit in seamlessly with the guys who are coming back. There's a good feeling in the room.
"All these guys can play Division I hockey out of the gate. And when you have a class that size, I don't think one guy feels a lot of pressure. If it was a small class, [the freshmen] might feel some pressure. But when you have 10 of them, they just need to do what they do best."
The Terriers return to exhibition play this weekend, hosting Eichel's former teammates with the U.S. Under 18-Team. But next weekend, Michigan and Michigan State will arrive at Agganis Arena. Last season, a trip to face those two teams on the road sent the Terriers home with two losses and derailed BU's season early.
Most know that after that beginning, the season didn't exactly finish well.
Still, regardless of results, Quinn stresses the need for perspective.
"We're going to have lots of tests coming up here and when you've got 10 freshmen, you're going to have struggles," said Quinn. "We've talked internally: After 10 games we might not like our record, but we'll love our team. And we'll love what the future holds for us, and by future I mean this year."
Turk shines for the Catamounts
Vermont opened the eyes of many last weekend with a commanding 6-2 road victory over Northeastern on Saturday night. And no player opened as many eyes as Jonathan Turk.
A solid bump-and-grind role player for the Catamounts for his first two seasons, Turk entered this year with three goals in each of his two previous campaigns. On Saturday, he matched those marks, scoring a hat trick and adding an assist for a four-point night.
"It was a total team effort and Jon just happened to make some real good plays in the offensive zone," said Vermont coach Kevin Sneddon. "That line [with Mario Puskarich and Brendan Bradley] was very, very good and it was a special night for Jon."
It helps a bit that Turk has been elevated to first-line center alongside last year's rookie phenom Puskarich and another offensively talented sophomore in Bradley.
"Since moving to center on our team last season, Jon has had a big role on our team," Sneddon said. "He is a very reliable two-way center and now we need him to think more offensively while being good in his own zone. His faceoff percentage continues to improve and we expect him to have a big year for us."
River Hawks fans start off the season with an assist, record
If you didn't read this week's edition of Tuesday Morning Quarterback, you may not have heard about the helper that was credited to the crowd at Massachusetts-Lowell's Tsongas Center last Friday night.
After the microphone failed to work for singer Jilly Martin and it appeared there might not be any solution, the Lowell student section in the beyond-capacity crowd jumped into action as if on cue and provided a chorus rendition of the national anthem that was chilling.
You miss the first verse, but you can see and hear the rest of it in this YouTube video:
[youtube_sc url=https://www.youtube.com/watch?v=Xb6a5QZpsgc]
"I've been involved with a lot of things in my years in hockey, but [the student section] singing the national anthem right off the hop — it really set the tone," said Lowell coach Norm Bazin. "When you have a student section like that, the guys are skating six inches in the air. They were really a factor in the game, I thought."
The impromptu serenade was part of a memorable night for the Lowell faithful. The crowd of 7,326 at the Tsongas Center was the second-largest to witness a hockey game in the building's history. Additionally, the 2,365 students in attendance was a school record for a single game.
After the rousing opening that also included a brief ceremony to unveil Lowell's Hockey East tournament championship banner, the team on the ice didn't disappoint. Lowell fell behind early to the then-No. 4 Eagles only to rally to a 5-2 victory. It was only the seventh time in 26 attempts that the River Hawks have beaten BC at the Tsongas Center.
Quick hits
• While nonleague play wasn't friendly to Hockey East teams last weekend, Merrimack was the lone school to impress, posting two wins in a home-and-home series with Holy Cross. The highlight of the weekend was goaltender Rasmus Tirronen, who earned both victories while stopping 49 of 52 shots in the 3-2 and 2-1 victories.
• A season ago, Maine earned just a single victory away from the friendly confines of Alfond Arena. If there was hope that getting really far away from home might help Maine's road woes, it was quashed as the Black Bears lost twice in Anchorage, Alaska, to the host Seawolves on Friday and the other school from the 49th state, Alaska, on Saturday. The Black Bears shouldn't feel too bad, however, as Wisconsin, a team most think will be competitive nationally this season, also lost to the two Alaska teams on the weekend.
• While there is a lot of talk about Eichel, we can't overlook Providence rookie Brian Pinho, who posted two goals in a weekend split at Ohio State. The second of those two goals will be a memorable one as Pinho potted the overtime game-winner with 45 seconds left in the extra session on Saturday. That was the good news of the weekend for the Friars. It was contrasted by a not-so-good performance by the special teams. The Friars' power play went scoreless in seven attempts in the two-game series while the penalty kill allowed three goals in seven kill attempts.
• The Big Ten/Hockey East Challenge got underway last weekend with four contests, all on the road for Hockey East teams. In the challenge each team gets a point for a tie, two for a win and a bonus point (i.e., three in total) for a road win. Connecticut earned one point for a 2-2 tie on Friday at Penn State but fell 7-1 on Saturday. Ohio State earned two points for its overtime win against Providence on Friday but then allowed Providence to walk away with three points for the road victory, also in overtime, on Saturday. The Big Ten holds a 5-4 lead with 16 contests remaining. The Challenge continues this weekend with four more road contests for Hockey East teams. New Hampshire will head to Michigan for a pair while Massachusetts travels to East Lansing to face Michigan State twice.