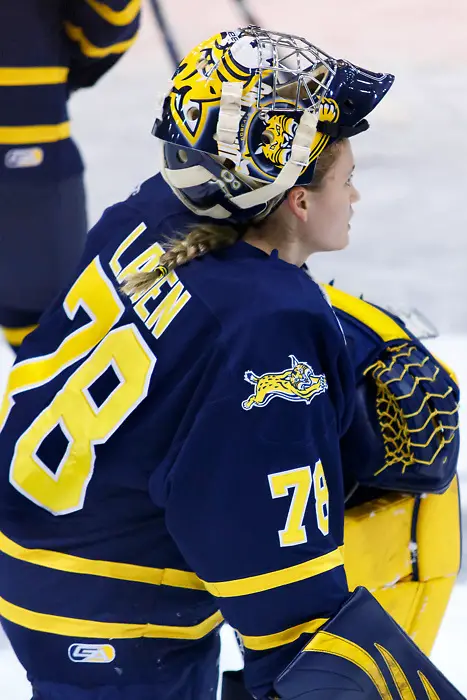 Arlan: There were four series over the weekend that matched a pair of teams that I'd say have a good or better chance at making the NCAA field. In that list, I'd include Minnesota at Wisconsin, Boston University at Clarkson, Northeastern at Mercyhurst, and Minnesota-Duluth at North Dakota. Before we look at those results and the ramifications of them, I'd like to start this week's discussion with Quinnipiac.
In the early going, I've had a pretty steady idea of the teams that I consider to be my top six. How the teams that follow those six rank tends to change from week to week, and sometimes, it changes markedly. I watched Quinnipiac online for the first time this year, and right now, I see the Bobcats as separating from the rest a bit and moving into my mythical seventh spot. What do I like about them? They've allowed a single goal on the season after five games, and Chelsea Laden, their senior goaltender who has played in four of those games, hasn't yielded anything. We all know what defense wins. Freshman forward Taylar Cianfarano has quickly emerged as someone who can provide the type of offensive spark that was lost when Kelly Babstock graduated. She's averaging a goal per game. Those are a couple of the stats that have contributed to a 4-0-1 record. The Bobcats enjoyed a big edge in quickness versus Maine this weekend, and it was often hard for the Black Bears just to get the puck down the ice, let alone threaten once they did.
There are also some concerns. Quinnipiac has played Connecticut and Penn State in addition to Maine, so the first big test is still ahead. The Bobcats haven't exactly lit it up against that trio, averaging 2.6 goals of scoring offense. The power play was often a liability last year, and it has only clicked twice so far, and one of those was into an empty net. Quinnipiac applies good pressure at even strength, then it goes on the power play and has trouble maintaining the same intensity. It's obviously early, and maybe the unit just needs some time to gel.
Anyway, I'm intrigued enough by the Bobcats to make them the subject of my column this week. As for more answers on the ice, that may have to wait until November; they open the month at Cornell, and Clarkson, St. Lawrence, Princeton, and Yale are also on the docket. You said after the Penn State tie that you didn't see the Bobcats as a likely at-large team. Do you still feel that way, or will you withhold judgement until you see the results against Cornell and the like?
Candace: I still feel that way. The competition for at-large bids this year is going to be brutal. With the CHA getting the autobid this year, there are now four conference teams that will get in by winning their conference. That only leaves four at-large bids. I feel pretty comfortable in saying that either Boston College or Boston University will win Hockey East, and whichever doesn't will get an autobid. The same goes in the WCHA, where Minnesota and Wisconsin both look strong. Neither Cornell or Harvard has started play yet, but both look pretty strong roster-wise, and I would expect both to be competing for the ECAC. Add in the CHA winner and that's seven teams accounted for in an eight-team field.
Now imagine some upsets. What if RIT wins the CHA again; will Mercyhurst get an at-large bid? North Dakota and Minnesota-Duluth both look strong. Imagine if one were to win the WCHA tournament? Or what if Northeastern wins Hockey East?
It's obviously very early in the year, but I just don't see Quinnipiac getting in as an at-large team. Who knows though? Maybe the Bobcats will go into Boston in January and sweep Boston University and Boston College, and then their PairWise position will be strong enough.
Getting back to those series that pitted likely NCAA tournament qualifiers against each other, Minnesota went to Madison and I think really emphatically reclaimed the No. 1 position from Wisconsin. I really expected more from the Badgers in that series. Minnesota won convincingly in game one, and in game two, scored with 88 seconds left in the game to tie it and then won in overtime. You talked last week about a possible mental block the Badgers might have with Minnesota. Is that what you think happened? Or does Minnesota just have a belief that they will beat Wisconsin, no matter what happens?
Arlan: I'd say it is more a case of the latter. Friday's game was a little strange. I imagined Wisconsin would come out flying, determined to prove that it was no longer going to play second fiddle to Minnesota. Instead, the Gophers opened like they were the team that had something to prove. After Hannah Brandt capitalized on a bad giveaway to score on the penalty kill, Wisconsin was able to tie just after its power play ended. I thought that was a bit of a reprieve, in that the Badgers were even on the scoreboard despite being outplayed to that point, and I expected it to turn things in their favor. It didn't happen; Dani Cameranesi started her hat trick just over a minute later. When the Gophers went on a power play before intermission, Wisconsin desperately needed to get to the locker room down just one. It looked like it would when Ann-Renée Desbiens froze the puck with 5.7 seconds left, but Brandt won a faceoff back to Rachel Ramsey, and Cameranesi deflected Ramsey's shot and tucked in her own rebound before the buzzer could sound. The Badgers had eight minutes of power play time in the second period, but were unable to generate much and Cameranesi put it out of reach with another last-minute goal. Friday's game was just a case of Minnesota being the better team on that day.
Saturday's response was more what one expected from Wisconsin. It had the better of play for long stretches, and the Gophers were the ones that were unable to get shots off when quality chances developed. Sarah Nurse, who had more top-quality scoring chances than anyone in the series, finally was able to score on a rebound, and it looked like that would be enough. The Gophers looked tired, and as the minutes clicked by, I was wondering when they were last blanked. The answer to that is still December 2011 in Grand Forks, N.D. Minnesota got a couple of goals from its senior captains to flip the outcome in the closing minutes. Rachael Bona, who hasn't really developed chemistry on a new line after playing with Sarah Davis most of last year, scored her first of the year when she hit the top corner on the far side with 19 seconds of power-play time left. Then Ramsey picked off a pass at center ice in OT, and although Wisconsin seemed to have four players back in position to defend, Brandt, Cameranesi, and Ramsey wound up outnumbering them down low and Ramsey scored on a rebound. The Saturday game I'd say was a case of Amanda Leveille playing very well and keeping Minnesota within range, the team's veterans stepping up at crunch time, and Wisconsin not yet being as airtight defensively as it will be later in the year.
Turning to the other series that matched NCAA tournament teams from March, you said last week that Shea Tiley had a ways to go to prove that she was ready to replace Erica Howe in the Clarkson net. That proved accurate as BU was able to get to her and score in quick succession a couple of times in sweeping the series. It looks like we could see a similar theme play out with some regularity this season as teams with potent offenses try to decide games before their own inexperienced goaltenders can be exposed.
Candace: I think that's definitely the case, and a place where teams like Quinnipiac that have experienced netminders have a leg up. I think it's very difficult for a rookie goaltender to come in and prove themselves right off the bat. Many coaches I've talked to say that it takes longer for defensive players to adjust to the collegiate level than offensive ones, and I think you see that with goaltenders too. Yes, some goalies are exceptional right away, but not everyone is Noora Räty. I think several teams are looking to have young netminders really step up and prove themselves in pressure-packed situations.
Still, I don't think young goaltending is the only problem at Clarkson. After all, BU also has young goalies, sophomore Victoria Hanson and freshman Erin O'Neil, who got the start on Friday and Saturday against Clarkson, respectively, and the two kept the Golden Knights to three goals in the two games. Even last year, with a lot of upperclassmen, Clarkson was a team that was built to win with defense. It's really what made the win against Minnesota in the NCAA Championship so unusual, in that the Golden Knights won an offensive battle. Minnesota got four goals and still lost.
No slight to Jamie Lee Rattray, who had an amazing senior year last season, but Clarkson has never been the team to win by scoring a lot, unlike teams like BU, Boston College, and Minnesota, which have always been able to get a lot of goals. BU, for instance, has five players currently that are averaging a point a game. BC also has five players averaging a point a game, while Minnesota has six players at a point a game or better. Clarkson only has one player, Cayley Mercer, averaging over a point a game. That certainly played out this weekend, as Clarkson struggled to score while BU piled on some points and looked dominant.
Getting back to Quinnipiac, it's another reason why I don't think the Bobcats can get in on an at-large bid, as only Cianfarano has over a point a game on that squad. You need a good balance to be successful, and the teams that have a few snipers while also being good to strong defensively are going to do better.
Another interesting series this weekend pitted two potential NCAA bubble teams, as Mercyhurst hosted Northeastern. The Huskies hadn't shown much offensively in their opening weekend, but at least Friday, were better, potting four goals in a 4-0 win. The Lakers came back and won on Saturday, thanks to a late goal by Jacklyn Arbour. What do you think that series tells us about those two teams?
Arlan: Like much of the country, they tend to be a little inconsistent. Mercyhurst has grabbed an at-large bid to the NCAAs for 10 straight seasons by always finding a way to win those games that it absolutely had to have. Now with the possibility of the CHA automatic bid, the Lakers have a bit of safety net, but in terms of the hanging around at-large contention, Saturday's win was huge. It seems silly to think that way for a team that has only played six games, but there isn't a lot of steel in the Mercyhurst schedule. The Dec. 1 game at Cornell is the only one versus a team from last year's NCAA field. In terms of other teams out of conference that could get some consideration, there are two with St. Lawrence and one with Ohio State, but those are all road games. Robert Morris is still floundering. RIT and Syracuse have been around .500, even when playing teams closer to mid pack. Penn State is the only CHA team that has demonstrated improvement, and it had nowhere to go but up. The good news for Mercyhurst is that it isn't just being carried by Emily Janiga and Jenna Dingeldein. Yes, they are the leading scorers and have figured in at least half of the team's goals, but other junior forwards that don't have a lot of points on their resumes have contributed, like Hannah Bale and Arbour. Among newcomers, Sarah Robello is off to a strong start, but Mercyhurst likely needs to get Kirsten Miller going. Defensively, the Lakers have been solid, but 75 percent of their goals allowed were to Northeastern, so that could be a product of the teams they've played.
As for the Huskies, I thought that Friday's game might be a statement win for them after opening with two ties. Following it up with the narrow loss to Mercyhurst keeps them in that area where they'll have a good record but not quite good enough. It is a bad break that they open with eight straight road games, but the selection criteria doesn't make any allowances for such challenges, so they'll have to persevere through it and find a way to sweep Robert Morris. Everyone else is abusing the Colonials, so Northeastern can't afford to look ahead to the Terriers on the following Tuesday. The freshman class is scoring, as Lauren Kelley and Ainsley MacMillan are tied for second behind Kendall Coyne, and Denisa Krížová is tied for fourth. Defensively, the Huskies will need to shore up just a bit before they run into the heavyweights of the league.
In the final series matching contenders, neither North Dakota nor Minnesota-Duluth could get its offense untracked; each only scored twice on the weekend while splitting. Can either of these teams score enough to claw its way into the national picture?
Candace: I think so. Their schedule is helped by four games each against the top two teams in the country, Minnesota and Wisconsin, so they'll always have the opportunity. Minnesota-Duluth tied Minnesota last week, so that helps the Bulldogs. Splitting with North Dakota in Grand Forks is another good sign for the Bulldogs. Both the Bulldogs and UND are tight defensively, but as you pointed out, scoring is a bit of a challenge. North Dakota has some good players, such as emerging star Becca Kohler, as well as Meghan Dufault and Josefine Jakobsen, two players whose point production has been important to UND's success in the past. However, the days when UND could lean on the Lamoureux sisters and Michelle Karvinen to put up a lot points are gone.
Kohler is interesting; she has 10 points in her first six games. Last year, she notched 16 points in an entire season of 36 games, and the previous year, she scored 12 points in 38 games. Her production has to be a pleasant surprise for coach Brian Idalski. North Dakota travels to Minneapolis this weekend to face the Gophers, then hosts the Badgers the following weekend, so I think we'll have a better handle on UND at the end of the month. These coming four games will be a big challenge for UND.
As for the Bulldogs, well, their production isn't that good. They don't have a single player over a point per game; Jenna McParland currently leads the team in scoring with six points in eight games. Freshman Michelle Löwenhielm has played well so far, notching five points in eight games, but the Bulldogs really need more scoring. Yes, the Bulldogs' schedule has been brutal, as after opening with two against Connecticut, they've run the gauntlet against the WCHA's terror trio of Minnesota, Wisconsin, and North Dakota. I guess on the positive side, the Bulldogs did get a tie/shootout win against Minnesota and did win one against North Dakota. Now they go into a stretch of games where they could conceivably go 6-0 against Lindenwood, Minnesota State, and St. Cloud State, and maybe their players can settle into systems and start producing more points. It would be helpful, as after that stretch the Bulldogs then host Cornell for a pair on Nov. 21-22, and any hopes of being in the NCAA tournament picture likely hinge on their results in those games, especially since they tied Connecticut on opening weekend.
Speaking of Cornell, we'll get our first look at the Big Red this weekend when they travel to Boston to take on Boston College, which this past weekend won what has been a trap game in recent seasons against New Hampshire. The scoreboard operator could be kept very busy in that series between two high-powered offenses. Opening a season on the road against a top squad is a tough ask; what do you think we can expect in that series?
Arlan: "Goals" would be the likely answer, but two veteran coaches will know that as well, so they may try to clamp down defensively as much as possible to protect inexperienced goaltenders. Cornell would figure to have a slight edge from that perspective, as sophomore Paula Voorheis came on in relief of an injured Lauren Slebodnick in November and played almost 46 minutes against the Eagles, and she had more than 12 games worth of action overall. Of course, there's no telling if she'll be in net or if Doug Derraugh will turn to someone else, like rookie Amelia Boughn.
Just about every other angle favors BC. The Eagles have four games' experience, while Cornell didn't even mix in an exhibition. The Ivy League imposed delay to the season hasn't necessarily hurt the Big Red out of the gate in recent years, as they beat BU to start the season two years ago, and won their first five games against tough competition last year, but those teams did play an exhibition or two and the goaltending was more of a known quantity. Cornell can put out a top five skaters to rival anyone in the country, but if Derraugh loads up with all of his top players on the ice at once, then BC's depth would figure to hold an edge the rest of the time. The forwards should just about cancel out, so it may come down to how well the young defensemen for the Big Red can hang in there against a top attack. Having graduated the quartet of Laura Fortino, Lauriane Rougeau, Hayleigh Cudmore, and Alyssa Gagliardi over the last two years has left Cornell with far less of a veteran presence on the back end, with juniors Cassandra Poudrier and Morgan Richardson as the only upperclassmen. If that blue line is ready, then it likely comes down to goaltending and special teams, as many games do.
I expect the biggest takeaway from that series will be answers to the goaltending questions. If either squad has somebody shine in her first exposure this season to a top-class attack, then that bodes well for her team going forward. The skaters, on the other hand, will develop over the course of the season and look vastly different in four months.
At least we'll get to see Cornell. Harvard doesn't start until the last day of the month, it hosts Rensselaer and Union, and then it immediately takes the next weekend off for Four Nations. The Crimson only play 10 games during 2014; they'll exceed that in January alone.
The other Ivies all get started this weekend. Yale and Princeton bear watching, opening versus Providence and Penn State, respectively. Will we learn anything from either of those?
Candace: Probably not too much, unless Yale and Princeton lose, in which case we can say that either those two squads are overrated, or Penn State's continued improvement is for real and that Providence has shaken off its results in its first four games. I'm expecting more out of Yale this season, and am really looking forward to seeing how they do this season. I think the Bulldogs can learn a lot from how close they played Harvard in the ECAC tournament last season. Princeton is another squad that has at times troubled the teams at the top of the pecking order, and generally was a squad that you didn't want to go in overlooking.
Yale has Phoebe Staenz, a dynamic player who had a huge impact last year. If she avoids a sophomore slump and gets stronger, watch out. I could see Yale finishing as high as third, though I don't expect the Elis to challenge Harvard or Cornell for supremacy just yet. Princeton is hoping that a healthy Molly Contini can be a contributor, and that its incoming freshmen make an impact. The Tigers are helped by having a seasoned goaltender in Kimberly Newell, and she can definitely help. The Tigers also expect Brianna Leahy to be a big contributor.
Speaking of Penn State, the Nittany Lions got three of four points on the road against Union. They currently have a better record than Robert Morris, which we could never have expected, and have more wins than Syracuse. Is it time to consider that the Nittany Lions might become more of a factor in the volatile CHA?
Arlan: It looks like it, with the caveat that the CHA is still a week away from starting conference action, so we're assuming that the trends we've seen out of conference will translate into the league slate. I slotted Penn State fifth in my CHA preview, but if RMU can't pull out of its tailspin, then fourth is definitely in reach. Nobody in the circuit looks that daunting, so if the Nittany Lions can get to a conference semifinal, who knows, they could pull an upset. To say that they could win the championship game once there starts to sound more like Hollywood than reality, but we didn't expect it out of Robert Morris or RIT either. At first glance, PSU doesn't score much, but half of its games have been against very stingy defenses from Quinnipiac and Minnesota, so the offense could develop. The seeds for a couple of decent lines are there with juniors Shannon Yoxheimer and Hannah Bramm on one combo and sophomores Amy Peterson and Laura Bowman on another. If the right wings on those lines, Caitlin Reilly and Hannah Hoenshell, start to click, Penn State could sneak up on some teams. All of its opponents to date have been either near the top or near the bottom, so the next two series versus Princeton and Syracuse from the middle tier should help us evaluate PSU.
Bemidji State was another team that had a brief flirtation with playing Cinderella, and then it had a bye week at a bad time. Or that could have been just a coincidence that it went into the bye perfect and got swept at Ohio State coming out of it. It seems to be almost an annual occurrence in the WCHA that a team will start with a couple of months that are better than forecast, and then the league schedule just grinds it down. The Buckeyes suddenly look like the more dangerous team, with their only losses coming on the road at Wisconsin. Now they get a bye while the Beavers try to get back on track against Wisconsin and Minnesota. There's no shortage of wicked stepsisters to make life tough for WCHA Cinderellas.
Is Yale our best chance at a Cinderella story this year? I'd say RIT, but I don't know if we can sell the defending league champion as Cinderella, and if Hockey East has one, she's traveling incognito.
 
Candace: I think actually that there are two other potential Cinderellas, besides the ones you named. First, Hockey East's potential Cinderella isn't traveling incognito; I think Northeastern has the potential. With Kendall Coyne on offense and the experience of Chloé Desjardins in net, Northeastern could potentially trouble both of the Boston powerhouses, and all the Huskies would need to do is get on a roll at the right time and they could perhaps win the Hockey East tournament and its concurrent NCAA automatic bid. I was fairly impressed by Northeastern's performance against Mercyhurst. It's still early in the year, but I think that with time, Northeastern will be a formidable foe.
The other potential Cinderella is in the ECAC. St. Lawrence has looked awfully good so far. The Saints demolished Robert Morris on Friday, then followed up with a win Saturday for the sweep. Yes, Robert Morris has been awful of late, especially with Rebecca Vint and Brittany Howard out of the line-up, but St. Lawrence also beat Clarkson earlier in the year, and tied Boston College last week. Not only that, in the first game against BC, the Saints gave the Eagles everything they could handle in a 2-1 decision. St. Lawrence has one of the more proven netminders in the ECAC with Carmen MacDonald, who has put up very good numbers so far. They've also been getting balanced scoring. Freshman Kennedy Marchment has played very well, and is averaging a point a game. They've also got Brooke Webster, Jenna Marks, and Amanda Boulier playing very well. The Saints were flying under the radar at the start of the year, but just a few years ago (2011-2012), the Saints entered the postseason as the fifth seed and ran the table in the ECAC tournament, beating Dartmouth, Harvard, and Cornell to make the playoffs. Boulier and MacDonald were freshmen on that squad, and now are leaders. MacDonald was in net for the ECAC tournament, so she can lean on that experience.
St. Lawrence plays Clarkson this week in Potsdam on a Tuesday night. I think the results of that game will really tell us a lot about who is going to contend in the ECAC. That same night, Northeastern faces Boston University, so we'll learn more about the Huskies.