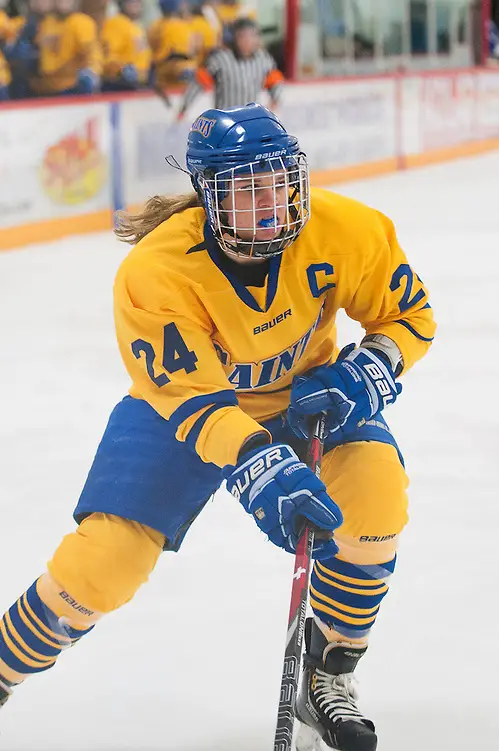 Don't expect a major shift in the NCHA hierarchy this season. The clubs that featured upbeat offensive talent on their respective rosters are relatively unscathed by graduation. The second tier covets an opportunity to acquire such depth, but it's not on the immediate horizon.
Consider that four of the highest-scoring teams nationally hailed from the NCHA: Adrian (4.56 points per game) and defending conference champion Lake Forest (4.38) were ranked second and third respectively, behind national champion Plattsburgh. St. Norbert and St. Scholastica both finished in the top seven slots.
Heading into their title defense, the Foresters are seemingly watertight in all facets of the game. Michelle Greeneway, Megan Pope, and Melissa Paluch comprise a trio of scoring punch without peer in the conference. Alex Stensland is the driving force among an assertive back line contingent.
St. Scholastica offensively remains potent, despite not having two of the Waidacher sisters in house. Playmaker Michelle Fischer's absence needs to be addressed as well.
NCHA finalist St. Norbert arguably graduated the most talent of any contender in the nation. In excess of 100 points and a boatload of valuable big game knowledge slipped away from coach Rob Morgan's grasp.
Similar to the Green Knights, Adrian stares down some interesting complexities, especially in its ability to adjust to the graduation of Alix Vallee. Up front, however, the Bulldogs should not be hindered in their overall adroitness to play to their strengths, speed, and aggressiveness.
Concordia and Marian are eager to play off their respective improved 2013-14 campaigns, with each club having a trio of legitimate scoring options among the top lines. The best-case scenario for Finlandia would be a melding of newcomers and a sophomore class that experienced a tough road last season.
Lake Forest
2013-14 Record: 17-6-3 overall, 13-3-2 NCHA
2013-14 Postseason: Lost 4-1 to Wisconsin-River Falls in NCAA tournament quarterfinals.
Coach: Carisa Zaban 126-81-32 (10th season)
Key Returners: F Michelle Greeneway (29-11-40), D Alex Stensland (3-18-21), F Morgan Pope (17-13-30), F Melissa Paluch (12-19-31), G Casey Hartfiel (8-3-1, 2.39 goals-against average)
Key Departures: D Sarah Gilbride (1-9-10) G Stacey Dierking (9-3-2, 2.77 GAA)
Outlook: Junior All-American Michelle Greeneway, a natural goal scorer by any standard, leads the team in a collective quest to repeat as NCHA champions. Greeneway has notched 52 goals through her first two seasons. Defensively, the Foresters appear solid given the emergence of Alex Stensland, who nearly tripled her point output from her freshman season while increasing her role in power-play situations. Former Adrian goalie Allie Carter couples with sophomore Casey Hartfiel, who was a bright spot for Lake Forest in her rookie season.
St. Scholastica
2013-14 Record: 15-8-3 overall, 12-4-2 NCHA
2013-14 Postseason: Lost 3-2 to St. Norbert in NCHA semifinals.
Coach: Jackie MacMillan (49-43-14, fifth season)
Key Returners: F Nina Waidacher (22-15-37), F Nikki Logergren (10-3-13), D Alex Blair (1-20-21), D Kaitlin Johnson (5-5-10), G Lindsey Hartfiel (11-7-2, 2.09 GAA)
Key Departures: F Isabel Waidacher (15-23-38), F Michelle Fischer (4-23-27), F Monika Waidacher (9-5-14)
Outlook: Swiss Olympian Nina Waidacher's assault on the Saints' record book continues without siblings Isabel and Monika on board. Waidacher is surrounded by emerging offensive talent however, and the high-scoring squad that tailed off somewhat down the stretch will certainly be productive again. Alex Blair is among the top defenseman in the country, and goalie Lindsey Hartfiel is capable of going deep into the postseason.
St. Norbert
2013-14 Record:19-7-2 overall, 12-5-1 NCHA
2013-14 Postseason: Lost 3-2 to Lake Forest in NCHA final,
Coach: Rob Morgan 62-42-8 (fifth season)
Key Returners: F Ali Parker (17-13-30), D Katie Conlon (2-5-7), F Jillian Kosteck (5-5-10), D Myranda Hayes (6-8-14), F Lauren Roethlisberger (11-12-23)
Key Departures: F Zoe Kurth (10-20-30), F Andrea Senne (8-17-25), D Laurel Hill (4-20-24), F Henriette Ostergaard (10-11-21), F Stephanie Slinde (9-10-19), G Kaley Gibson (11-7-1, 1.94 GAA), G Katie Alvia (8-0-1, 1.54 GAA)
Outlook: Look for Ali Parker to take the pivotal role in the Green Knights' attack following the departure of top playmaker Zoe Kurth. Defensively, co-captains Katie Conlon and Myranda Hayes, along with sophomore Megan Crandall, are the new face of the Green Knights' defensive corps with Laurel Hill out of the picture. Leigh Grall and Brianna Kelly comprise an all-freshman goaltending tandem
Adrian
2013-14 Record: 19-7-1 overall, 11-6-1 NCHA
2013-14 Postseason: Lost 2-1 to Lake Forest in NCHA semifinals.
Coach: Chad Davis 55-23-4 (fourth season)
Key Returners: F Kelsey Kusch (22-25-47), F Kristin Lewicki (14-13-27), D Lexie Tzafaroglou (3-8-11), F Hannah McGowan (14-21-35), F Devyn Fitzhenny (10-12-22), F Courtney Millar (4-12-16)
Key Departures: F Danielle Smith (9-15-24), D Alix Vallee (4-27-31)
Outlook: Alix Vallee exited campus as the most prolific defenseman in program history. Undoubtedly, her absence in the line-up requires a retooling in the Bulldogs' own end. Lexie Tzafaroglou takes on a larger roll in that regard following a highly impressive debut. Offensively, Adrian remains in good stead with the nation's leading scorer in tow in Kelsey Kusch. Davis has the luxury of trotting out three lines that have the ability to put the puck in the net.
Concordia (Wis.)
2013-14 Record: 8-16-2 overall, 6-10-2 NCHA
2013-14 Postseason: Lost 6-5 to Adrian in NCHA first round.
Coach: Steve Fabiilli 0-0-0 (first season)
Key Returners: F Veronika Metanova (9-11-20), D Emily Heckendorf (6-13-19), F Brandi Mueller (7-8-15), F Alexis Machuga (8-3-11), F Samantha Reiter (6-4-10)
Key Departures: F Maxine Blohowiak (4-5-9)
Outlook: Coach Fabiili hits the ground running with a majority of last season's contributors back to the grind. Nine of the top 10 scorers from the 2013-14 campaign have re-upped. In all, the freshman class accounted for 46 percent of the team's goal output and half of all power-play successes. With the experienced gained, the Falcons' offense should experience an uptick. Senior Emily Heckendorf will direct the show defensively, having posted season bests across the board last season.
Marian
2013-14 Record: 5-20-1 overall, 4-14-0 NCHA
2013-14 Postseason: Lost 7-0 to St. Norbert in NCHA first round.
Coach: Jamie Kiui 8-40-3 (3rd season)
Key Returners: F Amanda Waigand (18-7-25), F Nina Laurie (8-12-20), D Rian Lennon (4-3-7)
Key Departures: D Sophie Schieldt (1-3-4)
Outlook: The Sabres have improved in small increments since the inception of the program in 2009. Last season, a pair of milestones transpired. Coach Kiui's club garnered its first playoff appearance while achieving four victories in the NCHA. The hoped-for move forward, particularly offensively in 2014-15, will hinge on senior forwards Amanda Waigand, Nina Laurie, and two-way performer Sarah Bier. Rian Lennon is an important factor in the developing defensive scheme that seeks consistency from senior Kaitlyn Johnson and sophomores Amanda Siiro and Paige Picard.
Finlandia
2013-14 Record: 1-21-0 overall, 1-17-0 NCHA
2013-14 Postseason: none
Coach: Danielle Syrowik 1-45-0 (third season)
Key Returners: F Alena Fiala (2-3-5), F Lindsey Jackman (2-5-7), D Sommer O'Shaughnessy (1-5-6)
Key Departures: Siera Hache (5-2-7)
Outlook: The Lions enter with the knowledge that nine rookie starters from 2013-14 have a year of experience to draw upon. How quickly said group can get up to speed offensively is paramount to being more competitive. The Lions were overwhelmed in all phases of the game last season. A string of close outings would serve as a good beginning for reversing the trend of disastrous blowouts.