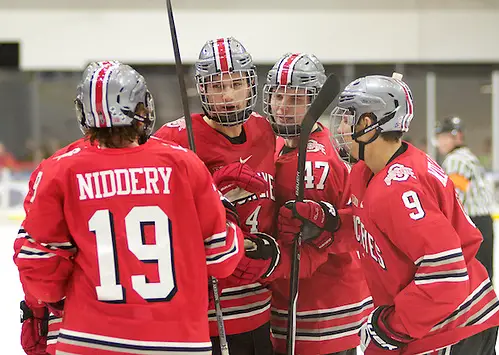 Like many other teams, Ohio State's start to the season has been ho-hum.
The Buckeyes are 2-3-1 after their first three series. After winning their first game against Providence, they dropped the next three before going 1-0-1 in a two-game set with Canisius last weekend.
"Obviously you're never satisfied, that's for sure," Ohio State second-year coach Steve Rohlik said. "As you see that parity in college hockey across the board, I think every night it's difficult to win at this level. Certainly, you want to continue to get better. And do we wish we were better than 2-3-1? Absolutely."
Aside from one lopsided loss to Miami, the Buckeyes could easily be a team that everyone is talking about if a couple bounces had gone their way. Ohio State's other two losses have been by one goal.
"We've played three overtime games out of the first six," Rohlik said. "Everything's been pretty tight. It's tough to win at this level."
The Buckeyes will play Omaha and Bowling Green before opening up Big Ten play with Michigan State. Three of those four games will be played at home.
"We know we're playing two very good opponents and certainly it doesn't get any easier," Rohlik said. "We'd love to go into each game and, hopefully, be prepared and know that we've got to be at our best to win. We just want to continue to get better and let the results happen."
As is typical for most Big Ten teams, Ohio State will play only one conference series in the first half of the season. Rohlik said that he hoped that playing all the nonconference games during the beginning of the season would mean that his team would be firing on all cylinders when league points were up for grabs.
"The second half just happens to be mostly conference games," Rohlik said. "You want to be playing your best hockey [then], so hopefully this prepares us for that."
Rohlik said that, like every other coach, he would like to see the team playing its best at the end of the season. That is even more important in the Big Ten considering three postseason wins are enough to get a team into the NCAA tournament.
So far this year Rohlik has split playing time pretty evenly between Matt Tomkins and Christian Frey. Tomkins has a 2.18 GAA and 1-2-1 record. Frey has won and lost one game and owns a 3.96 GAA.
"I'm pretty confident in my goaltenders; they're two pretty good goalies," Rohlik said. "They compete every day in practice and they both bring elements to the game. They're both proven themselves. If I could have two guys that were going well, I'd take that every day."
Rohlik said that he envisioned giving both netminders opportunities until, "maybe one guy just grabs it and runs with it."
Rolling with two netminders is an improvement for Rohlik over his first year as head coach, when he almost had to put up "help wanted" posters to find a goaltender. Frey enrolled early halfway through the season after injuries and untimely departures left the Buckeyes thin between the pipes.
"It was a pretty unique situation, knock on wood," Rohlik said with a chuckle. "To have six different goalies last year, it was a pretty surreal situation.
"But I enjoy all three of our goalies," he added, talking about those on the roster this season. "Logan Davis, who came in and played well for us last year, he brings it every day as well. It's nice to have three choices. It's a situation that, again knock on wood, hopefully we can maintain."
Ryan Dzingel and Max McCormick were two high-profile departures from last year's Ohio State team. As a result, the Buckeyes' offensive numbers are near the middle of the pack so far this year.
"We lost quite a bit of our percentage of scoring," Rohlik said. "For us, every year you have to find an identity of what your team is. We certainly want to play good and sound defensively and build from the goaltenders out. We're going to have to score by committee, and that's what you're going to see from our team."
Rohlik said that the recipe for success for OSU this year would be balanced scoring, solid five-on-five play and opportunistic play on special teams. Ohio State is 5-for-24 with the power play.
"If you win the special teams you've probably given yourself a pretty good chance to win a hockey game," Rohlik said. "That's probably true for everybody, but certainly for us it's been an emphasis."
Ohio State is not the only team that has struggled so far this season. That just shows how competitive college hockey has become. The record doesn't have Rohlik or his team fazed, however.
"We've lost a few nonconference games and that's just how the cycle goes sometime," he said. "You have to be prepared every weekend, and our league is no different than any other league: You have to go out and play your best if you expect to win."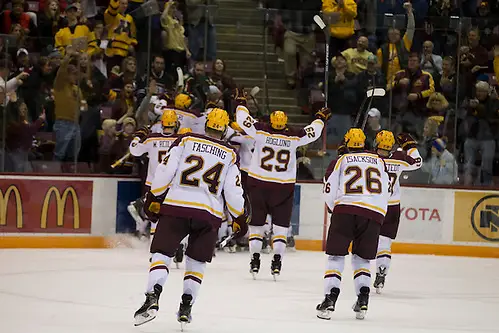 Gophers are golden at home
After dropping its first game of the season last Friday at St. Cloud State, Minnesota responded with a win in the second leg of the home-and-home series.
Victories at Mariucci Arena have become the norm for both the Gophers and their fans. Minnesota owns the longest active home unbeaten streak in the nation at 15 games in a row. An outdoor victory across the street from Mariucci at TCF Bank Stadium is included in the streak. The Gophers inherited the title after Union and Ferris State dropped home games this season.
Minnesota's last home loss came near the end of November last year when Minnesota-Duluth downed the Gophers 6-2.
Minnesota been known to use Mariucci's large Olympic-sized ice sheet to its advantage over the years. The extra room on the ice allows faster players more space to skate around defenders.
"They can throw the puck around, they're skilled and they're fast," Bemidji State coach Tom Serratore said after a game between the Gophers and Beavers earlier this season. "They know how to utilize this big sheet, there's no question."
The Gophers host Notre Dame on Friday and Sunday.
Three stars of the week
First star — Michigan State junior goaltender Jake Hildebrand: Hildebrand gave a solid performance in Michigan State's split with Ferris State last weekend. He had a 1.01 GAA and stopped 35 of the 37 shots he faced. The junior netminder has held opponents to two goals or fewer in his last four games. This is his fifth career Big Ten weekly award.
Second star — Minnesota sophomore forward Justin Kloos: Kloos provided much of the offensive spark in the Gophers' 4-3 victory against St. Cloud State last Saturday. He netted a hat trick and had the game-winning goal in overtime. Kloos is tied for the Big Ten lead in goals. This is his third career Big Ten weekly award.
Third star — Ohio State sophomore goaltender Matt Tomkins: Tomkins saw playing time in both of Ohio State's games against Canisius last weekend. He came off the bench in Friday's game and stopped 26 of 27 shots, which helped Ohio State tie the Golden Griffins 3-3. On Saturday, he got the start and saved 20 shots in the Buckeyes' 4-1 victory. This is his first Big Ten weekly award.
B1G in the poll
No. 1 Minnesota is the only Big Ten team in this week's USCHO.com Division I Men's Poll. Michigan, Penn State and Ohio State received votes.
My ballot
1. Minnesota
2. North Dakota
3. Boston University
4. Boston College
5. Colgate
6. Providence
7. St. Cloud State
8. Miami
9. Massachusetts-Lowell
10. Denver
11. Michigan Tech
12. Union
13. Minnesota State
14. Ferris State
15. Vermont
16. Minnesota-Duluth
17. Notre Dame
18. Michigan
19. Nebraska-Omaha
20. Bowling Green
This week's games
Notre Dame at Minnesota (Friday and Sunday, Mariucci Arena)
North Dakota at Wisconsin (Friday and Saturday, Kohl Center)
Nebraska-Omaha at Ohio State (Friday and Saturday, Value City Arena)
Michigan State at New Hampshire (Friday and Saturday, Whittemore Center)