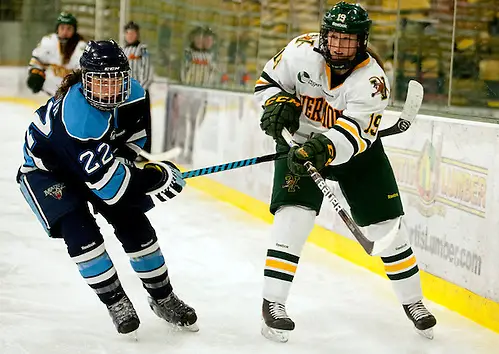 Arlan: I was hoping that the games of the last week would start to solidify how teams compare relative to others at a similar level; it didn't happen. Instead, I feel like the picture got even fuzzier.
Take Cornell, for example. We knew that Jillian Saulnier would be absent, but I hoped that the opening weekend rust would be gone, and the Big Red would start to perform more like the contender most expect them to be. Instead, Brianne Jenner wasn't available either, opponents continued to score at a regular clip, and through four games, Cornell looks nothing like an elite team. Given it lost to Princeton as well, did Quinnipiac actually get its first measuring-stick game versus Cornell?
Then there's St. Lawrence. The Saints lost on the road at Clarkson, as you predicted. They beat Yale with relative ease, but then turned around and lost by three goals to Brown. Obviously, that can partly be attributed to trying to get a backup goaltender some work, but Carmen MacDonald was hardly lights out once she entered in relief. By the time she recorded a save after allowing two goals, the game was over. So how good is SLU, and, by extension, what does that say about some of its opponents, such as Yale?
That confusion propagates beyond the ECAC to Hockey East. Consider Boston College. I know that you love the Eagles, and I'll agree that they are a great team. But how great? They swept Providence, in what was essentially a split-squad game on the back half, with a junior who came into the game with three career goals netting a pair. However, Providence hasn't beaten anyone since January. With losing weeks for both SLU and Cornell, supposedly the best teams that BC has played to date, some of the luster is gone from those results. The Eagles have yet to play anyone whose RPI is above .500, whereas Wisconsin has already had 10 games against such opponents. How do we know if BC winning at Providence minus five stars is more impressive than the Badgers winning at North Dakota without four of its top forwards?
Can you clear any of this up for me?
Candace: I don't really think you can compare the results between Wisconsin and Boston College. BC is deep enough to beat the team expected to perhaps finish last in its conference, even with five stars gone. Wisconsin took on North Dakota and came out ahead in impressive fashion on Saturday, one night after Wisconsin tied North Dakota. Wisconsin was missing Blayre Turnbull and Emily Clark for both games, and North Dakota was missing Halli Krzyzaniak for both games, since Canada had its players report at the start of the weekend.
You mentioned Cornell. I had picked Quinnipiac to win Saturday, as I knew the Bobcats would have top scorer Taylar Cianfarano and that the Big Red would be sans Saulnier. On Friday, however, the Big Red were defeated by Princeton, a very surprising result. Even without Saulnier and Brianne Jenner, losing 5-4 to Princeton shows that the Big Red have problems defensively. Princeton is a team the Big Red should beat, at least on paper, and they came up short. Goaltender Paula Voorheis gave up four goals on eight shots before being replaced by Amelia Boughn, who gave up one goal on eight shots. Voorheis was back in net the next night, and gave up three to Quinnipiac, which fired 30 shots on net in the game. Three goals is the fewest Cornell has given up in four games, so the Big Red need to find their defense.
While there were a lot of puzzling results, such as St. Lawrence losing to Brown, 7-4, after defeating Yale, the elephant in the college hockey room is in your state. How do you explain Minnesota losing and tying Bemidji State (and losing the shootout). Losing on Saturday isn't perhaps quite as surprising. The Beavers have been pretty good defensively, and the Gophers were without several of their best players due to the Four Nations Cup.
Friday, however, the Gophers had a complete line-up, including Hannah Brandt, and were close to losing in regulation before Dani Cameranesi scored an extra-attacker, power-play goal at 18:42 of the third to tie it.
Is it panic time in Minneapolis?
Arlan: No. The Gophers struggled a number of times in the early part of last season, but we tend to remember how they looked in the second half when they featured three forward lines that were all essentially top-line caliber. They had close calls on the road early versus teams like Colgate, Bemidji State, and St. Cloud State that they managed to pull out, and it wasn't until they lost to North Dakota that the Gophers started to solidify line combinations and get rolling. Through this October, they have been carried offensively primarily by Brandt, Cameranesi, and the power play. No other player has more than two even-strength goals. Minnesota should develop more depth up front over time, but I doubt that it will approach what it had the previous two years from that standpoint.
The other thing to consider is who Minnesota has played. Nine of its first 10 games have been versus teams ranked No. 11 or higher in Michael Rutter's rankings. The exception is Penn State, a team Minnesota defeated, 8-0, but the Nittany Lions have proven to be a thorn versus more highly regarded teams. In the nine games it has left in 2014, I look for Minnesota to have some more favorable matchups, and the forwards who have scuffled to this point will start to have some success.
Rather than an elephant, I think those that watched the series in Minneapolis saw Beavers, and lots of them. Bemidji State has always been a gritty, hard-working team that features players selling out on defense and often spectacular goaltending. Brittni Mowat had to battle through illness as a freshman, but she was on top of her game this weekend, stopping 83 of 85 shots. Brad Frost was asked about the challenge of getting his team up to play a lesser team, and his response was that he doesn't consider BSU to be a lesser team. Under new coach Jim Scanlan, it's playing a more aggressive style. It played Wisconsin and Minnesota on back-to-back weekends and was within a goal in all four games, including the win and the tie. I doubt that there are more than a dozen teams in the country, if that many, capable of matching that.
I got my first look Sunday at Vermont, one of the squads that fell to Bemidji State earlier. The Catamounts were missing Amanda Pelkey, but they played an impressive game in skating by Connecticut, 6-0, their third straight shutout win. Have you had a chance to see UVM, and could it help fill that partial vacuum that looks to be forming behind Boston College and Boston University in Hockey East with Northeastern's slow start?
Candace: I haven't had a chance to see the Catamounts yet, but I would agree that Vermont could fill that vacuum behind the Boston squads. So far, it looks like Vermont has been getting scoring from people besides Pelkey, who averages a point a game. Dayna Colang and Brittany Zuback have both played well. The goaltending was an unknown headed into the season, but sophomore Madison Litchfield has a 1.49 goals-against and a 9.39 save percentage.
I was on the fence earlier about the Catamounts. They opened with an impressive 3-1 win over North Dakota in Grand Forks, but the 4-0 loss to Bemidji State made me pause. Given the Beavers' play over the last two weeks, I think we can agree that Bemidji is much better than we thought earlier. However, though the Catamounts have won three shutouts in a row and scored 14 goals in those three games, I do want to see how they do over the next few weeks when they take on Boston College, Syracuse, Northeastern, and Maine. Vermont was a little inconsistent a few weeks ago, tying Rensselaer and losing 2-0 to RIT, but a sweep of Union and a win over Connecticut aren't surprising results given the talent level in Burlington. We'll know more about where they stand in a month. Vermont will be missing Pelkey for the BC game, but the Eagles are without five players, so it could be an interesting test of both teams' depth.
Speaking of RIT, heading into this past weekend I had thought the Tigers might be looking up after tying Northeastern and beating Vermont. I even thought they might be ready to challenge Mercyhurst for the CHA crown. However, a tie and a 3-1 loss to Lindenwood is not the way to establish readiness for a title surge. Yes, Nicole Hensley was brilliant again in net, making 34 saves in the tie and 39 in the win, but the Tigers have been struggling with offense this year. Do you see RIT getting untracked, or is this weekend more an indication that the Tigers will have a tough time establishing consistent results?
Arlan: I think this weekend is an indication that teams in general struggle to score consistently. After allowing the empty-net goal to Lindenwood, that is the first time all year that RIT has yielded three goals, but in its three losses and two ties, it has scored an average of one goal. Three times the Tigers have managed to win despite only scoring twice, and that looks to be what they'll have to do, because through 10 games, they've scored exactly 20 goals.
RIT isn't alone in terms of being offensively challenged. Providence and Union average less than a goal a game, and Minnesota State is last with five goals total after seven games. Coaches preach, "Pucks to the net, bodies to the net, take away the goalie's eyes, score greasy goals," but a team as young as the Mavericks can have trouble just getting to the net. Those hours training off ice matter.
Some days, the puck hits a stick or body and goes into the net. More often, it will skitter harmlessly into the corner. Then, instead of matching that two-goal scoring average, a team is left with one goal, or none at all. Good luck winning then.
Even at the top of the scoring stats, it isn't all that encouraging for fans of offense. BC scores a lot of goals on shots and tap-ins into nets where the goaltender has been drawn out of position, so they are able to produce more consistently and average more than five goals a game. Dartmouth is above four goals scored on average after three games, but given the Big Green were below two goals a game last year, I doubt that they'll stay anywhere near there. Harvard is scoring four and a half times a game, and while it may dip a bit when it faces tougher opponents, I expect the Crimson to remain closer to that neighborhood than the sub-three mark they averaged last season. Clarkson, Minnesota, and Wisconsin should all eventually settle into that range near four goals a game, maybe a little above or a little below, given that personnel losses have impacted their current averages. We came into the season expecting Cornell to be there as well, but right now, who knows. The Big Red have had personnel absences, to be sure, but they've also staggered out of the gate. BU will trend down rather than up if Marie-Philip Poulin stays out. That's about it. Even Quinnipiac, which is quickly establishing itself as an elite team, only scores three times a contest.
So the extremely long answer to your question is that RIT, and most of the country, is going to struggle to find enough offense to win. There will be few easy games for the Tigers or anyone else. One of the exceptions was BC, the new No. 1 team, throttling Providence, the team that ranks dead last in scoring margin and has the worst record outside of a still-winless Cornell. What did you take away from the Eagles/Friars mismatch?
Candace: There's not a lot to take away if you are looking at BC, honestly, except that even with some of their best players gone, BC is still a deep and dangerous team. Meghan Grieves got the Eagles a two-goal lead in the second game by scoring a pair in the first period, and the Eagles got a couple more in the third from Tori Sullivan and Andie Anastos. In the first game, Emily Field finally started to produce, getting a pair of goals. Having Field produce will be good for BC in the long run.
The Friars are 0-9-1, and in those 10 games, have kept their opponents under three goals twice. Ironically, the one tie was a three-goal affair with Syracuse. I'm starting to wonder if Providence will win a game in the first half. The best chance for the Friars might be Friday, when they travel to Union, or Sunday, when they host Connecticut.
Regardless, Providence is not looking like a team that will escape the Hockey East cellar. Haley Frade leads in scoring, but is averaging half a point per game. Three goalies have seen time, but none has done particularly well. That could be due to the defense. In the 8-0 rout, Field got her first goal on a rebound down low on a power play. On the second, two Providence defenders were back, but Field got the rebound in the slot. On many of the other goals, defenders were not getting back or not challenging the shooter. Providence looks to have a long road ahead this season.
There was a surprise out of Rhode Island this weekend, however, as Brown scored seven goals and beat St. Lawrence, 7-4. This was one night after the Bears got hammered by Clarkson, 5-1. The Bears now have a trio of home games against Hockey East squads, with one against Connecticut and two against Maine. Might Saturday's result promise more for another team that has struggled to score, or is it a one-off?
Arlan: My guess is that the seven goals is due in large part to facing a freshman goalie, Brooke Wolejko, making just her second start. After allowing a goal on 11 shots in the opening period, she let in three goals on just seven shots after that, and was pulled after Brown took a lasting lead with under 10 minutes to play. Carmen MacDonald comes on in relief, doesn't see a shot for nearly five minutes, and then gets beat on two successive shots 14 seconds apart. Brown adds an empty-net goal and presto, seven tallies for the Bears.
The positive sign for Brown is that it wasn't shut out in any of its three previous games versus RIT and Clarkson, two good defensive teams, after being blanked in three of its final four games in February. Rookie Sam Donovan has three goals after four games; Janice Yang led in that department with seven all of last year. For her part, Yang has five points so far, and 14 points by Sarah Robson led last year's club. Most of the top producers are back with another year of seasoning, so I think it is realistic to expect some growth in the scoring output, just not seven goals on a regular basis.
Last week, we discussed the possibility of Yale moving up in the ECAC; the Bulldogs got off to a rocky start in that regard, getting swept at home by St. Lawrence and Clarkson. The first loss was more troubling, because Yale was never able to mount a charge after the Saints went up 2-0 in the first period, and they look to be a team that Yale will battle in the standings. I suppose SLU's loss to Brown helps in that regard. The loss to Clarkson was more encouraging. Yale took a lead late in the first period on a five-on-three power play, but was unable to hold it after committing a penalty of its own after intermission. Another power-play goal by rookie Savannah Harmon for the Golden Knights in the third period proved decisive. Did we expect too much of the Bulldogs, given they needed a two-skater advantage to score their lone goal on the weekend, or does a young offense just need more time?
Candace: I'm inclined to think it's more of the latter. Yale got 28 shots on Carmen MacDonald in the 3-0 loss, and one of St. Lawrence's goals was an empty-netter. Yale's one goal in the 2-1 loss to Clarkson was scored by Stephanie Mock and assisted by Phoebe Staenz and Taylor Marchin, who are among the point leaders for the Bulldogs.
Yale started 3-0, but opened with D-I in name only Sacred Heart and Providence, whose struggles we've already chronicled. The goals came in bunches in those games, and perhaps the Bulldogs underestimated how much of a jump in intensity Clarkson and St. Lawrence were. Yale's schedule doesn't get any easier, as the Bulldogs host Boston University this weekend. The Terriers will most likely be sans Marie-Philip Poulin, who was originally supposed to be playing for Canada in the Four Nations, but the injury she suffered 10 days ago against Maine still has her sidelined. Jenner replaced her on the Team Canada roster. Regardless, the Terriers will be a stout test. Also on the docket this month are Cornell, Boston College, and Quinnipiac. If they can get a few wins in there, I'll be more sanguine about Yale's chances of moving up the ECAC ladder.
We've talked about teams struggling to establish consistency, and I think we see that in the WCHA. Right now, only two teams, Wisconsin and Minnesota, have winning records in conference. Bemidji had the hiccup in getting swept by Ohio State a couple of weeks ago. The Buckeyes just split with St. Cloud. Minnesota-Duluth and North Dakota are both 3-4-1. To me, it almost looks any one of five teams could end up getting the three and four spots, and home ice, for the WCHA playoffs.
You're close to that conference, as you are based in Minnesota. What do you see the rest of the year presenting for the WCHA?
Arlan: The four teams that are currently first through fourth — Wisconsin, Minnesota, North Dakota, and Minnesota-Duluth — have completed their games against each other for the first half. The bottom half of the league has games in hand on all of those teams, but they'll have to be able to take points from the leaders to make up the ground. Minnesota State looks to be the most likely place to earn points, and the Buckeyes and Beavers have yet to play MSU. Considering the standings combined with the remaining schedule, I'd say Bemidji State has a slight edge over the other teams in the bottom half, but it also is at a bit of a disadvantage compared to UMD and UND.
I've seen four of the five teams that you noted as contending for third and fourth place, but I won't get a look at Ohio State for a while. St. Cloud State is scoring more than in recent years, but the challenge will be to keep it up when the schedule toughens. I don't think the Huskies have the horses to stay in the race for home ice, but I'm sure they have evolved a lot under a new staff since I watched them in their opening weekend. The Buckeyes' new goaltender appears to have stepped in just fine, but they need to score more in conference and avoid those bad losses to teams that figure to finish below them, such as SCSU, if they are going to claim home ice. Minnesota-Duluth has a lot of new players that I'm sure will start to gel as the weeks progress, so from that aspect, the Bulldogs have a lot of upside. Their negative is that I'd give both North Dakota and Bemidji State an edge in terms of consistency of goaltending. BSU may be more consistent overall than UND from game to game, but if UND gets it together, it has the high-end players like Krzyzaniak, Meghan Dufault, and Becca Kohler that Bemidji State lacks. My best guess is that the battle for the final home ice spot will come down to North Dakota and Bemidji State, with UND coming out on top. A tighter race will likely be a battle for fifth between Bemidji State and Ohio State. That is the only thing I'd change right now from my preseason projections, where I had the Buckeyes finishing ahead of the Beavers for fifth.
Looking at the CHA, Mercyhurst was able to finally get that elusive sweep over Paul Colontino and Robert Morris. With neither Syracuse nor RIT able to sweep series on their own rinks, is it safe to say that after one week of CHA play the Lakers have once again established themselves as the heavy favorite in the season race in that conference?
Candace: It certainly seems that way, doesn't it? Lindenwood is currently second in the CHA, and while I don't see that lasting, it does point out how volatile that conference is. It almost seems like the Lakers are the favorite by default.
Mercyhurst hasn't gotten a lot of notice, but the Lakers keep winning. They are currently 8-1-1, with their lone loss being to a very up-and-down Northeastern squad. The tie was against a Maine squad that I am beginning to think is better than first assumed.
There's an old saw about how you can only beat who is front of you. Some might ding the Lakers for the supposed ease of their schedule, which has had two games against Providence and two against Minnesota State, but the Lakers keep winning. CHA play continues this weekend with a two-game set against Syracuse, which seems to always be the bridesmaid in its games with the Lakers.
When I look at the Lakers' schedule, I just don't see a lot of threats. They play Ohio State next week, which could be big for possible PairWise implications, and travel to Cornell on Dec. 1. Perhaps the Big Red will have gotten it together by then, but they are currently a hot mess.
Entering this past weekend, I thought perhaps the Colonials had righted the ship and were ready for the task of beating the Lakers, but neither game was particularly close. Robert Morris only got one goal on the weekend. Looking at the rest of the CHA, every other team is having major scoring difficulties. Mercyhurst isn't exactly lighting the lamp at the frequency of a Boston College or a Wisconsin, but they are scoring, and currently sit at 15th in team offense. RIT is the next-closest CHA team, sitting tied for 20th, but averages more than half a goal less than the Lakers per game. In fact, RIT averages two goals a game, and the rest of the CHA is all under that mark. Simple math would seem to indicate the Lakers are probably well-poised to take the first CHA auto bid.
This coming weekend is light on action due to the Four Nations (and we will be taking a break from this feature next week as a result), but one very interesting clash has Dartmouth traveling to St. Lawrence in a nonconference game. The Big Green have started 3-0; is it possible we underestimated a traditional ECAC power?
Arlan: Possible? Yes. However, I'm not likely to conclude much based on wins over New Hampshire, Union, and RPI. I see that I picked the Big Green ninth behind Colgate, so that much at least looks misguided. As I mentioned above, they are scoring so far. Laura Stacey is the big name at the top of the DC roster, and she has three goals and seven points already. If as a junior she can take her game to new levels, that bodes well. The big question coming into the year was goaltending. So far, so good, as Robyn Chemago has a .931 save percentage, but we'll learn more on that front through the remainder of 2014. In addition to playing the Saints twice, Dartmouth has a tough slate that includes Clarkson, BU, Harvard, Quinnipiac, Princeton, BC, and Vermont. If after that run we conclude that we sold the Big Green short, then they'll have a lot to celebrate come Christmas.
Princeton is another team that could head in either direction. After the Tigers opened with a bit of a whoops game at Penn State, they've reeled off three straight. They now get a couple of weeks to settle in a bit before their schedule ramps up with SLU, Clarkson, Quinnipiac, Minnesota twice, and Harvard in a six-game string. I would think playing .500 over that stretch would be a great result, but at a minimum, they need to get some points and avoid a long skid that could derail the season. The game with Dartmouth right after that stretch could prove vital for playoff positioning. Sophomore Kelsey Koelzer has opened hot with seven points already, only three short of her freshman total, and Molly Contini is averaging a goal a game. For Princeton to have season-long success, Kimberly Newell will need to clamp down a bit, because her save percentage is hovering around .900.
One more ECAC team to mention is the defending champion. With everyone it graduated, Clarkson had a lot to rebuild, but the pieces seem to have come together quite nicely. Renata Fast is finally healthy and playing, and once Erin Ambrose gets back from her Four Nations stint after a bye week, the Golden Knights should have a full cast available for the first time this year. Given the struggles of an assortment of teams like Cornell, Northeastern, Robert Morris, and North Dakota, do we like Clarkson's chances of making it back to the NCAA tournament better than we did a month ago?
Candace: Yes, with the caveat that Shea Tiley still needs to show more improvement. Over the last five games, she's only given up three goals, but those games were against Syracuse, St. Lawrence, Brown, and Yale, not exactly teams that are offensive giants. The last time Tiley was in net against a scoring team, she gave up seven goals in two games to Boston University, which swept the Golden Knights. Tiley is a freshman, so the potential is clearly there.
The good news for Clarkson is that it is getting scoring, something we wondered about with the graduation of Jamie Lee Rattray and a few others, such as Brittany Styner and Carly Mercer. Shannon MacAulay is currently tied with Brandt and Carpenter for the national scoring lead, though she has played more games than the other two. Cayley Mercer and Geneviève Bannon are fourth nationally in scoring, and the Knights have also seen production from freshman Savannah Harmon and senior Christine Lambert.
Clarkson is off this week, then resumes play on Nov. 14 with a home set against travel pair Harvard and Dartmouth. The Knights then travel to Quinnipiac and Princeton the following week. Clarkson should come out of that run at least .500, but winning three or even all four would make me more of a believer.
As for defending their championship, that might be a taller order. Looming in the second half of the season is a pair of games against Wisconsin in Madison. Those games will have huge PairWise implications, which is important since I don't quite believe yet that the Knights will win the ECAC tournament and the auto bid, so Clarkson needs to qualify as an at-large team. Losing both to Wisconsin would hurt the Knights chances of getting in that way.