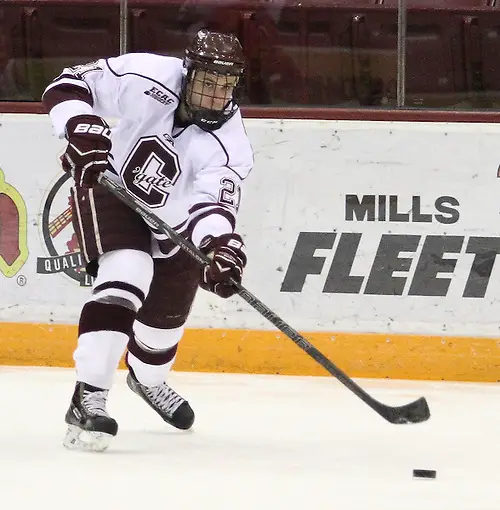 Colgate junior forward Mike Borkowski is done for the season after suffering a knee injury against Quinnipiac last Friday.
He recently underwent successful surgery.
"Obviously, we're disappointed to learn that Mike will miss the remainder of the season due to his injury," said Colgate coach Don Vaughan in a statement. "It will not be easy to replace a player of Mike's caliber in our lineup, but this is an opportunity for someone to step up and rise to the occasion. The same skills that make Mike such a great player will serve him well during the rehabilitation process. I expect him to make a full recovery and return to the ice as the same dynamic athlete he was before his injury."
Borkowski suffered the injury during the second period of the Raiders' contest against the Bobcats. He immediately left the game and was not in the lineup the following night for Colgate's 5-1 victory at Princeton, snapping a streak of 84 consecutive games played.
In nine games this season, Borkowski posted seven points on three goals and four assists and won 59.7 percent of his faceoffs.
"The support has been great from everyone around the Colgate community," added Borkowski. "It's obviously tough knowing I won't be able to compete on the ice for the remainder of the season. However, I am looking forward to bringing that same competitiveness to my rehab process.
"I am in great hands with the medical staff here and I look forward to getting on the ice again. I'll be with my teammates every step of the way as the season goes on."