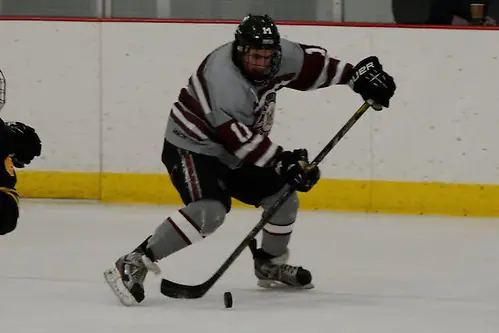 Cory Laylin has seen Hamline at its best.
His first job as a coach was in an assistant role with the Pipers during the 2008-09 and 2009-10 seasons.
Hamline won 32 games in that two-year stretch, advancing to the MIAC playoffs twice, including a title game appearance in 2009.
So he knows success isn't out of reach for Hamline and he is determined to get the program back to where it used to be.
"I'm excited to have the opportunity to coach here [and] I believe we have a lot of potential," Laylin said. "We've brought in some good players and we're working to get things back on track."
It appears Hamline is on the right track. The Pipers are 2-2 through four games. A season ago, it took them until Dec. 7 to win a game. They won only two all of last year.
"I bring a lot of energy to the rink and the guys have shown that same energy and enthusiasm," Laylin said. "They have stepped up and done what I've asked with a smile. They are willing to learn and want to be successful."
Laylin, a former standout at Minnesota who played 16 seasons of professional hockey, said the chemistry within the locker room has been vital to that change.
"We have a very cohesive unit in the locker room, and in my opinion, that is where improvement starts," Laylin said. "The players push each other each day to get better."
It's paid off. In the second game of the season, the Pipers earned a stunning 2-1 win over three-time defending conference tournament champion St. Thomas in the MIAC showcase.
Sure, it's a big victory very early in the season, but the importance of it goes beyond a mark in the win column.
"It's a confidence booster for us," Laylin said. "We lost to St. John's (6-2) the night before, but we made adjustments and played a good game against St. Thomas. I was proud of the effort."
Kevin Novakovich has led the Pipers offensively, scoring three goals. Jonny Gehrt has tallied a goal and three assists to lead the team in points (4). Brandon Reinholz has scored twice and has dished out an assist as well.
The Pipers have scored 10 goals in all while goalie John Sellie-Hanson has come up with 104 saves in three starts. He has allowed nine goals and is 2-1.
One of the improvements Laylin wants to see his team making going forward is finding a way to create more scoring opportunities.
"We have to get more traffic in front of the net and get nastier in front of the net to have more rebound goal opportunities," Laylin said. "Our guys are hungry to make plays and I'm confident we will continue to get better offensively."
The Pipers face two non-conference opponents this weekend, squaring off with 2013 national champion Eau Claire on Friday and battling Superior the following night.
"We are going to have to play at a high level and do the little things right," Laylin said. "Both of those teams are very solid. They will be good tests for us."
Hamline would love a chance to contend for a MIAC tournament spot this season, but doing that is easier said than done as the league is competitive from top to bottom.
"We have to focus on each period. We can't take any periods off if we want to win games," Laylin said. "This is a very good league and hopefully we can be in the mix at the end."
Early Start
Augsburg got a jump start on competing for the MIAC championship this season after coming up with a sweep of Bethel this past week. The Auggies defeated the Royals 5-1 and 5-2 in the series, improving to 3-1 overall and to 2-0 in the conference.
The Auggies held an impressive 81-36 advantage in shots in the two-game series and have taken 145 shots on the year. That aggressive effort has translated into 13 goals.
Mark Ohnstead has paved the way. In four games, he has come through with four goals and an assist. Rory Vesel and Dylan Meier have tallied two goals apiece.
On the defensive side of the ice, the Auggies have allowed only eight goals on 80 shots. Fedrik Melander has started three of the four games between the pipes, making 55 saves.
Falcons Flying High
Wisconsin-River Falls showed off its offensive talent in the first two games of the season, scoring nine goals in a pair of wins. The Falcons opened the year with a 4-3 win over Concordia (Wis.) and also knocked off Hamline 5-2.
Alex Murphy has been instrumental to the early success, scoring four goals. Christian George has tallied two goals. They are the only two players with multiple goals for the Falcons so far.
Much of River Falls' offensive success has come on the power play. The Falcons have five power play goals this season, with Murphy tallying three of them.
On the flip side, the Falcons have given up only two goals on the power play. If they can continue to have success scoring and defending in those situations, they are going to be in a position to contend for the WIAC championship again.
Sensational Sabres
Marian continued its dominance against Lawrence for the Battle of 41 trophy, winning it for the third consecutive season after a series sweep of the Vikings.
The Sabres, stinging from a pair of losses to defending national champion St. Norbert, took down the Vikings 2-1 and 5-2 to claim the trophy.
Goalie Mike Gudmandson rose to the occasion in the opening game of the series, racking up 25 saves on 26 shots to help Marian win its first game of the season.
Gudmandson, who is only a freshman, has started twice this year and has tallied a total of 62 saves. He was named the NCHA Defensive Player of the Week for his effort against Lawrence.
Although it's still early in the year, his goals against average of 1.51 ranks third in the league.
Gudmandson arrived on campus as a recruit with a lot of potential. Last year, his goals-against average of 1.74 for the Battlefords Northstars of the SJHL set a single-season league record. He was the league MVP as well.