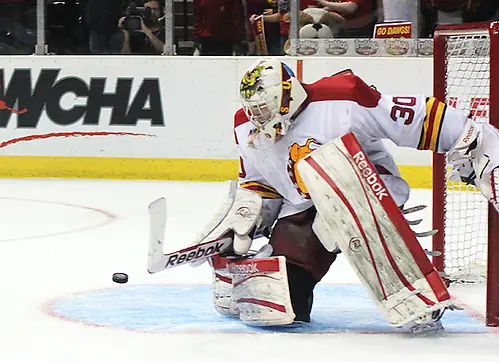 The stats were a little stunning.
Two shutouts. Just 16 goals allowed in nine games.
No, not those stats. Those were CJ Motte's numbers. As usual, the goaltender was getting it done for Ferris State.
The stunner was the Bulldogs' record, 4-5.
"As well as he played, goaltending being as it was, I would have been shocked if you said we'd be under .500," coach Bob Daniels said.
The defending MacNaughton Cup champions scored just 11 goals in their first nine games, including a paltry four in a seven-game stretch going into last week's league series against Alaska-Anchorage.
They took their frustration out on the Seawolves, scoring 10 goals in the series opener and four more in the second game. The latter was a 4-0 victory that was Motte's third shutout of the season and the 13th of his career, most among active goaltenders.
Everything's back to normal now, right?
"I think we did get back on track a bit," Daniels said. "But I will say this: I still think we're less than confident. It took quite a while to find the back of the net and break loose.
"We're not out of the woods yet."
Daniels said he's afraid his team was relying a bit too heavily on Motte, the WCHA coaches' pick as preseason player of the year, to get it through games.
"I can't help but think we didn't play with enough urgency," he said.
Motte's five defeats this season included two 2-0 losses and another at 1-0. He ranks third in the conference with a .948 save percentage and 1.58 GAA. Daniels was encouraged by last week's offensive outburst.
In the 10-2 victory, 10 of Ferris' 12 forwards factored into the scoring.
Gerald Mayhew finished the series with three goals and five points. Chad McDonald and Matt Robertson each had a four-point series.
"Part of our issue is that we lost quite a bit of firepower up front," Daniels said, referring to four forwards, including the Bulldogs' top two scorers, who graduated last year. "I'm not saying we didn't have other guys, but they were secondary scorers. All of sudden, they're catapulted into primary scorers."
Ferris State hosts Alabama-Huntsville this weekend before taking a nonconference road trip to Wisconsin over Thanksgiving weekend.
"We took a step in the right direction," Daniels said. "I'm pretty confident, between now and the end of the year, we'll have a good team."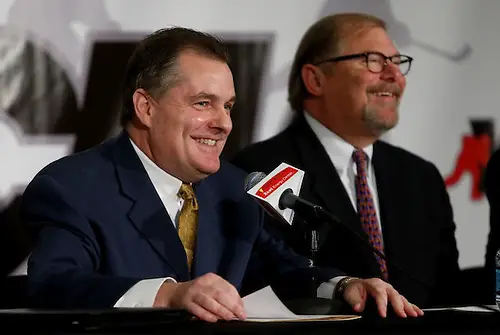 WCHA wants Arizona State
WCHA commissioner Bill Robertson has been talking about league expansion since he was hired in April. Now there's a program he has his eye on.
Arizona State announced on Tuesday that it was upgrading its club team to the NCAA Division I level and planned to have a conference affiliation by 2017.
"The WCHA is very interested in Arizona State University," Robertson told the Mankato Free Press. "I can say that we have started discussions with their program."
Robertson hinted that over the summer, talking about "western" expansion of the league.
"Part of my vision is to grow the WCHA and college hockey," he said. "There's a lot of potential in the sun belt for growth in college hockey."
The NCHC has reached out, too, according to reports, so there could be a bidding war.
"I think they would be a wonderful fit to our conference," Robertson said. "There's a process in place. That's all I can really say."
Uncharted territory for Michigan Tech
For the first time in its 94-year hockey history, Michigan Tech is 10-0. And for the first time since the USCHO.com Division I Men's Poll began in 1997, the Huskies are No. 1.
Huskies coach Mel Pearson knows it just gets harder from here.
"Our team's got to understand that, as the streak continues, we've got a target on our back," Pearson said Friday night following his team's 2-1 win at Bemidji State. The Huskies came from behind to win 3-2 on Saturday.
"We've gone from being the hunter to now the hunted. It's still a learning, growing process for us to understand how to play when maybe we're the favorites."
In both games against the Beavers, the Huskies were badly outshot — BSU had a 71-46 advantage in the series — and outchanced. But, behind the play of goaltender Jamie Phillips and his 68 saves, many of them incredible, Tech found a way to get it done.
"We've had a couple signs of this here and there but we've found a way to win games," Pearson said. "I think it's important to play these tough games early and finding a way to win them. These points are so important."
Pearson said he's trying to find the balance between letting his team enjoy its success and not letting it get complacent.
"As a coach you have to let the guys enjoy it for a while, but then at some point you have to get back to basics," he said. "Sometimes it's difficult when you're winning. You try and tell them they have to do this and that, and they say, 'Hey coach, we're winning; what's the big deal?'
"But there are some warts we see that we have to remove. So we'll be working on ways to get better for next weekend."
The Huskies will host No. 9 Minnesota State this weekend in what Ferris State coach Daniels called must-see hockey.
"Those are games that, if we weren't playing as series, I'd like to catch as a fan," Daniels said.
Said Pearson: "It's another tough series. There are not too many easy series in this league. So we'll find out. It's another measuring stick of where we're at."
Ice chips
• For the first time this season, all 10 WCHA teams are in action against each other this weekend.
• Alabama-Huntsville's win over Lake Superior State on Saturday was its first home victory against a Division I opponent since Jan. 8, 2011, when it defeated Bemidji State. The Chargers were 0-28-3 at home between wins.
• Both Alaska schools will try to end a five-game losing streak this weekend. After a week off, Fairbanks hits the road to play Lake Superior State. Meanwhile, Anchorage is back at home after an 11-day, four-game Michigan swing and will host Northern Michigan.
• Northern Michigan will begin a trip similar to that of the Seawolves, going to Alaska for back-to-back weekend series against Anchorage and Fairbanks. At 6-1-1, the Wildcats are off to their best start since 2001-02.
• Eight of Bowling Green's first 12 games were played on the road, and the Falcons are 6-1-1 in those games. They are back home this weekend for a series against Bemidji State.
• Minnesota State, which was idle last weekend, is off to its best 10-game start (7-3) since 1998-99, the year before it officially joined the WCHA.
• Bemidji State is 3-7, but all 10 games were been against ranked opponents — North Dakota, Minnesota, Alaska, Minnesota State and Michigan Tech. Only Alaska has dropped out of the top 20 since. Up next for the Beavers: No. 18 Bowling Green and No. 16 St. Cloud State.
• Lake Superior State freshman Gordon Defiel's 1-0 shutout win over Alabama-Huntsville was the Lakers' first since Kevin Kapalka blanked Bowling Green 2-0 on March 8, 2013 — a CCHA playoff game.
Players of the week
This week's WCHA players of the week are Ferris State forward Gerald Mayhew (offensive), FSU goaltender CJ Motte (defensive) and Lake Superior State goaltender Gordon Defiel (rookie).