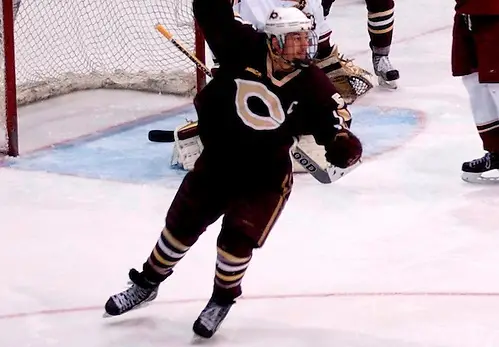 The holiday break is closing in, but first, there are a few more hockey games to play.
BRIAN LESTER
One of the biggest matchups of the weekend is a nonconference battle between St. Thomas and No. 14 St. Scholastica.
The Tommies are hosting the Saints with a chance to make a statement. They come into the game at 4-3-3 overall and hope to head into the break on a high note.
St. Thomas has scored 40 goals and Alex Altenbernd and Willie Faust have led the way with five goals apiece. Drew Fielding owns a 1.52 goals-against average.
The Saints are back on track after a two-game losing streak and come in at 7-3. They have been solid offensively as well, scoring 34 goals, and Derek Sutliffe leads the way with six. Luke Simpson and Dylan Nowakowski have tallied five goals apiece.
Opportunities could be limited in a game like this, and the team that can capitalize first and limit mistakes on defense will come out on top. St. Thomas has the edge at home, where it has yet to lose. St. Thomas, 3-2.
Below are a few other matchups on the weekend schedule:
Hamline (4-3-3) vs. No. 4 Wisconsin-River Falls (10-0): The Pipers are no doubt a much improved team, and this game provides an opportunity for revenge. Back in early November, Hamline lost 5-2 at home to the Falcons.
The Pipers have not lost in their last five games, tying three opponents, and they will look to keep that momentum going on the road. Kevin Novakovich leads the Pipers with six goals, while John Sellie-Hanson has come up big in goal. Generating early offense is going to be key against the Falcons on the road.
River Falls is one of the hottest teams in the nation and has blanked its last two opponents, including a 4-0 win over No. 11 St. John's on Tuesday.
Tanner Milliron owns a 1.69 goals-against average. If he is on top of his game, the Falcons will be tough to beat. Not to mention the offense is balanced, producing 42 goals, including six by Kyle Gattelaro. Hamline will play hard, but River Falls is going to be too tough to stop at home. River Falls, 4-2.
Milwaukee School of Engineering (6-4) vs. No. 13 Wisconsin-Eau Claire (5-3-2): The Raiders roll into Eau Claire having won their last six, and this game is no doubt an opportunity to make a statement against a nationally ranked opponent.
MSOE is 0-4 against ranked teams this season, but certainly has the talent to win this game. Omar Mullen has paved the way with nine goals and nine assists. The Raiders have scored 39 goals on the year and have struck for five or more in three of their last four games. The key is finding a way to win away from home – MSOE is 1-4 on the road.
The Blugolds have won two of their last three and have lost only once at home. Ethan Nauman has led the offense with seven goals and four assists, while Eau Claire has taken advantage of its depth at goalie to play well defensively.
Eau Claire has given up 22 goals. Tyler Green and Jay Deo have each played in five games between the pipes. This should be a hard-fought game, but I think the Blugolds find a way to get the job done. Eau Claire, 4-3.
Northland (1-10-1) vs. Concordia (Minn.) (5-4-3): The Cobbers are seeking their first win since the end of November and hope to earn it this weekend when they host the Lumberjacks.
Concordia will look to get its offense going after scoring no more than two goals in its last three outings. Jordie Bancroft and Andrew Deters have been instrumental to the success of the offense. Bancroft has scored eight goals and Deters has come through with five. The Cobbers have scored 34 overall and Alex Reichle has been solid in goal.
Northland has lost three consecutive games and hasn't won a game since beating Lake Forest 4-3 on Nov. 8. The Lumberjacks have been led by Darius Cole, who has tallied five goals and five assists. Michael Berens has come through with five goals and four assists.
The Lumberjacks will need to step up on defense to have a shot at beating the Cobbers. Northland has allowed 59 goals, with Tyler Ampe and Jesse Dillio splitting time between the pipes. Dillio has played in eight games and Ampe has played in six. Concordia is the better team and should have no problem winning this game, Concordia, 6-3.
DAN HICKLING
Friday
Cortland (5-6-1) @ Hamilton (3-3-1) – Hamilton 5, Cortland 4
Both are fair to middlin' teams that have scored wins over ranked opponents (Cortland over Geneseo and Hamilton over Williams). This one could come down to special teams – Cortland's PP vs. Hamilton's PK. Oh, and here's a fun fact for you – Cortland freshman forward Darren McCormick (2-16-18) leads the nation in assists.
Plymouth State (5-2-1) @ New England College (3-5-1) – Plymouth 5, NEC 2
One thing is certain. Plymouth goalie Gordon Ceasar will not have to make 66 saves.
Saturday
Johnson and Wales (5-3-1) @ Buffalo State (2-6-2) – Buff State 4, J&W 3
The Bengals (shut out in three straight) broke their scoring schneid last week and the sticks should be hot for another cold day in December.
Curry (4-5-1) @ Canton (1-8-1) – Canton 4, Curry 3
Canton endures the rough life of an independent, but this time should be rewarded for its patience.