Here are five surprises from the first half of the season for Big Ten teams:
1. Wisconsin's dreadful start
Wisconsin came into the season without a lot of names that were frequently seen on the score sheet during the 2013-14 season. Most notably, its top five scorers had either graduated or departed early from the program. Those five players combined for 170 points last season, which accounted for a little more than half of the Badgers' offense.
This season, Wisconsin went to battle with 11 true freshmen, although that number dropped to 10 after Keegan Ford left the program in early December. The Badgers started off 0-8 before tying and winning their first games of the season against Ferris State. They started off the Big Ten schedule by getting swept at home by Penn State. The Nittany Lions were the first conference foe to sweep the Badgers at Kohl Center since Minnesota State did in November 2012.
Wisconsin's leading scoring freshman is Jake Linhart, who has zero goals and five assists. He is only two points behind Grant Besse for the team lead in points. Coach Mike Eaves has said that freshmen typically turn a corner after the holiday break. Whether Wisconsin's stable of young players can do that and help salvage the season remains to be seen.
Wisconsin's next action will be Jan. 2-3 when it hosts Michigan Tech.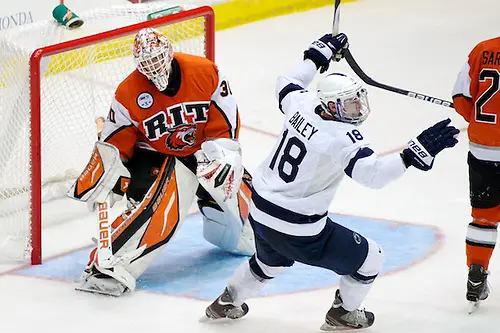 2. Penn State's solid start
In its second year in the Big Ten, Penn State has sent a message to the rest of the conference and country saying that it is a team that deserves some respect. The Nittany Lions are 9-4-2 and their 3-1 Big Ten record puts them atop the conference standings.
After starting 1-1-2, the Nittany Lions rattled off four straight wins at home. They then split with Massachusetts-Lowell and Michigan on the road and swept Wisconsin after falling to Cornell at Madison Square Garden.
Penn State has two players in the top 15 in the nation in scoring. Senior forward Taylor Holstrom and junior forward Casey Bailey both have 18 points this season. Bailey's 10 goals put him at No. 10 in that department, and Holstrom's 14 assists place him at No. 5 in that category. Penn State has the nation's No. 7 offense, averaging 3.47 goals per game and has converted 16 of 60 power-play opportunities.
Penn State will play in the Three Rivers Classic at Pittsburgh's Consol Energy Center on Dec. 29-30.
3. Michigan's ho-hum start
Had someone told me before the season started that Michigan would average nearly four goals per game in the first half, I wouldn't have thought its record would be a shade above .500, but here we are.
The Wolverines are 8-7 after dropping their last game of the first half to Boston College. The loss snapped Michigan's four-game winning streak.
Consistency and playing well away from Yost Ice Arena have been the two biggest problems for Michigan so far this season. An 8-4 victory over Massachusetts-Lowell is the only away win for the Wolverines. The 1-5 road record includes a loss to Ferris State, two losses at Michigan Tech and losses to Boston University and Boston College. Michigan's No. 3 offense is also coupled with the nation's 42nd defense, which gives up 4.07 goals per game.
The Wolverines had won six of their last seven before Boston College, but the loss to the Eagles left a sour taste in their mouth heading into the Great Lakes Invitational, which will be held in Detroit Dec. 28-29. Michigan State, Ferris State and Michigan Tech are also featured in the tournament's field.
4. Struggles between the pipes
Minnesota's Adam Wilcox has a 9-4-1 record, .926 save percentage and 2.12 GAA so far this season. Those numbers, which are not as good as the junior netminder and Gophers fans are used to, put Wilcox in the middle of the pack among national goaltending leaders.
That being said, he still has the best stats in a conference where goaltending was supposed to be a strong position.
Penn State's Matthew Skoff is just behind Wilcox and had a solid start to aid the Nittany Lions' so far this year. He has a 6-3-2 record and 2.27 GAA.
Things fall off quite a bit after Wilcox and Skoff. Michigan State's Jake Hildebrand is 6-9-1 with a 2.71 GAA, Michigan's Zach Nagelvoort is 6-6 with a 2.78 GAA and Wisconsin's Joel Rumpel is 1-8-1 with a 3.24 GAA.
While the rest of the teams have gone with one netminder for the most part, Ohio State has split starts. Matt Tomkins is 3-5-1 with a 2.80 GAA and Christian Frey is 2-4 with a 3.69 GAA.
The reason expectations were high going into the season was because Wilcox, Nagelvoort, Frey and Rumpel all finished in the top seven in save percentage last season.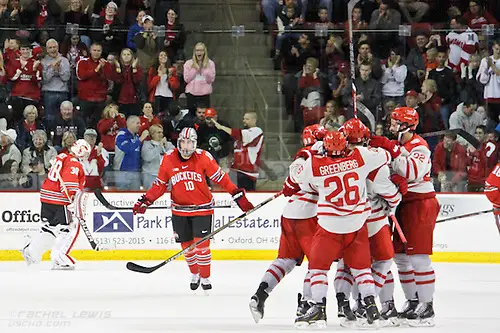 5. Non-stellar nonconference records
Minnesota (8-4) and Penn State (6-3) posted decent nonconference records in the first half, but the four other teams haven't carried their weight.
As a whole, the league is 30-35-2 against teams outside of the Big Ten, and that's not going to help the cause of getting multiple teams into the NCAA tournament from the six-team league.
Even if you remove the outliers (Minnesota and Wisconsin) from the equation, the four middle teams are a pedestrian 21-23-1.
The good news for the Big Ten is that there are a few opportunities to get some marquee nonconference wins after the holiday break. Minnesota plays Minnesota State in the opening game of the North Star College Cup and could possibly meet Minnesota-Duluth again in that tournament. Wisconsin plays Michigan Tech. Michigan and Michigan State will get shots at Michigan Tech and Ferris State. Penn State will play in the Three Rivers Classic, which also features Robert Morris, Colgate and Western Michigan.
Some big wins, especially by teams with poor records right now, would go a long way toward helping other teams in the conference in March. Of course, as we all know, all six teams in the Big Ten have a shot of getting the automatic bid into the tournament by winning three games the Big Ten tournament.