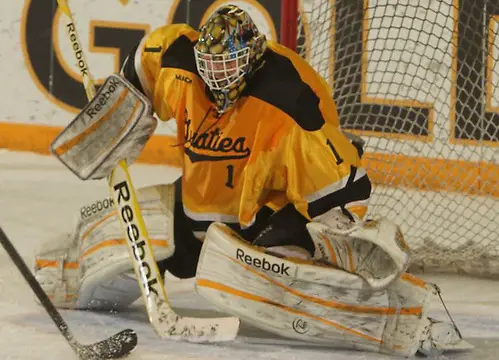 And the men's Division III games kicked off in high gear this past weekend.
Yeah, a Happy New Year indeed!
Let's see what happened at rinks across the East and West.
WEST – BRIAN LESTER
MIAC – Gustavus Adolphus didn't start off the New Year the way it had hoped it would, falling 3-2 to No. 14 Williams on Friday night in a nonconference game. The Gusties, in the midst of an eight-game winless streak, went into the third period tied at 2-2 with the Ephs. A power-play goal by George Hunkele wiped out their hopes for a win. Blake Schammel scored his team-leading fifth goal of the year. Connor Deal also scored a goal for Gustavus, which fell to 5-5. Gustavus held a 27-26 advantage in shots and John McLean made 23 saves…Nick Marsh scored a goal for the second consecutive game, but St. Olaf fell 3-1 to nationally-ranked Williams on Saturday. The Ephs led 3-0 before Marsh put the Oles on the board. The goal was Marsh's second of the season. The Oles were outshot 30-28 and Steve Papciak made 27 saves. St. Olaf remains winless on the season when giving up three or more goals in a game. St. Olaf lost for the third time in its last five games and has won only once since Nov. 22. The Oles are 3-9-1 on the season.
NCHA – St. Scholastica struck for nine goals in a 9-2 win over Tufts in the consolation game of the Pathfinder Bank Oswego Classic on Saturday. It marked the fourth consecutive season where the Saints have scored at least nine goals in a game. St. Scholastica owned a 33-22 edge in shots and seven players scored in the victory, including two goals apiece by Luke Simpson and Derek Sutliffe. Dylan Nowakowski dished out three assists. Corey Koop earned the win, notching 20 saves, helping the Saints improve to 8-5-0 on the year. The Saints lost 4-3 in overtime to Nazareth on Friday night after letting a 2-1 lead slip away. Steven Phee scored twice and Nowakowski tallied two assists. Tyler Bruggeman made 32 saves…Lake Forest topped Hamilton 5-3 in its first game in the Codfish Bowl at Massachusetts-Boston. The Forresters scored three goals in the third period to secure the victory. Billy Kent scored twice in the period and Bobby Barrett tallied two assists in the third. Jimmy Cusan also scored a goal in the third as the Forresters won their fifth consecutive game and improved to 7-3-2 on the year. Leo Podolsky racked up 37 saves on a day when Hamilton held a 40-28 advantage in shots.
WIAC – Wisconsin-Stevens Point would have loved to beat St. Norbert in the national championship game last season, but the No. 8 Pointers will certainly savor Saturday's 6-5 win over the top-ranked Green Knights on the road. In last season's title game, the Pointers fell 3-1 to the Green Knights. Stevens Point (10-2) scored three times in the second period to take a 4-1 lead. St. Norbert (10-1-1) rallied to tie the game at 4-4 before goals from Scott Henegar and Joe Kalisz pushed Stevens Point in front 6-4. Kalisz scored twice for the Pointers, who have won their last five games. Michael Hill punched in two goals for the Green Knights. The Pointers won despite being outshot 39-23. Brandon Jaeger earned the win in goal….Fourth-ranked Wisconsin-River Falls remained unbeaten after a 3-1 win over Aurora on Saturday. The Falcons are now 13-0 after Christian George scored twice off the power play and Tanner Milliron racked up 20 saves. Milliron has earned the win in every game this year. River Falls trailed 1-0 after the first period, but George tied the game at 1-1 and eventually gave the Falcons a 2-1 lead as he scored his seventh goal of the year. River Falls held a 27-21 advantage in shots and improved to 8-0 at home. On Friday, River Falls edged Aurora 4-3, setting a program record for consecutive wins as it ran its win streak to 12 games. George scored twice in the win.
EAST – DAN HICKLING
They rang in the New Year in the same way they rang out the old – with a slate of nonconference tilts.
The East's D-III action was largely confined to participation in annual holiday tournaments. The results, particularly for the bevy of nationally-ranked teams that skated (all except No. 11 Bowdoin), were mighty interesting.
Norwich, ranked No. 2 (in the most recent poll) proved to be less than hospitable holiday hosts in its own, Northfield Savings Bank Holiday tourney. The Cadets captured the crown for the 11th time in the tourney's 16-year run with a 4-1 triumph over Buffalo State in Saturday's championship game. William Pelletier popped in two goals and helped on another, one day after garnering a goal and an assist in a 3-0 win over Colby. In that one, goalie Ty Reichenbach stopped 21 White Mules shots for the shutout.
No. 3 Babson skated once, and it resulted in the Beavers' first blemish on its previously spotless record, a 2-2 overtime tie at Plymouth State. Babson had gone a perfect 11-0-0 to start the season, and might have made it an even dozen except for stellar work from PSU goalie Gordon Ceasar, who made 34 saves, including one on a penalty shot. The Beavers led 2-1 until Plymouth's Andrew Wigg scored on a power play with 11:50 gone in the third.
Massachusetts-Boston, ranked fifth, suffered its first loss of the season, a 4-1 upset by Connecticut College in the Codfish Bowl. The Camels scored four unanswered goals, including power-play tallies in the first period by Greg Liautaud and J.C. Cangelosi. UMB had reeled off 10 straight wins to start the season.
Sixth-ranked Oswego captured its own Pathfinder Bank tournament for the third year in a row by carding wins over Tufts (4-2) and Nazareth (5-2). Mitchell Herlihey earned tourney MVP honors after racking up four points, including a goal and two assists in the championship game win over Nazareth.
Plattsburgh netminders Brady Rouleau, Ryan Hubbard and Spencer Finney didn't allow a single goal through two games of the Cardinal Classic, but their combined efforts weren't enough to give seventh-ranked Platty the crown in its own tournament. That distinction went to No. 15 Amherst, who battled the Birds to a 1-0 shootout win in the championship tilt Saturday. Finney made 31 saves, while Lord Jeffs' netminder Danny Vitale stopped 38 shots through the scoreless regulation and overtime sessions. The title was finally settled by Amherst's Dan Merenich, who beat Finney in the second shootout round. The night before, Rouleau and Hubbard hooked up for a 21-save shutout in Plattsburgh's 5-0 win over New England College. Paul Fregeau netted his first three goals of the season to help the Cardinal cause.
Williams, ranked 14th, enjoyed a successful Western trip that netted the Ephs a 3-2 win over Gustavus Adolphus, followed by a 3-1 win over St. Olaf. Five different marksmen connected for Williams, including Tyler Young, who scored twice against the Gusties.