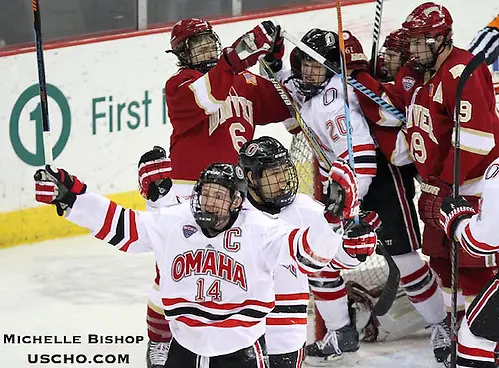 After sweeping then-No. 10 Denver last weekend and taking over first place in the NCHC, Omaha coach Dean Blais may have had the quote of the year when he responded to a reporter's question of whether he had thought his team could have the weekend success it did without the services of starting goaltender Ryan Massa.
Blais quipped, "I would say you brought some medicinal marijuana from Denver."
Omaha controls its own destiny. It has a two-point lead on Minnesota-Duluth, four on North Dakota and five on Miami, but all four squads have played the same number of games. Keep winning, and Omaha takes the Penrose Cup as NCHC regular season champion.
Blais knows that's easier said than done.
"You really can't control that, as you well know," said Blais. "We found a way to win last weekend when Denver had the majority of good scoring chances. Our goaltender was obviously fantastic on Saturday, and it was our backup goaltender, Kirk Thompson, because Ryan Massa had a concussion.
"The league is obviously the top league in the country, as shown by the nonconference record against other teams and how the league has done. We battle so hard against ourselves, but I think that [the record] is why the PairWise has five teams from our conference in the top 15."
Omaha's record is all the more impressive considering that its roster includes 11 freshmen. It's one of the reasons that nobody expected as much from the Mavericks this season. However, three freshmen — Jake Randolph, Avery Peterson, and Tyler Vesel — are Nos. 3, 4 and 5 on the scoring chart.
Peterson has been named NCHC rookie of the week twice, and Vesel and Randolph each have captured that honor once.
"They're real special players," said Blais. "A lot of times freshmen enter the league and can play and contribute here and there, but those players are really special. Vesel and Randolph were one and two in scoring in the USHL last year. That's not easy to do, to find playing time on the power play and penalty kill and be impact players as freshmen."
The other player who has contributed significantly is sophomore Austin Ortega, who has stepped in on the top line and leads the team in scoring. Ortega's linemate and classmate Jake Guentzel is second on the team in scoring.
Blais compared Ortega favorably with departed offensive star Josh Archibald.
"Sometimes there's a sophomore jinx after you have a great freshman year, but both those two sophomores [are playing well]," Blais said. "Austin now with eight game-winning goals leads the NCAA in that category. Jake Guentzel played on the same line with Josh Archibald and Dominic Zombo last year. Austin stepped in for Josh Archibald and is putting up Josh Archibald-like stats.
"It's pretty amazing what he's done. Last year, nine goals, 10 assists, and this year he's already got 13 goals and 11 assists. He has really found the consistency in his game."
This weekend, Omaha travels to Colorado to take on Colorado College, which is in the NCHC cellar. However, Blais knows his team must be prepared for a battle.
"That's certainly the key to going out there and having any success at all; you have to be mentally prepared to play a good hockey team," he said. "Colorado College beat the U.S. U-18 team 8-4, and I watched that game, and I watched some of their other games, and they are a very good team."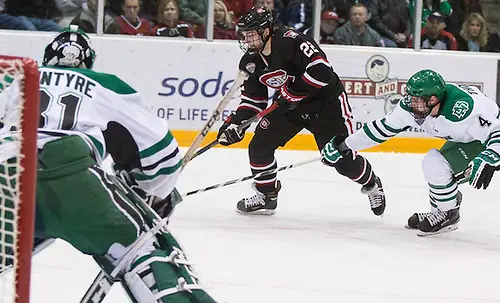 Spark in St. Cloud
Coach Bob Motzko and the St. Cloud State Huskies, last year's Penrose Cup champs, entered the second half of the season on a down note.
While the Huskies had a few notable wins on a schedule that included mostly ranked teams — including wins over Colgate, Minnesota and North Dakota — the Huskies struggled to find consistency and closed their first half on a three-game losing streak.
St. Cloud opened its second half against No. 14 Quinnipiac, and after falling behind 2-0, rallied for a 3-2 win. The momentum didn't carry over immediately, as the Bobcats won the rematch 4-1.
However, last weekend, St. Cloud earned its first sweep of the year, and did so against a tough foe: No. 5 and conference rival Miami.
Despite the three wins in four games to start the second half, Motzko said he knows that his team has a lot ahead of it.
"After Christmas now, it's just a small snap shot, but we've been a little smarter defensively and done better with puck protection," said Motzko. "It has put us in a better situation, but by all means, we aren't ahead of ourselves, and it's been a couple of good weeks. We're hoping that it leads to a better second half, not just a couple good weeks now."
One reason for St. Cloud's early second-half success has been the play of junior standout Jonny Brodzinski, who leads the team in scoring. Before the Quinnipiac series, Motzko challenged the Los Angeles Kings prospect to take on a new role.
"Since Christmas, we have him back at center," Motzko said. "He was a center in high school, and he didn't play any center the first two years with us. We need that defensive responsibility as well. We asked him if he would do this for us and give it a try, and he knew exactly what it meant, that he would have take on that No. 1 center role and be very strong defensively, play teams' top players, and yet still find ways to be the strong offensive player for us. He's just doing a terrific job leading our hockey team right now at both ends of the rink with a great work ethic. It's pretty special for us to watch him take that role without even batting an eye."
In the Miami series, Motzko experimented further, giving Rasmus Reijola the start in goal on Saturday instead of normal starter Charlie Lindgren. Given how well Lindgren played in St. Cloud's 3-1 win on Friday, the decision may have raised some eyebrows.
"It's maybe something we should have done a little earlier," said Motzko. "Charlie has been very strong for us. He's really showing strength on Friday night, and he's perhaps not quite as strong on Saturday. We wanted to back him off a bit because he was terrific Friday against Miami, and we made our mind up going into the weekend. 'Ras' has been terrific in practice, and he's had a couple starts in his career that were on the road, and we wanted to get him a start at home.
"It was a big conference game for us, and we were fortunate that it worked out, because Charlie had a terrific game and then we were able to come back to 'Ras' the next day, and he was up to the task and gave us a chance to win that hockey game. It was a great reward for both of them to have some internal competition. We think it makes our team better, and makes both of them better to have that competition."
This weekend, St. Cloud will try to keep its momentum up on the road in a crucial conference series with Denver, whom the fifth-place Huskies lead by one point in the NCHC standings.
"For us right now, the road trip comes at a great time," said Motzko. "You have your holiday break, and the guys go home and then come back and we had two home series. You can tell that we are anxious to get out of here, so it comes at a good time. For us right now, we are just concentrating 99 percent on our play. We are out of the race right now and are trying to get back into it."
Players of the week
Offensive player of the week — Joe Rehkamp, St. Cloud State: In the first sweep St. Cloud achieved since last season, Rehkamp notched three points against Miami, which entered the series as the top team in the NCHC and No. 5 in the USCHO.com Division I Men's Poll. On Friday, Rehkamp scored the game-winner at 4:09 of the third period. In Saturday's 3-2 win, Rehkamp assisted on St. Cloud's first goal and scored the game-winner at 5:19 of the third. He finished plus-3 on the weekend.
Defensive player of the week — Willie Raskob, Minnesota-Duluth: In Minnesota-Duluth's series at top-ranked North Dakota, Raskob assisted on the game-winner in Friday's 4-1 win and finished plus-1. On Saturday, he scored the first goal and assisted on the second in a 5-2 loss. Raskob also helped the Bulldogs kill all four North Dakota power play attempts on the weekend.
Rookie of the week — Avery Peterson, Omaha: In UNO's sweep of Denver, Peterson tallied three points, and he earned his second rookie of the week honor. Peterson scored the first Omaha goal Friday in a comeback win from a 3-0 deficit, then assisted on the goal that tied it at 3-3 in the second period and another goal that tied it 4-4 late in the third period. Peterson also won nine of 15 faceoff attempts on the weekend.
Goaltender of the week — Zane McIntyre, North Dakota: McIntyre earned his third goaltender of the week award in North Dakota's split with No. 7 Minnesota-Duluth. He stopped 74 of 79 shots and earned a .937 save percentage, posting back-to-back season-high save numbers, earning 33 saves in a 4-1 loss Friday and 41 saves in a 5-2 win. The 41 saves is a career regular season high; 17 of those saves came in the third period as Minnesota-Duluth mounted a furious comeback attempt. He finished with a 2.55 GAA in the series.