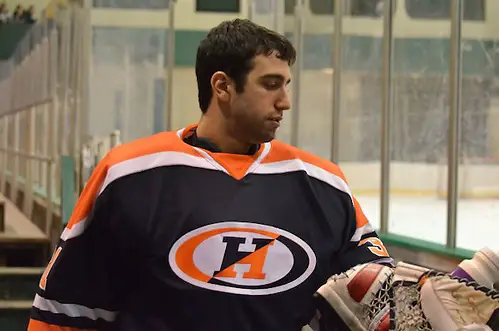 The weekend has come and gone and teams, even though we're only in mid-January, have started to watch the scores and jockey for playoff positioning.
Dan Hickling and Brian Lester recap the weekend that was in Division III.
ECAC East – The weekend just passed was a little "Jekyll and Hydish" for the league's top three teams, namely Norwich, Massachusetts-Boston and Babson. That's especially true for the Cadets, ranked No. 2 in the land. On Friday, Norwich pumped in goals without let up in a 9-0 obliteration of St. Michael's. The next night, however, was a different story, as the Cadets were blanked by Middlebury, 3-0. Stephen Klein stopped 25 shots for the shutout … No. 10 Mass-Boston racked up twin wins, 5-4 over St. Anselm and 4-1 over New England College. Friday's win versus St. A's was a bit of a struggle, however, as the Beacons had to mount a third period rally – capped by a pair of Matt Lemire goals – to prevail … No. 7 Babson salvaged a 3-3 overtime tie with NEC, then pulled out a 7-5 win at St. A's in a game in which it erased three different one-goal deficits.
ECAC Northeast – All the action was out of conference and none of it involved nationally-ranked (at the time) teams. Of note was Curry's 4-4 tie with Fredonia which saw all eight goals scored in the second period. Indeed, the Colonels trailed 4-1 with 2:36 remaining in the second, then rebounded with a trio of goals coming from Jordan Reed, James Murphy and Tyler Vankleef. On Saturday, Reed scored three times (giving him 14) in boosting Curry to a 7-3 win over Buffalo State. Reed scored in three different fashions – power play, penalty shot and empty-netter.
ECAC West – The lone in-conference tilt saw Utica blank visiting Manhattanville 2-0 on Saturday. Utica goalie Dylan Wells made 27 stops for the shutout, while the Pioneers got third period goals from Peter LaFosse and Louie Educate … Hobart made its way into national ranking – tied for 15th – with wins over Salve Regina (7-0) and Nichols (4-3). Statesmen goalie Lino Chimienti stopped 43 Salve salvos for his first shutout of the year.
MASCAC – Middle-of-the-pack Massachusetts-Dartmouth turned heads all over the country with its 8-2 hammering of first-place Plymouth State, one of three tilts staged on Saturday. Matt Baldino and Casey Shea each potted two goals, while netminder J.J. Solloway stopped 41 shots.
MIAC – Nick Nielsen scored the game-winning goal for St. Thomas in its thrilling 3-2 win over nationally-ranked Wisconsin-Eau Claire on Saturday. The score was tied at 2-2 after one period before Nielsen broke the tie and lifted the Tommies to their third consecutive win. Jordan Lovick and Thomas Williams also scored goals, giving St. Thomas an early 2-0 lead against the No. 12 Blugolds. Goals by Ross Andersen and Jason Eddy tied the game at 2-2. St. Thomas held a 40-28 edge in shots and Joe Morris won his second game as a goalie for the Tommies. St. Thomas closed out the weekend with a 4-1 win over Aurora, marking their fourth consecutive victory. St. Thomas is 9-3-3 on the season … Concordia (Minn.) completed a sweep of No. 14 St. John's over the weekend and moved into first place in the conference. The Cobbers beat the Johnnies 4-0 on Saturday. They opened the series with a 3-2 overtime win. It marks the first time since 2000 that Concordia has swept St. John's. Dalton Mills, Jon Grebosky, Zach Doerring and Andrew Deters all scored goals as Concordia improved to 9-5-3 overall and 4-2-2 in the MIAC. Jordyn Kaufer made 27 saves in the win. He is 5-2-2 on the year and the Cobbers have won their last three games. In Friday's win, Grebosky scored the game-winner in OT and finished with two goals on the day. John Haeg scored twice for the Johnnies … Hamline is still unbeaten in conference play after sweeping St. Olaf. The Pipers blanked the Oles 3-0 on Saturday to cap the series. John Sellie-Hanson made 44 saves en route to his second shutout of the season. Jaycob McCombs, Cody Mason and Brandon Reinholz all scored goals for Hamline, which is 7-4-4 overall and 3-0-3 in league play. The Pipers have won three consecutive games and on Friday, picked up a 4-2 win behind two goals from McCombs, who also tallied an assist.
NCHA – No. 8 Adrian capped its weekend with a 3-0 win over St. Scholastica. The Bulldogs improved to 12-2-3 overall and are 9-0-1 in league play. Kyle Brothers, Ryan Lowe and Pat George all scored goals for Adrian. Brothers came through with his 13th goal of the year. The goal for Lowe was his fourth of the season and the 17th of his career. George's empty-net goal was the first of his career. Scott Shackell earned the win in goal, making 27 saves. On Friday, Adrian and St. Scholastica skated to a 2-2 tie. It was the third time this month that the Bulldogs have tied an opponent. Adrian owned a 41-19 advantage in shots. Thompson and Josh Ranalli both scored goals for the Bulldogs. Derek Hills and Derek Sutliffe both scored for the Saints … Lawrence and the Milwaukee School of Engineering split their two-game series. The Vikings earned a 3-2 win on Saturday after falling 5-2 on Friday. The Vikings snapped the Raiders' four-game win streak on Saturday. Matt Moore, Ryan Eardley and Blake Roubos all scored goals for Lawrence, which held a 44-41 edge in shots. Matt Soderqvist tallied 39 saves for Lawrence. The Vikings won despite giving up two power-play goals to Casey Moneer. The Raiders dominated on Friday as they won for the 10th time in 12 games. James Ring scored twice for the Raiders, who owned a 42-21 advantage in shots. Lawrence is 6-10-1 overall and 5-5 in the league. MSOE is 10-7 overall and 5-5 in the league as well … Lake Forest swept Marian, capping the series with a 4-1 win. The Foresters won 4-3 on Friday. Ian Pichel, Shawn Nelson, Billy Kent and Bobby Barrett all scored goals for Lake Forest, which is now 9-3-5 overall and 7-2-1 in the NCHA. Barrett has scored five goals this season. On Friday, Jack Lewis scored on the power-play in the third period to break a 3-3 tie. It was one of two goals Lewis scored in the win. Marian had come back to tie the score at 3-3 in the second, thanks in part to a pair of goals by Rjay Berra.
NESCAC – No. 5 Trinity upped its winning streak to eight straight with triumphs over Bowdoin, 2-1, and Colby, 6-3. Tallies by Tim Shea and Michael Flynn proved to be enough offense against Bowdoin, which had been ranked 15th. The next night, Ryan Cole scored twice to fuel the romp against the White Mules … No. 12 Amherst dropped a 6-4 count to Connecticut College, then eked out a 3-2 win against Tufts thanks to David White's goal with 26 seconds left in regulation. It was White's second marker of the game and eighth of the season … No. 11 Williams was tied, 1-1 by visiting Manhattanville, then pounded No. 9 Plattsburgh (then ranked No. 3), 6-3 on the road. Craig Kitto notched the hattie while staking the Ephs to a 5-0 lead.
SUNYAC – With all activity being out of conference, the weekend saw no movement in the SUNYAC standings. However, with first place Plattsburgh having lost twice – at home, no less – to Middlebury (3-1) before being shocked by Williams, there were some seismic waves felt nationally. The Cardinals tumbled six spots to No. 9. The SUNYAC's other ranked power, Oswego, tied Elmira 2-2 in its only tilt, but actually rose one spot to No. 4 … Meanwhile, Brockport saw its school record winning streak snapped at six with a 5-3 loss to Nazareth.
WIAC – Wisconsin-Stevens Point and Wisconsin-River Falls split their pivotal series over the weekend. The seventh-ranked Pointers won 1-0 on Friday, but lost 4-2 to the fourth-ranked Falcons on Saturday. The Falcons scored three consecutive goals, including twice in the second period, to secure the victory. Kyle Gattelaro punched in two goals for the Falcons, who improved to 14-2-1 overall and 3-1-0 in the WIAC. Stevens Point fell to 12-4 overall and to 3-1 in the league. Lawrence Cornellier and Scott Henegar both scored goals for the Pointers. Friday's game went right down to the wire, with Kyle Brodie scoring with 43.1 seconds left in regulation. It was the first game-winning goal of Brodie's college career. Brodie has scored his fourth goal of the season. Brandon Jaeger came through with the ninth shutout of his career. The Pointers had a 23-20 advantage in shots in the win … Matt Millis came through with a game-winning goal for Wisconsin-Stout in a 3-2 win over Wisconsin-Superior on Saturday, helping the Blue Devils complete a series sweep of the Yellowjackets. Superior led 2-0 early before Stout made its comeback. Danny Ray and Justin Moody also scored goals for Stout, which improved to 5-8-1 overall and 2-2 in the WIAC. On Friday night, Chase Hollander earned the first shutout win of his career in Stout's 2-0 victory. He stopped 37 shots. The win was the first of the year in six appearances. Moody and Derek sand both scored in the victory. Moody's goal was his seventh of the season. It was the first goal of the year for Sand.