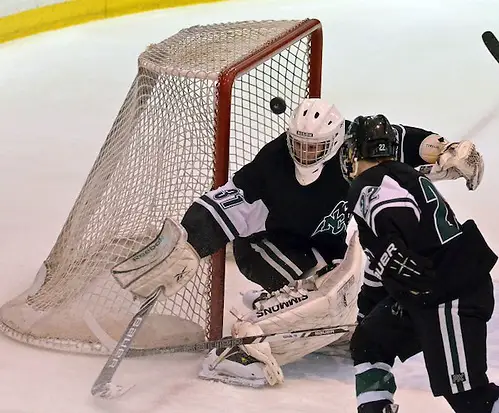 It's all about the bottom line, and in hockey, that means Frozen Four championships.
Western schools have capture the past FroFour titles (with St. Norbert accounting for three of them) but team success at that or any level reflects the ability of the players contributing to it.
That said, it's worth noting that currently most of the major production categories are lead by Easterners.
The nation's top point getters, top goal scorer, top set up man, top power play producers, and, heck, even the top goaltender (by save percentage) all come from within the East's six conferences.
Most of those come from squads that can harbor legitimate Frozen Four hopes, too.
Steven Buco has his Massachusetts-Boston mates clawing for the top of a very tough ECAC East pack by virtue of his 30 points and 19 assists, both tops in the nation. Buco, who is the ECACE's reigning Player of the Week, also has 11 goals, four of them game-winners.
Babson's Mike Vollmin is the top scorer among all D-III d-men, having recorded 15 setups to go with three goals to help the Beavers stay right with Norwich and Mass-Boston.
As for goalies, it might be fair to say that Nichols owes its hopes for second straight trip to the NCAA's largely to the work of junior goalie Alex Larson.
Larson's save percentage of .950 is tops in the land, and for perspective, is 11 points better than Tim Thomas' NHL record (.939) the year he led the Boston Bruins to the Stanley Cup.
For power play proficiency you'd have to look at a quintet of Easterners – Trinity's Sean Orlando and Oswego's Matt Galati among them – all of whom have potted six extra man goals.
And while it might be a stretch to count Cortland among legitimate title contenders (just yet), Nick Zappia and his nation-leading 17 goals help make the Red Dragons rather exciting to watch.
"I Believe In Jack"
Geneseo has used this season to honor young Jack Reed, the son of the school's interim director of admissions, Kevin Reed, who was born last year with Down Syndrome.
The team has sported helmet stickers that say "I Believe In Jack" all year, and have also worn blue and yellow wristbands with the same inscription.
On Saturday, the Ice Knights will ramp up its efforts with a Down Syndrome Awareness event in conjunction with its home game against Canton.
The team will raffle off a signed jersey and stick, and will also have the wristbands for sale.
The proceeds will the Arc of Livingston-Wyoming, a non-profit work that provides services to developmentally disabled individuals and their families.
Also on the community service front, Castleton State held a pair of events last weekend that honored emergency services providers and benefited a local food pantry.
Recruiting season is here
You ever wonder what coaches and their staffs do during when games are not on the schedule? They go watch more hockey.
Why? So that they find, mine, and in some cases, unearth new recruits to help out for next season and beyond.
The plethora of junior hockey showcases that were held across North America during the last month provided plenty of opportunity for viewing and reviewing talented young players.
Now comes the time when word of player commitments begins to filter out.
Plattsburgh has been especially busy, the Cardinals having snagged four recruits, including forward Ross Sloan (Oakville, OJHL). Sloan, a small sized (5-8, 160) playmaker has averaged a point per game with Oakville over the past two seasons.
He will be joined at Platty by a pair from the EHL, defenseman Charles Barber (New York) and forward Cole Stallard (New Hampshire). Also coming will be center Cam Owens (Islanders, USPHL). Also coming to the North Country will be forward Joseph Deveny (Stouffville, OJHL) who has committed to Canton.
Hamilton will welcome a pair of OJHL forwards, Richard Court (Georgetown) and Ian Nichols (Orangeville), while Utica will add size in forward Kris Melna (Welland, GOJHL) and d-man L.J. Fellows (Northern Cyclones, EHL). Both players check in at 6-foot-2 and 200 pounds.
Slick skating winger Brady Fleurent (Portland, USPHL Premier) will follow the path taken by his brothers, Tyler and Trevor, and head to hometown University of New England. Trevor is a UNE sophomore and leads the Nor'easters in scoring (6-8-14), while Tyler finished up his four-year stint there in 2013.