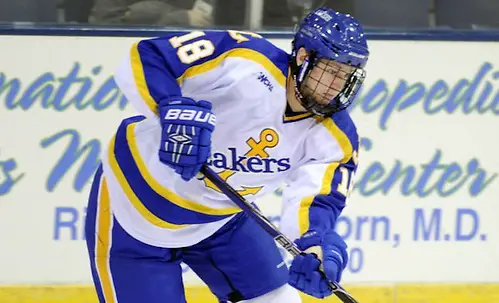 When Damon Whitten took over the coaching job at Lake Superior State last fall, he knew he was in for an uphill battle.
The Lakers had been stripped of all of their goaltenders, most of their defensive corps and two of their top scorers.
"We're such a young team," Whitten said of his expectation at the start of the season, noting that none of his goaltenders had ever started a game in college and that five of the nine defensemen on his roster are freshmen. "Coming into the season, that's not a position you like to be in."
As bleak as it looked at the beginning of the season — and the Lakers certainly took their lumps — it seems as though Whitten's rebuilding project is finally starting to take shape.
There's a solid frame in place, anyway.
"We're a better team than we were at the beginning of the season, that's for sure," Whitten said. "We're still growing."
The Lakers are 6-19-1 overall but 3-2-1 in their last six games, including the Florida College Hockey Classic championship on Dec. 28-29. In that tournament, the Lakers defeated Notre Dame 2-1. Two months earlier, the Irish swept a series against the Lakers.
Last weekend, the Lakers swept a streaking Bemidji State team, winning 1-0 on a buzzer-beater by Alex Globke on Friday and taking Saturday's game 4-2.
At the very least, a team that lacked confidence in the first half of the season now knows it can beat solid competition.
"Those were some big wins for sure," Whitten said. "We have a very small senior class that has done a really good job leading this team."
Forwards Stephen Perfetto, Andrew Dommett and Chris Ciotti are the lone seniors for the Lakers, and Ciotti missed a big chunk of time with a broken thumb. But Whitten said the three did a good job getting the team through a rough first half.
"Those guys have done a good job in a very difficult first half, just in terms of keeping the younger guys' heads up," Whitten said.
And those freshmen?
"They're really not freshmen anymore," Whitten said.
That includes goaltender Gordon Defiel, who has started in 23 of 26 games and was named the WCHA defensive player of the week for his play against Bemidji State after stopping 76 of 78 shots.
Defiel won the competition between four goaltenders who had zero college experience coming into the season.
The defensive corps also was inexperienced, with five freshmen on the roster. Four of them are in the usual rotation.
"I think we had about 100 games combined on defense coming into the season," Whitten said. "And most of those were from Eric Drapluk. So we were really inexperienced back there."
Rookie James Roll quietly has taken over a leadership position on the Lakers' blue line. He has become Lake Superior's power-play quarterback and leads the team with nine assists.
Up front, the Lakers also have struggled somewhat. Globke, who was the WCHA newcomer of the year in 2013-14, lost both of his linemates — Colin Campbell and Dan Radke, who graduated — and hasn't been as productive.
Bryce Schmitt leads the team with 13 points, including six goals.
"We're scoring a little by committee, but Bryce has been very good for us," Whitten said. "He's a bit unheralded, a bit under the radar. But he's been outstanding for us all season."
For Whitten, the big question is this: How do the Lakers avoid missing the playoffs for the second straight season? Although they're tied for last place with Alaska-Anchorage, the extra playoff spot available due to Alaska's NCAA violations means the Lakers have a realistic shot of sneaking in.
"We just have to win hockey games," Whitten said. "We want to make the playoffs, and we're playing some of the teams that we're fighting down the stretch here.
"We're playing much better hockey right now so we're hoping we can keep it going."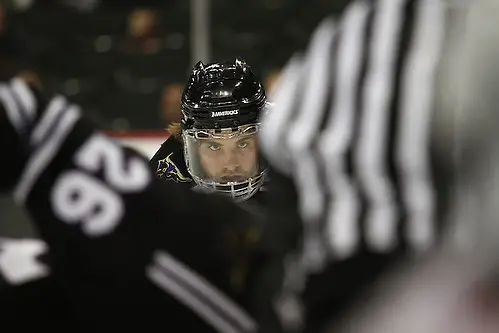 State of Hockey showdown
Minnesota State and Bemidji State will step out of league play this weekend, but they aren't going into unfamiliar territory. They'll play their old league opponents in the North Star College Cup at the Xcel Energy Center in St. Paul.
"It's always fun to go down and play at the X," said Bemidji State senior Sam Rendle, a Grand Rapids, Minn., native. "I played there in the state tournament. It's an awesome environment, one of the best in the country. We're all excited to get down there, especially against these in-state teams."
This is the second year of the all-Minnesota tournament, but the first year Bemidji State is in it (with five Division I teams from the state, one team must rotate out each year).
Beavers coach Tom Serratore said he hopes the event will grow as big as Boston's Beanpot tournament.
"That's the plan," he said. "That is such an event, those two Mondays in February in Boston. You X those days off your calendar. Ideally, what we want to make sure we do down the road is: We want these two days Xed off on the calendar of all the hockey fans that we have in the state of Minnesota."
Bemidji State will play No. 7 Minnesota-Duluth at 4 p.m. CST Friday. The evening game features the No. 1 Mavericks against No. 17 Minnesota.
The losing teams will meet in a consolation game at 4 p.m. Saturday and the winners will play for the championship after that.
"Whoever comes out of this tournament successfully will have earned it," Minnesota State coach Mike Hastings said.
The Mavericks lost both of their games in last year's inaugural tournament, falling to Minnesota-Duluth and St. Cloud State.
"I wish there was a way to get all [five] Minnesota teams in it every year," Mavericks senior Chase Grant said. "But it's a great idea. I'm shocked it took so long to get it going."
It took conference realignment to make it happen.
"I think it's a great tournament for the players, for the fans and for the alumni," Serratore said. "That's what it's about. It's great for everybody in the [Twin Cities] area, and it's a great road trip for our fans, against teams they know a lot about. That's the exciting part."
Ice chips
• Northern Michigan hits the road this weekend, going to Penn State for the first games between the schools. But it will do so without coach Walt Kyle, who has been put on administrative leave by the school for unspecified reasons. Assistants Rob Lehtinen and John Kyle will direct the team in Walt Kyle's absence.
• Alabama-Huntsville got a home sweep for the second consecutive series, beating Northern Michigan 2-1 and 3-2. The Chargers have the weekend off from league play but will host the USA Under-18 team for a pair of exhibition games on Saturday and Sunday.
• Alaska-Anchorage is idle this weekend after its sweep of Alaska, which snapped a six-game winless streak and provided its first wins since Nov. 22. Freshman goalie Olivier Mantha made a total of 80 saves in the 2-1 and 3-2 (overtime) wins, the first victories on the road for the Seawolves.
• Four of Alaska's last five series have featured an overtime game, and the Nanooks have played in six OTs so far this season, going 2-3-1, including a loss Saturday to Anchorage.
• Despite having its nine-game unbeaten streak broken on Friday with a 4-3 loss at Michigan Tech, Bowling Green moved up to No. 6 in the nation, its highest ranking in the USCHO.com Division I Men's Poll. The Falcons' 14-4-4 record, which includes a 3-2 rebound win on Saturday, is their best 22-game start since 1994-95.
• Ferris State is idle this weekend and will play at Minnesota State next week for back-to-back series against the Mavericks. The Bulldogs will follow that with back-to-back series against Bowling Green. Ferris State has lost five consecutive games to Minnesota State.
• Lake Superior State's last-second win over Bemidji State on Friday not only snapped the Beavers' seven-game unbeaten streak, it also broke goaltender Michael Bitzer's shutout streak at 238:23. He was on the verge of his third straight shutout after beating Alabama-Huntsville in a pair of 4-0 games the weekend prior.
• No. 10 Michigan Tech hosts Alaska this weekend in the midst of a nine-game home stand. Tech and Alaska have met just seven times, with four of those meetings coming in 2013-14. The Huskies swept the Nanooks in Alaska last season, with the teams switching roles in the series played in Houghton. Tech leads the series 4-3.
• No team in college hockey has more wins since the start of the 2013-14 season than No. 1 Minnesota State, which has 44 over that span, including two victories at Ferris State last weekend. Union is second with 43 victories. Three teams have 41, and the next-closest WCHA team is Ferris State with 40.
• This week's WCHA players of the week are Alaska-Anchorage forward Blake Tatchell (offensive), Lake Superior State goaltender Gordon Defiel (defensive) and Alaska-Anchorage goaltender Olivier Mantha (rookie).