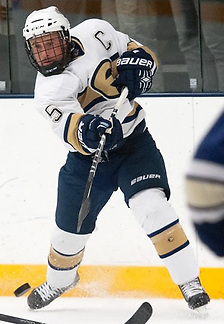 Jack Callahan didn't know a lot about Wisconsin-Eau Claire hockey before he arrived on campus a few years ago.
But he had some friends that played for the Blugolds and when he was looking to transfer from Quinnipiac after his freshman season, he decided to take his talents to Wisconsin.
"I had some buddies from junior hockey that played there and they talked about how much they loved it," Callahan said. "I went out on a limb and decided to go there. The great thing was that I fit in nicely."
It turned out to be a right place, right time kind of deal. In his first season with the Blugolds, he was part of a national championship team. Callahan, a defenseman, scored two goals and dished out 18 assists en route to earning first team All-American honors.
"It was incredible," Callahan said. "I had to prove myself because I was on a team that had a lot juniors and seniors. Those guys had been together for awhile, but I wanted to win just as badly as they did and it was great how they accepted me as part of the team."
Callahan is now a senior captain for a Blugolds team with 11 freshmen on the roster. He has racked up three goals and 15 assists in 17 games, helping 12th-ranked Eau Claire fashion an 11-4-2 overall record. The Blugolds are 3-1 in the WIAC.
"Things are going great for me. I'm trying to make the most of my senior season," Callahan said. "We have a young team and I'm just trying to lead by example."
Callahan said he has enjoyed watching the team grow up over the course of the season, and after an early-season stretch where the Blugolds lost three of five, he likes the direction Eau Claire, winners of four of five, is headed in.
"We had some growing pains earlier in the year, but things are starting to click," Callahan said. "It's been neat watching us come together as a team. I feel like we are hitting our stride."
Several players have stepped up for Eau Claire, which has its eyes on a WIAC championship.
Ethan Nauman has tallied 14 goals and eight assists while Brandon Wahlin has come through with seven goals and 13 assists. Patrick Moore has rung up five goals and 14 assists and Ross Andersen has tallied 11 goals and eight assists.
Jay Deo and Tyler Green have split time in goal, with Deo going 5-2-1. Green is 6-2-1 on the year.
Callahan has been instrumental to the success as well, and there is no denying his love for hockey. While he in high school, he was required to play two sports. He originally wanted to play baseball, but because of his hockey schedule, it didn't work out.
"The baseball coach wouldn't let me play unless I stopped playing hockey [and] I wasn't going to give up hockey," Callahan said. "I went with lacrosse as my other sport. It was a lot of fun playing it. It's a lot like hockey on grass."
Callahan said he and his teammates are tight and are determined to stay focused. Focus is important, especially in the WIAC where no automatic bid to the NCAA tournament is up for grabs. And with three nationally-ranked teams in the league, there is no room for a let-up on effort.
A year ago, Eau Claire won the conference tourney, but was left out of the NCAA tournament. Wisconsin-Stevens Point, which was beaten by Eau Claire in the WIAC semifinal round, earned a bid to the tourney and went on to finish as the national runner-up.
"Every game is like a playoff game," Callahan said. "You can't take a night off and expect to be successful. You have to come ready to play all of the time. We are enjoying the season and we are determined to accomplish all of our goals."
Still on top
Concordia (Minn.) had to settle for a split with Augsburg over the weekend, but it didn't hurt the Cobbers' cause as far as the standings go. The Cobbers, with 18 points, are tied with St. Thomas for first place in the MIAC.
The Cobbers, 10-6-3 overall and 5-3-2 in the conference, have won at least 10 games in each of the last five seasons. Their success has been fueled, in part, by the impressive play of Andrew Deters and Jordie Bancroft.
They rank first and second in points on the season, with Deters scoring nine goals and dishing out 12 assists. Bancroft has come through with 13 goals and seven assists. Bancroft has been particularly key to the Cobbers' power-play attack, having tallied six goals.
Concordia has scored 58 goals in all, including nine off the power-play, and is averaging 30.5 shots per game. The Cobbers have won four of their last five and have lost only twice since the beginning of 2015. They are just two wins shy of equaling their victory total from a season ago. Not bad for a team that lost its final two games of last season, including a 5-3 loss to St. Olaf in the quarterfinal round of the MIAC tourney.
In the hunt
Adrian is in great shape heading into the last week of the January.
The Bulldogs are tied with St. Norbert in the NCHA standings, sitting at 10-1-1 in league play. They are 13-3-3 overall after splitting a weekend series with Finlandia.
Offense has not been in short supply for the Bulldogs, who have punched in 84 goals, including 10 by Mathew Thompson. The freshman forward has also dished out 10 assists and has tallied at least one point in all but three of the 16 games he has played in this season.
Josh Ranalli has been a big part of the Bulldogs' success as well, leading the team in points with 22. He has come through with 12 goals and 10 assists, one of four players who has racked up 18 or more points.
Adrian plays four of its next six on the road, where the Bulldogs have won seven times this year. Their final two home games of the regular season are this weekend as they host St. Norbert in a showdown for first place. The Bulldogs and Green Knights split their season series last year before Adrian lost in the NCAA tournament to St. Norbert.
Close calls
Wisconsin-Superior is stuck in a five-game losing streak and has struggled most of the season. The Yellowjackets are 7-12 overall and are winless in six WIAC games.
Despite the struggles, Superior has proven it can be a competitive team. Five of its losses have been by a goal, including four to teams that are currently ranked nationally, have been nationally-ranked at one point, or are receiving votes in the current poll.
The Yellowjackets played Stevens Point this past weekend and led the Pointers 1-0 at the end the first period in Friday's 4-2 loss to the Pointers. They were tied at 3-3 with the Pointers in Saturday's 9-4 loss.
Tanner Dion is Superior's top scorer. He has tallied nine goals and six assists to fuel an offense that scored 52 goals in all. Four other players have scored at least five goals, including Ian Ecklund, who has come through with six assists as well and ranks second on the team in points.
Five of the Yellowjackets' final six games are against ranked opponents. Superior plays two against Wisconsin-River Falls this weekend and two against Eau Claire next weekend. The Yellowjackets close the regular season against Stevens Point.
In the poll
St. Norbert dropped out of the No. 1 spot this week and enters this week ranked No. 2 in the country. The Green Knights are one of seven teams from the west region ranked in the national poll. Stevens Point is No. 5 and River Falls checks in at No. 7. Adrian is 10th this week while Eau Claire is 12th. St. Thomas and Lake Forest are 14th and 15th, respectively.