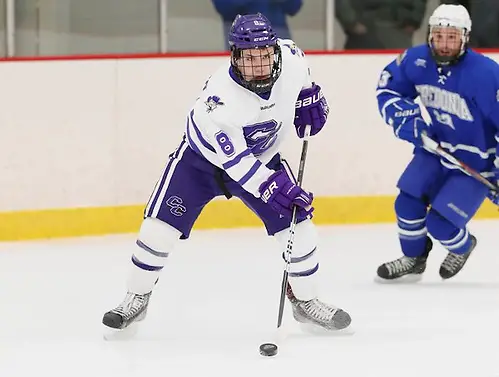 When informed last week that the list of 15 candidates for the 2015 NCAA's Hockey Humanitarian Award, and that is name was on it, Jake Heisinger had two responses.
"Huh?" and "Why?"
The first because Heisinger, a sophomore forward at Curry, had never heard of the award, which for 20 years has been bestowed upon one college hockey player – with both genders and all three divisions considered – whose commitment to community service stands out among all others.
"The first thing I thought was, 'why me?'said Heisinger. "Everyone on our team does a bunch of stuff to help out around the community. I was surprised and shocked. Anyone could have been nominated. It just happened to be me."
Heisinger was one of three Eastern Division III players to be nominated, joining Babson goalie Jamie Murray and Geneseo forward Tyler Brickler on the list. The finalists will be announced next month with the winner named April 10 at the Frozen Four in Boston.
Should any of the three win the award, they would be just the third D-III men's player – after Rocky Ray Reaves (Buffalo State) and William Bruce (Williams) – so honored.
"The whole being acknowledged was great," said Heisinger, "but that wasn't the point of everything that's taken place."
What was the point, then?
Why teddy bears, of course.
Or more importantly, the needy children at the Dana Farber Children's Hospital Cancer Center who would love to cuddle up with one.
Heisinger, along with Curry teammates Jordan Reed, Brett Sinclair and Tyler Vankleef, manned the point on an initiative to bring a little warm and fuzzy Christmas cheer where it was needed most.
What resulted was the Teddy Bear Toss that occurred during the Colonels' Nov. 22 home tilt with Wentworth.
"I'm one of those guys who enjoys Christmas and giving back," said Heisinger, grew up in Winnipeg. "It's kind of how I've been raised. My parents used to make sure I got what I wanted for Christmas. As I got older, I really appreciated what they did for me as a young kid. I wanted to make sure that as I was able to do something for young kids who aren't [as] fortunate as all of us.
"I figured why not try and do something as a team."
That thought led to a conversation with Curry third-year coach T.J. Manastersky, who agreed to help steer the project through the proper channels at the school, the NCAA, and Wentworth, too.
"There were a lot of people who pushed for it," said Heisinger, whose father, Craig, is senior VP/assistant GM for the Winnipeg Jets.
That Heisinger, still an underclassman, would take the lead in this way came as no surprise to Manastersky, who made him one of his first-ever recruits.
"Jake is a very well liked and respected teammate," said Manastersky. "You can see it in the way he and his teammates interact. He loves to play hockey and has fun at practice and that enthusiasm is contageous. He is also a leader with a strong set of personal values. I think the fact he has been nominated for such a prestigious award as just a sophomore is outstanding. It gives him an opportunity to build his legacy for two more years that will stick with him for his entire life."
When the night of the Toss arrived, Heisinger said he didn't know what the crowd response would be. The school had chipped in a couple hundred of the plush toys for the occasion.
But when Colonels' forward James Murphy popped in a power-play goal 2:35 into the contest, nearly 600 bears came flying onto the ice.
"To our pleasant surprise, half the bears came from the [spectators] themselves," Heisinger said. "We [thought] that if even 10 people showed up with teddy bears, it would be a success. That's 10 kids who were going to be a better Christmas. We ended up getting close to 500-600 teddy bears when it was all said and done. For a small school like us, that was quite the accomplishment. It was much more than all of us could have ever thought."
The HHA nod to Heisinger is a first for Curry, just as it is for Brickler, a senior, who is leading Geneseo's effort to spread awareness of Down Syndrome.
"I think [the HHA recognition] is an amazing opportunity for Tyler," said Ice Knights' coach Chris Schultz. "He has put a ton of energy and enthusiasm into this project and he has touched a family's life in so doing so. Our student-athletes know that the expectation here is to be great people first and to then step outside their egocentric comfort zones and touch people's lives in one way or another. Tyler has exemplified this expectation. He has provided our younger players with a foundation on which to build."
Murray, a junior, is being recognized, in part, for his involvement with the Cure For Cole WiffleBall Tournament, held each year in Scituate, Mass., which helps defray the massive medical costs incurred by his friend Cole Pasqualucci, who suffers from focal segmental glomerulosclerosis, a rare kidney disease.