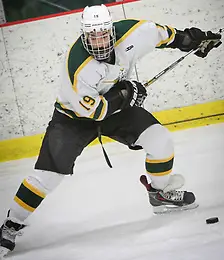 The weekend is finally here and without further ado, here are the picks from Brian and Dan.
BRIAN LESTER – WEST
It won't get much bigger this weekend than a two-game series between St. Norbert and Adrian. The two nationally-ranked opponents will battle it out with first place in the NCHA on the line.
Both the Green Knights and Bulldogs are 10-1-1 in league play. Second-ranked St. Nobert is 14-2-0 overall and 10th-ranked Adrian is 13-3-3 overall.
St. Norbert is looking to bounce back after a 2-1 loss to the Milwaukee School of Engineering. The defending national champions have scored 90 goals on the season, including 24 off the power-play,
Michael Hill has been the top offensive threat for the Green Knights, scoring 16 goals and dishing out eight assists. Mason Baptista is tied with Hill for the team lead in points, scoring six goals and tallying 18 assists.
St. Norbert does a great job as a team sharing the puck, having racked up 137 assists.
The Green Knights have allowed 25 goals, with David Jacobson playing well in goal. He is 12-1-1 on the year.
Adrian comes in off a 7-3 win over Finlandia and ready to establish itself as the best team in the league. The Bulldogs have scored 84 goals and have allowed 46. Mathew Thompson has been key to the success, scoring 10 goals and dishing out 10 assists. Jeremy Olynik has come through with seven goals and 13 assists.
Scott Shackell has played the majority of time in goal for the Bulldogs. He is 9-1-3 on the season.
Both games should be competitive and entertaining. I find it hard to believe that either team will sweep the series. I'm going with the split in what could very well be a preview of the NCHA championship game. St. Norbert, 6-5; Adrian 5-4.
Other games to check out this weekend are below.
No. 15 Lake Forest (11-3-5, 9-2-1 NCHA) vs. Lawrence (6-12-1, 5-7): The Foresters are in third place in the league and riding a four-game win streak. Luke Swardenski leads an offense that has scored 70 goals. He has tallied 11 on the year. Leo Podolsky has been solid in goal, fashioning a 1.63 goals against average and an 11-2-3 record.
The Vikings have dropped their last two and are hoping to bounce back this weekend. Their defense has struggled as they have allowed 80 goals. During their 1-5 stretch, they have given up four or more goals each time. My money is on the Foresters in this home-and-home series. Lake Forest, 5-2, 6-2.
Gustavus Adolphus (6-7-6, 3-3-4 MIAC) vs. St. John's (8-5-4, 4-3-1): Gustavus is tied for third in the standings entering the weekend. St. John's is just two points behind the Gusties in the standings. The Johnnies know a pair of wins would get them right back into the mix for a MIAC championship.
The Gusties have won two of three and have scored 46 goals. But they have given up 49. The Johnnies have racked up 47 goals and have allowed only 38. They come in having lost two of three. This home-and-home series likely ends in a split. St. John's, 4-3; Gustavus, 3-2.
Hamline (7-6-4, 3-2-3) at Concordia (Minn.) (10-6-3, 5-3-2): The Pipers are in the mix for a playoff berth. They are one of three teams with 13 points and are eager for a shot to knock off the first-place Cobbers.
Kevin Novakovich leads a Hamline offense that has scored 48 goals. He has tallied 10 goals on the season. John Sellie-Hanson owns a 2.60 goals against average and is 6-4-2. The Pipers have lost two in a row and eager to get back on track.
Concordia has no intentions of losing its hold on first place. The Cobbers have won four of five and have scored 58 goals, including 13 by Jordie Bancroft, who has also tallied seven assists.
The Cobbers have a lot riding on this series but Hamline has proven this season that it can compete with anyone. Concordia 5-2, Hamline, 4-3.
Wisconsin-Stout (7-9-1, 2-2 WIAC) at No. 12 Wisconsin-Eau Claire (11-4-2, 3-1): The Blugolds are on a roll and still very much alive in the hunt for a WIAC championship. Eau Claire has won seven of eight and has scored four or more goals in each of those wins.
Eau Claire has scored 64 goals in all, including 14 by Ethan Nauman. Ross Andersen has tallied 11 goals. Tyler Green and Jay Deo have both proven they can step up on any given night in goal.
Stout has played well lately, winning five of their last six, and they won't be a pushover this weekend. The Blue Devils have given up 63 goals and their defense will have to be on point to have a chance against the Blugolds. I think Eau Claire will keep its momentum rolling in the right direction. Eau Claire, 5-3, 4-2.
Wisconsin-Superior (7-12, 0-6) at No. 6 Wisconsin-River Falls (14-4-1, 3-3): River Falls has struggled this month, winning only once in six games. The Falcons have dropped two in a row and need to get back on track in a hurry to stay in the running for a WIAC title.
The Falcons have tallied 62 goals and if they can click offensively against the Yellowjackets, they should have no problem picking up a couple of important conference wins at home.
The Yellowjackets have lost their last five and need to shore up their defense to be competitive against the Falcons. Superior has allowed 55 goals this year while scoring 52. In the end, River Falls finds a way to get the job done. River Falls, 6-3, 5-2.
DAN HICKLING – EAST
Friday
ECAC EAST
New England College (7-9-4, 4-7-2) @ No. 1 Norwich (16-2-1, 12-0-0) – Norwich 4, NEC 1
History has shown at times that ascension to the top ranking can be the first step to a fall. Such should not be the case for the Cadets, who are playing the best hockey right now. You'll probably get NEC's best game, too, but it likely won't be enough.
SUNYAC
Brockport (9-7-1, 4-4-1) @ No. 8 Plattsburgh (13-4-1, 9-1-0) – Platty 2, Brockport 1
Could be something of a "trap game" for Plattsburgh, who will have to be wary of the rapidly improving Golden Eagles. Brockport would love to strengthen its hold on a first-round home ice spot, but with just points separating teams three through eight in the SUNYAC, one bad weekend can wreck everything.
ECAC NORTHEAST
Becker (4-13-2, 0-6-0) @ Nichols (12-3-2, 4-1-1) – Becker 3, Nichols 2
Is an upset here likely? Well, no. But on any given Friday …
Saturday
MASCAC
Worcester St. (3-11-2, 2-7-1) @ Salem St. (9-8-1, 6-5-0) – Salem 5, Worcester 2
Picked for tops in the MASCAC, the Vikings have been glaring middle-of-the-packers to now. No better time for them to start sorting things out although cellar-dwelling Worcester won't make it easy for them.
NESCAC
No. 3 Trinity (14-1-1, 9-0-1) @ No. 11 Williams (11-3-2, 7-2-1) – Williams 4, Trinity 3
The country's marquee matchup featuring the top two teams in NESCAC. Nobody is hotter than the Bantams, winners of 10 in a row, but if anyone can cool 'em off, it just might be those Phitin' Ephs.
ECAC WEST
Utica (8-6-4, 1-5-2) @ Manhattanville (7-7-4, 2-5-1) – Utica 5, Manhattanville 3
You know what's bizarre? That all six teams in the West are .500 or better, overall. So why does it seem like a lost season for both these would-be contenders, who currently occupy the final two spots in the standings? Grabbing four points in this two-game set could go a long way toward getting one of these teams straightened out.