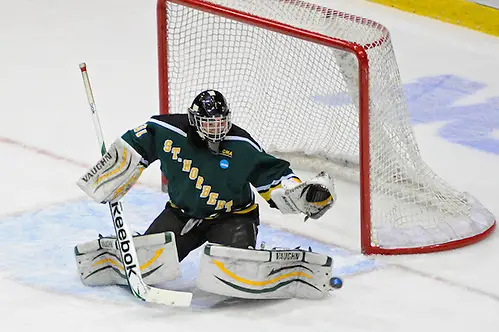 Reigning Division III player of the year and St. Norbert senior goaltender David Jacobson is out for the rest of the 2014-15 season with an undisclosed broken bone.
St. Norbert SID Dan Lukes tweeted the news Monday afternoon, which is a devastating blow to the defending Division III national champs.
St. Norbert senior goaltender David Jacobson will miss the rest of the 2015 season due to a broken bone suffered this past weekend. #d3hky

— Dan Lukes (@sncsid) February 2, 2015
Jacobson was also the USCHO National D-III Player of the Year in 2014 and Rookie of the Year in 2012.
He compiled a 75-11-6 record with the Green Knights, including a 12-2-1 mark this year with a 1.59 GAA and a .924 save percentage. His two losses this season came in his last two starts, losing to Milwaukee School of Engineering Jan. 24 and Adrian on Jan. 31.