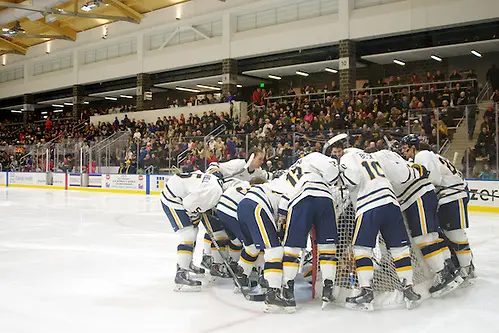 The teams riding the longest unbeaten streaks in Division I will square off this weekend when Robert Morris (6-0-1 in its last seven games) and Canisius (6-0 in its last six contests) meet for a pair of games.
The first-place Colonials host the second-place Golden Griffins, who trail Robert Morris by eight points with four weekends left in the regular season.
Canisius had a bye last weekend thanks to the unbalanced Atlantic Hockey schedule, and despite a possible break in his team's momentum, Griffs coach Dave Smith said the week off was fine with him.
"We'll take the week off when it came," he said. "We push our guys hard. Win or lose, you look forward to gearing down a bit mentally. It came at a nice time for us. You define your season at points by what you have done and what you have left, and it really put a focus on what we have left."
The immediate future is a meeting with the No. 19 Colonials, who can go a long way toward locking up the regular season title with a sweep. On the other hand, a four-point weekend for Canisius will put the Golden Griffins four points behind with two games in hand.
"I know it's 'coachspeak,' but you set big-picture goals and small-picture goals," said Smith. "Our small-picture goal is to play as well as we can in the first period on Friday and build on that. You can't win the weekend if you don't win Friday."
The key to this recent hot streak, Smith said, is playing better early.
"I think we fixed the first period," he said. "We were giving up way too many goals [early]. We looked to the 10 seniors and their maturity, our maturity as a group to focus on not giving up early goals. And that resonated."
It resulted in six wins and a tie against some tough league opposition.
"We came back from Maine [a pair of losses] and refocused and have played really well," said Smith. "It started against a Holy Cross team that had only one [conference loss] at the time. Mercyhurst is always good, and Bentley has a very good team. And we ended [this stretch] with a rivalry weekend [at Niagara]. I've been very happy with our play."
Junior forward Ralph Cuddemi has been carrying the scoring load for Canisius this season. His 16 goals is more than twice that of his closest teammate.
It's a role that has been thrust on Cuddemi after the graduation of Kyle Gibbons, who amassed 130 career points at the school.
But Smith said Cuddemi's role was set near the end of last season, when the Griffs made it back to the AHC championship game.
"You could argue that he was a top-line player last season," Smith said. "His line with Mitch McCrank and Shane Conacher carried us. He had that first-line mentality."
Cuddemi has been skating with Conacher and rookie Ryan Schmelzer, and they've been racking up points.
"There's such chemistry," said Smith. "We originally had [freshman] Nolan Sheeran in there and he played great, but we made this change around the time of the Sacred Heart series [in November] and they scored on their first shift."
On defense, Smith said he has two leaders that add different dimensions.
"Our leader is Doug Jessey," said Smith. "He's a man. He's our captain. His maturity speaks volumes.
"And Chris Rumble is our most talented defenseman. It's a unique dynamic with the two of them. They don't play together but they complement each other."
The blue-line corps and goaltender Keegan Asmundson have combined for a team GAA of 2.45, tied for third in the league.
"Keegan's been key for us down the stretch," said Smith. "[Freshman] Reilly Turner has played very well for us as well, but for now we're taking it one game at a time and so far that's meant Keegan."
It all will be put to the test this weekend against Robert Morris in a rematch of last season's title game.
"We're looking forward to the challenge," Smith said. "We're going to try to build on how we have been playing and keep things going."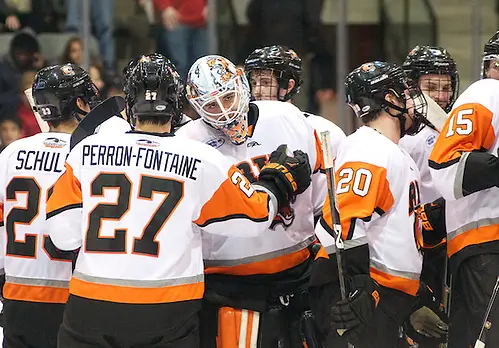 Leveling the field
Rochester Institute of Technology's petition to the NCAA to allow the Tigers to offer scholarships looks to be dead in the water for now.
Rochester's Democrat & Chronicle reported last week that RIT could not muster support from other schools in the same boat, including Union, to extend a "grandfather clause" that allows some Division III schools to offer scholarships for one men's and one women's program. In 2004, Colorado College, Clarkson, St. Lawrence and Rensselaer were protected under this clause.
At that time, Union elected to continue not offering scholarships and now cannot since the 2004 proposal offered a one-time exemption. RIT did not move to Division I until 2005.
A lack of athletic scholarships obviously hasn't hurt defending national champion Union's ability to compete, but RIT wants the option. But that's not happening, at least for now.
The next-best thing is a stipend that allows Division I schools to cover non-tuition expenses, so RIT is looking into that as well.
The Democrat & Chronicle article also featured Atlantic Hockey commissioner Bob DeGregorio, whose comments on equality in college hockey echoed those he made during an interview with Rochester radio station WITR on Jan. 9.
DeGregorio said he is concerned that the new autonomy given to the "Power 5" conferences (ACC, Big Ten, Big 12, Pac-12 and SEC) will make the playing field even more uneven.
"It makes some leagues almost professional," DeGregorio told WITR. "There will be a big difference between the 'haves' and the 'have nots' and that's not the way it's been in college hockey, where a small school has always been able to compete with the big programs."
DeGregorio said he is in favor of more autonomy given by the NCAA to each sport, instead of a small group of multi-sport power conferences.
"Let hockey be run by people who understand hockey," he said.
In that same WITR interview, DeGregorio discussed possible expansion of the league back to 12 teams.
"We're in talks with a program who is highly interested," he said. DeGregorio didn't name the school.
Speculation has often pointed to Rhode Island as a logical candidate, but the school has repeatedly denied any interest.
But URI has an active booster club with a stated goal of bringing Division I hockey to the school, which has a successful club program and a 2,500-seat on-campus rink that was built in 2002.
If URI indeed makes the move, would Atlantic Hockey be just a steppingstone for a program that would be a more logical fit in Hockey East?
Stay tuned.
One and only
With four weekends left, Robert Morris has a chance to virtually clinch the regular season title this weekend, taking on second-place Canisius, which trails the Colonials by eight points in the standings.
Despite running away with a conference record of 16-3-3 and an overall record of 19-5-4 (tied for the second-best winning percentage in the nation), the Colonials are just 24th in the PairWise Rankings, making it highly unlikely that they will find a way into the top 16 in the PairWise and have a chance for an at-large NCAA bid. The Colonials will have to win their way into the tournament, just like the rest of the teams in the AHC.
Why? Atlantic Hockey's nonconference record is only .209 (12-51-4), which means the league overall hasn't been able to post wins that would help boost Robert Morris' strength of schedule. As a result, the Colonials have the seventh-weakest schedule in Division I.
At the end of the regular season, the aggregate winning percentage of a conference is .500 (or close to it if there is an unbalanced schedule), so it's the nonleague games that usually make the difference in PWR.
In 2013, the league placed two teams in the NCAA tournament field, with Niagara getting an at-large berth and Canisius earning the automatic qualifier that comes with winning the conference championship. Robert Morris also was close to making the tournament, ending the season No. 17 in the PWR.
The league's winning percentage in nonconference games was .365 that season, tied for the best in conference history. That was good enough to push Niagara's PWR all the way up to a tie for ninth place. The Purple Eagles went into the tournament with a .662 winning percentage and were just 1-3-3 in nonconference games that season.
Robert Morris has a .750 winning percentage and a 3-2-1 nonconference record, both better than that 2012-13 Niagara team. But the rest of the league hasn't been able to win enough nonconference games to keep the Colonials in the upper echelon of the PairWise. It's clear that to make the NCAA tournament as an at-large team, you need more than a just a little help from your friends.
Working overtime
Air Force fell to Robert Morris 5-4 in overtime last Friday, the ninth time the Falcons have gone to OT this season, already a school record with at least eight more games to play.
Air Force is 4-2-3 in overtime, also interesting because only three of the nine games ended in a draw. The rule of thumb with overtimes is that only about a third of them are settled with a goal scored in the five-minute extra period.
That holds true for Atlantic Hockey this season, with 27 of 76 (35.5 percent) total opportunities ending with a win.
The other two-thirds ended in ties, and here Atlantic Hockey is an outlier. The league has averaged 4.18 ties per team so far this season, far higher than the rest of Division I:
| League | Ties per team |
| --- | --- |
| Atlantic Hockey | 4.18 |
| Hockey East | 2.75 |
| WCHA | 2.70 |
| Big Ten | 2.50 |
| ECAC Hockey | 2.42 |
| NCHC | 1.75 |
This backs up what any Atlantic Hockey coach will tell you: parity rules.
Weekly awards
I'm making some additions to the league's choices:
Players of the week — Zac Lynch, Robert Morris, and Austin Orszulak, American International: Lynch, the league's pick, had three goals and three assists in a sweep of Air Force. He's had six consecutive multi-point games. Orszulak scored his 17th and 18th goals of the season in a pair of ties with Sacred Heart. The 18 goals is a single-season school record.
Goalies of the week — Cole Bruns, Army, and Mike Rotolo, RIT: The league selected Rotolo, who made 33 saves on 34 shots in a 4-1 win against Army. He also stopped all 11 shots he faced the night before in a relief role for the Tigers. Bruns was equal to the task, making 33 saves in a 4-2 Army win on Friday.
Rookies of the week — Paul Berrafato, Holy Cross, and Scott Pooley, Holy Cross: Pooley, the son of Notre Dame associate and former Providence head coach Paul Pooley, had a goal and two assists in a 6-3 win against Niagara last Friday. He was the league's choice. I added his teammate Berrafato, who stopped 47 of 51 shots in the series to pick up his first collegiate wins. Berrafato has stepped into the starting role recently due to an injury to senior Matt Ginn.
Defensive player of the week — Danny Smith, RIT: The sophomore forward had 10 blocked shots last weekend (including three on the same shift), and was part of a penalty-killing unit that went 11-for-12 against Army.