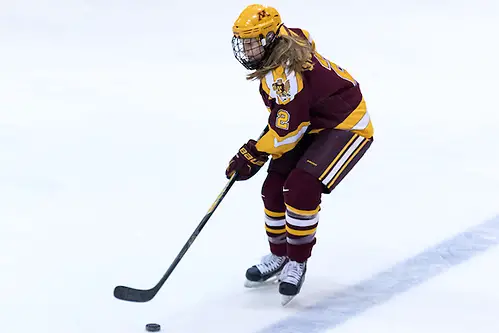 USA Hockey announced recently the roster for the U.S. Women's National Team that will compete in the 2015 IIHF Women's World Championship that will be held March 28 to April 4 at Malmo Isstadion in Malmo, Sweden.
The 23-player roster features 13 members of the silver medal-winning 2014 U.S. Women's Olympic Team.
Reagan Carey, USA Hockey's director of women's hockey, is the general manager of the team, while Ken Klee (Bowling Green) will serve as the head coach with assistants Robb Stauber (Minnesota), Bob Deraney (Providence) and Brett Strot (Minnesota).
The U.S. has played Canada in the gold medal game in all 15 of the previous events, capturing the event's top prize a total of five times (2005, 2008, 2009, 2011, 2013), including four of the last five tournaments and five of the last seven.
| Player's Name | Position | School |
| --- | --- | --- |
| Alex Rigsby | G | Wisconsin * |
| Molly Schaus | G | Boston College * |
| Jessie Vetter | G | Wisconsin * |
| Kacey Bellamy | D | New Hampshire * |
| Megan Keller | D | Boston College |
| Monique Lamoureux | D | North Dakota * |
| Emily Pfalzer | D | Boston College |
| Michelle Picard | D | Harvard |
| Anne Schleper | D | Minnesota * |
| Lee Stecklein | D | Minnesota |
| Stephanie Anderson | F | Bemidji State |
| Hannah Brandt | F | Minnesota |
| Dani Cameranesi | F | Minnesota |
| Alex Carpenter | F | Boston College |
| Kendall Coyne | F | Northeastern |
| Brianna Decker | F | Wisconsin * |
| Meghan Duggan | F | Wisconsin * |
| Zoe Hickel | F | Minnesota-Duluth |
| Hilary Knight | F | Wisconsin * |
| Jocelyne Lamoureux-Davidson | F | North Dakota * |
| Annie Pankowski | F | Wisconsin |
| Haley Skarupa | F | Boston College |
| Dana Trivigno | F | Boston College |