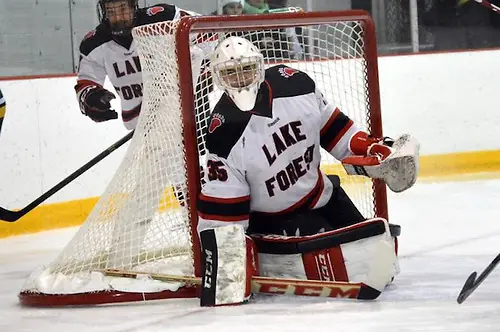 The NCHA recently announced its year-end awards, including Player, Coach and Freshman of the Year, the All-Conference Team and All-Freshman Team.
Lake Forest junior goaltender Leo Podolsky was named Player of the Year after posting 15 wins, a 1.99 GAA and a .940 save percentage.
"Leo being named NCHA Player of the Year is a confirmation of the hard work he has put in and the growth he has experienced over the past three seasons," LFC coach Patrick Kelliher said in a news release. "We couldn't be happier for him. He was our backbone this year from day one. He came into this season with a quiet confidence and was as competitive as I have ever seen him in his three years.
"Our team's success during the regular season came in large part from the confidence that our players had in Leo when he was in the net. They knew he was going to make the saves he should and even a couple he probably shouldn't have."
Adam Krug was selected Coach of the Year in his first season with Adrian, taking the Bulldogs to a 21-3-3 overall record and the NCHA regular-season title.
Freshman of the Year was Adrian's Kyle Brothers, who posted an NCHA-best 43 points on 20 goals and 23 assists.
2015 NCHA All-Conference Team
| Player's Name | Position | Class | School |
| --- | --- | --- | --- |
| Brian Berger | F | Sr. | Marian |
| Cullen Bradshaw | F | Sr. | St. Norbert |
| Kyle Brothers | F | Fr. | Adrian |
| Michael Hill | F | Jr. | St. Norbert |
| Omar Mullan | F | Fr. | Milwaukee School of Engineering |
| Josh Ranalli | F | Sr. | Adrian |
| Ben Certo | D | Jr. | Lake Forest |
| Marian Fiala | D | Sr. | St. Norbert |
| Ryan Gieseler | D | Sr. | Adrian |
| Blake Thompson | D | So. | St. Norbert |
| David Jacobson | G | Sr. | St. Norbert |
| Leo Podolsky | G | Jr. | Lake Forest |
2015 NCHA All-Freshman Team
| Player's Name | Position | School |
| --- | --- | --- |
| Kyle Brothers | F | Adrian |
| Omar Mullan | F | Milwaukee School of Engineering |
| Mat Thompson | F | Adrian |
| Blake Butzow | D | Adrian |
| Sean Campbell | D | St. Norbert |
| Mark Whiteley | D | Marian |
| Mike Gudmandson | G | Marian |