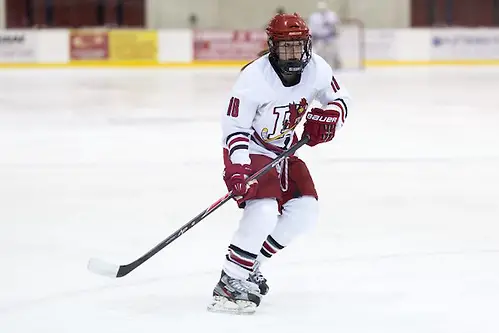 It's that time of the season — conference tournament finals.
All six women's Division III conference championships will be decided this weekend, which will set the stage for the NCAA tournament that will kick off next weekend.
The ECAC East is down to Norwich taking on Massachusetts-Boston and Castleton playing Salve Regina. Norwich is No. 5 in the country, but the three other teams all come in with respectable records on the season. Is there an upset brewing? Or does Norwich squash the field?
In the ECAC West, top-ranked Elmira and No. 2 Plattsburgh are still alive. This weekend, Elmira gets Utica and Plattsburgh takes on Oswego. It's shaping up to be No. 1 vs. No. 2 in the final, and that would surprise no one. It would definitely be a case of the old Gorilla Monsoon adage where "the irresistible force meets the immovable object?"
(Email me if you remember Gorilla Monsoon saying that, people!)
St. Thomas and the Cinderella team so far, Bethel, meet in the MIAC finals. This may actually be the sleeper final of all six finals. The only question is if the clock strikes midnight for the Royals.
The NCHA has Adrian, Concordia (Wis.), Lake Forest, and St. Norbert left. It would be easy to say Adrian is the favorite, but the other three squads are here for a reason. Then again, Adrian has the Jade Walsh factor.
Over in the NESCAC, the final quartet is comprised of Amherst and Trinity, in what will be a battle of ranked teams (Amherst at eight, Trinity tenth), and No. 3 Middlebury battling Bowdoin. Like the ECAC West contests, these games will be barn-burners. Do rankings even matter when it comes to single elimination tournaments? We'll find out shortly.
Continuing the trend of high-quality games, the WIAC finals have No. 6 Wisconsin-River Falls hosting No. 7 Wisconsin-Stevens Point. Just. Wow. This could be the upset of all the finals, if No. 7 beating No. 6 could be looked at as an upset, but alas, that's why the games are decided on the ice and not on this website.
The NCHA games start Friday night, while all the others start Saturday.
Check back Friday morning to USCHO.com for our staff's picks for the championship games.