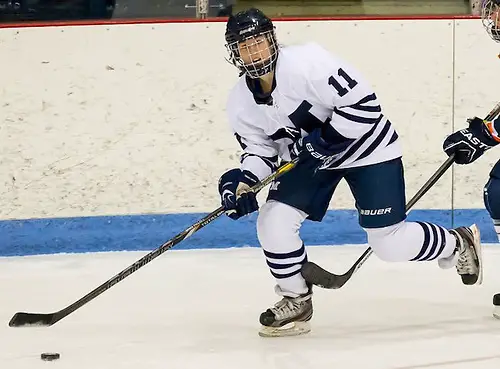 Middlebury forward Emily Fluke has been selected by the conference coaches as the NESCAC Player of the Year.
Fluke was the league's top scorer with 30 points on 11 goals and 19 assists during in-conference games.
First-year forward Jessica Young, also from Middlebury, picked up Rookie of the Year honors after notching 11 goals and 20 points in 16 NESCAC contests.
Connecticut College's Kristin Steele was honored as Coach of the Year for the first time in her 14-year career. After posting a 4-9-3 league record and earning the No. 8 seed last season, she guided the Camels to a 7-7-2 conference record as Connecticut College received its highest seed in the NESCAC championship as the No. 4 seed.
In addition, the league also named its two All-Conference Teams.
2014-15 All-NESCAC First Team
| Player's Name | Position | Class | School |
| --- | --- | --- | --- |
| Emily Fluke | F | Sr. | Middlebury |
| Tori Salmon | F | Sr. | Amherst |
| Jordan Schildhaus | F | Sr. | Wesleyan |
| Hanna Beattie | D | So. | Williams |
| Carly Watson | D | So. | Middlebury |
| Kelsie Fralick | G | Sr. | Connecticut College |
2014-15 All-NESCAC Second Team
| Player's Name | Position | Class | School |
| --- | --- | --- | --- |
| Erin Martin | F | Jr. | Amherst |
| Katie Parkman | F | So. | Hamilton |
| Jessica Young | F | Fy. | Middlebury |
| Caitlyn Ryan | D | So. | Amherst |
| Lynndy Smith | D | So. | Amherst |
| Madeline Marsh | G | Sr. | Middlebury |