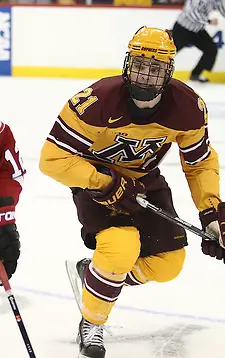 Minnesota sophomore forward Connor Reilly underwent knee surgery on Tuesday, effectively ending his 2014-15 season, according to a report in the Minneapolis Star Tribune.
Reilly returned to Vail, Colo., for his third knee surgery by Dr. Robert LaPrade.
"Connor had surgery [Tuesday], so obviously he's finished for the year and should be back and ready to go once September rolls around," Gophers' coach Don Lucia said in the report. "I feel bad for Connor and what he's had endure, and one more injury. We just felt at this point that it'd be better for him to go ahead and have the surgery so he's healthy once next year rolls around."
Reilly, who posted 11 goals and 16 points in 24 games this season, had been out of the Minnesota lineup since the end of January when he was kneed in the right knee by Wisconsin's Corbin McGuire, his third knee injury in three years.
"It's tough for Connor, we all know he's been through a lot with injuries," Gophers' senior forward Travis Boyd added in the report. "You never want to see a teammate get hurt or go down like that. We've been playing without him for the last five weeks, so nothing really changed in the locker room, we just need to step up."
Reilly previously missed the 2012-13 season with a knee injury after falling before the season.