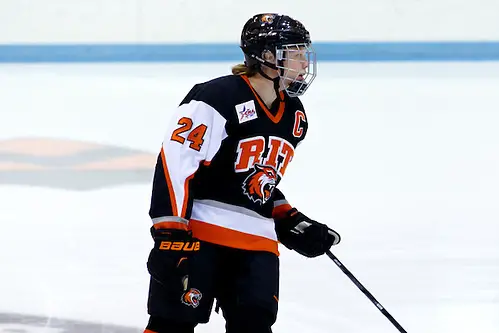 They call former Yankees slugger Reggie Jackson "Mr. October," because he always seemed to play his best baseball in the playoffs, when the chips were down and the spotlight the brightest.
The RIT Women's Hockey senior class would make Mr. Jackson proud. A group of "Ms. Marches," the class of 2015: Ali Binnington, Celeste Brown, Emilee Bullied, Lindsay Grigg, Kolbee McCrea, Marissa Maugeri, and Morgan Scoyne have saved their best for last each season, and is looking for more in one final turn at the wheel.
So far, this group is an amazing 15-1 in postseason play, including 10-1 at the Division I level.
As freshmen, they were part of a Division III national title team that put a bow on the Tigers' D-III legacy. Within a week of their victory, it was announced that RIT was elevating its women's program to Division I. New level, same desire.
"Once you have that feeling of winning, you want that again," said Grigg, who has two goals so far in the postseason. "(Freshman) year was a great year for us, and we wanted to be successful at the D-I level, too."
The Tigers were ineligible for the Division I NCAA tournament for two years as they transitioned from being a big fish in a smaller pond to a newbie in a world dominated by Minnesota, Wisconsin, Boston University and, within their own conference, Mercyhurst. The Lakers welcomed RIT to Division I by scoring twice in the first 18 seconds of their initial meeting, the Tigers' first game at the D-I level. The final was 6-2, and Mercyhurst followed up the next day with a 7-0 shellacking, a score that RIT was used to being on the other end of in Division III. However, the Tigers ended up in third place out of six teams in College Hockey America.
"We've been able to get better every year," said RIT coach Scott McDonald, who has compiled a 21-7 postseason record through nine seasons. "We've been able to take one step, and then the next year, another."
RIT wasn't eligible for the NCAAs for those first two years, but could compete in the CHA playoffs, because the league didn't have an auto-bid yet. That first year of D-I was the only time this senior class has ended the season with a loss. After sweeping Penn State in the first round, the Tigers lost to Syracuse, 2-1 in overtime, in the CHA semifinals.
Remarkably, that has been the only blemish on RIT's Division I postseason history. The Tigers bounced back in 2013-14 and after again dispatching Penn State in the first round, took down a pair of ranked team to win an improbable CHA title, beating No. 10 Robert Morris 4-1 and outlasting No. 8 Mercyhurst, 2-1 in double overtime, thanks to a 62-save performance by Binnington. However, there could be no NCAA tournament.
"That was our national championship," said Grigg. "Because we couldn't go any further."
The Tigers went back to work, knowing that 2014-15 would be different, with RIT fully D-I eligible and the league securing an automatic NCAA bid for its champion.
However, losses to graduation and an injury to Binnington and other key players contributed to a last-place finish this season.
"We had some injuries at the beginning of the year and it was difficult." said Grigg. "We had to figure out how to adjust to new roles. And then as we got people back, we made progress."
"We were injury-riddled but wouldn't use that as an excuse," said McDonald. "We were in every game. And when the playoffs started, we talked about how it's a second season, that the slate is clean, whether you finished first or second or sixth."
"We were healthy going into the playoffs," said Grigg. "We knew if we kept playing our game we'd be successful."
So as February wound down, RIT became the team nobody wanted to play in the postseason. It was the Tigers' time. Again.
An upset sweep of Robert Morris set up another showdown with Mercyhurst, this time in the semifinals. RIT prevailed, 4-1, and took Syracuse into familiar territory, double overtime in the championship game. Carly Payerl got the game-winner at 3:15 of the second OT, giving the Tigers another CHA title.
This one didn't end the season; it opened a door.
"This one had extra motivation," said Grigg. "The ability to move on to the NCAA tournament."
McDonald says it was the seniors that prepared his team for a worst-to-first run, drawing on their previous postseason achievements.
"In leadership, there's no replacement for experience", he said. "The locker room has been calm, cool, and collected. (The seniors) have been saying the right things because they have been in these moments. They know what to expect. How the intensity will pick up each game as you go forward in the playoffs."
It starts with Binnington, MVP of the past two CHA tournaments. She's 11-1 in her postseason career, with a 0.90 goals-against average and .969 save percentage.
"Ali really calms us down," said McDonald. "They know she will be there to correct our mistakes. There's two seniors on defense, Emilee (Bullied) and Morgan (Scoyne). And then four of our 12 forwards. We have every position locked in with a group of seniors."
RIT faces an uphill battle, drawing No. 2 Minnesota in its opening NCAA tournament game. In other words, business as usual.
"Back to our Division III days we have always been under scrutiny, under pressure, with everyone gunning for us," said McDonald. "We have felt the pressure in the playoffs, and we have been able to come through.
"We've found our rhythm, found our chemistry. We're one of eight teams left. We're not hoping for something to happen, we want to make it happen."