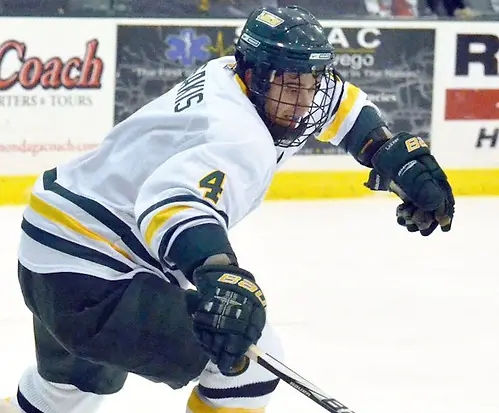 Three preliminary games were played this past weekend to kick off the men's Division III national tournament.
Oswego 6, Hobart 1 – A Laker win was no surprise, but the lopsided margin of it certainly was. Clutching a slim, 1-0 lead after the first period, Oswego blew the doors off the cooler early in the second with a trio of tallies – from Matt Galati, Kenny Neil and Bobby Gertsakis. Galati scored again in the third when the Lakers sealed the result. Oswego goalie Matt Zawadzki turned aside 33 shots, 15 of them in the final stanza when the Statesmen made a concerted comeback effort. Oswego will now travel to Adrian for Saturday's quarterfinal clash.
Trinity 4, Nichols 2 – Upset victims in NESCAC tourney, the Bantams suffered no such ambush here as they built up a 3-0 second period lead (Anthony Sabitsky, Ben Hjalmarsson, Greg Rooney). Nichols replied late in the second with a pair of Sean Fleming goals, but Trinity held on in the third for the win. The Bantams will host SUNYAC champion Plattsburgh on Saturday.
Norwich 3, Plymouth State 2 – A No. 1 ranking didn't guarantee Norwich an easy time in their NCAA tournament opener. In fact it's fair to say that the Cadets simply outlasted PSU. The Panthers struck first on a goal by Mike Economos 2:23 into the contest. Norwich replied later in the period with goals by William Pelletier and Austin Surowiec. Pelletier scored again in the third to make it 3-1, but with 4:28 remaining, Plymouth's Ian McGilvrey tallied to make it a one-goal game again. The Cadets, behind goalie Ty Reichenbach, were able to hold on from there. Norwich will visit Amherst for the quarterfinal on Saturday.