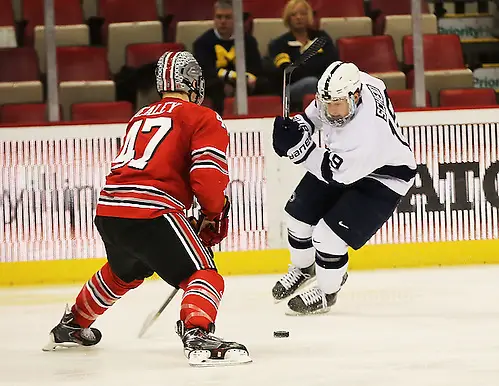 DETROIT — In Thursday's 3-1 win over Penn State, Ohio State's game-winning goal came from defenseman Justin DaSilva's at 14:13 in the first period.
For those following OSU hockey, this is no surprise; including Thursday's contest, the Buckeyes have at least one goal from a defenseman in five of their last seven games.
Big Ten tournament
See the tournament bracket and get links to schedules and stories at Big Ten Playoff Central.
While the Ohio State coaching staff isn't necessarily working to get more scoring from the blue line, according to assistant coach Brett Larson, the points from defensemen are the result of improved overall team play.
"I think our forwards are doing a better job of getting to the net and screening the goalie," said Larson. "I think our D are doing a better job of getting the pucks through with better movement up top and a little bit of patience. Without the forwards in front screening, the pucks aren't going in, so I think it's really just indicative of how the whole team is playing a really solid team game right now and the D are benefiting a little bit and getting their names in the paper more than they used to."
DaSilva's goal was his second of the season, both scored within the last six games. "The last couple of months," said DaSilva, "we've really been preaching D getting up into the play. When you come out of the zone D area, jump up into the play and [be] available for our wingers because it's tough for them to always make plays to the centers."
In midseason, Ohio State cycled players in and out of the lineup because of injuries, and that proved to be a blessing in disguise, said Larson, because of the way it led to more cohesive team play.
"I think it really helped practice," said Larson. "We have 10 defensemen that we're carrying. There's a lot of competition to be in the lineup, so I think that's one thing that's helped. We've got some really good D that aren't even playing right now. The guys, I think, have elevated their play, taken advantage of the opportunity. We've stopped trying to rotate so much, so they feel as though they've earned it. It increased their confidence level.
"As much as I'd like to give all the credit to the D, it's as much of a marker of how this team is playing. They're playing a good team game. They're doing the little things that are helping our D score some goals, which is nice."
Said DaSilva: "I think the blue line itself is playing with confidence. Hats off to our forwards, moving it low to high and getting us the puck quick so that we can get shots on net."
So far this season, Ohio State defensemen have combined for 12 goals and 42 assists for 54 points.