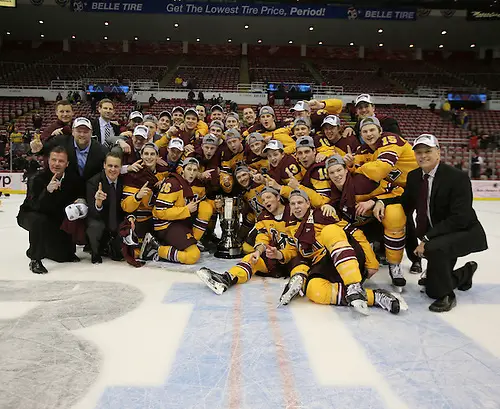 DETROIT — On Saturday night, the Minnesota Golden Gophers pulled off something they had not accomplished since the George W. Bush administration: They won a conference tournament title.
In the time since 2007, the Gophers have made the NCAA tournament five times, appeared in two Frozen Fours — including the championship game last season — and have won five regular season titles, including the last four consecutively.
Big Ten tournament
See the tournament bracket and get links to schedules and stories at Big Ten Playoff Central.
One prize that had been missing from their resume recently was a conference tournament title.
That all changed on Saturday night.
Entering the weekend, the Gophers were not only playing to win conference hardware, they were playing to extend their season. The team was on the NCAA bubble going into the weekend.
A victory on Friday night virtually assured their road to Boston could continue. Saturday's 4-2 victory over Michigan in the Big Ten tournament championship made it a lock.
"I'm proud of our guys to come in here — the first time we've been in this facility — to come through and win the championship is obviously special," said Minnesota coach Don Lucia. "It's something we haven't done for a while and certainly this group of seniors hadn't done it yet."
"It's a good sign for our team because the conference regular season is kind of a marathon," goaltender Adam Wilcox said. "We've had our ups and downs through the year but for the most part toward the end of the year we got a lot of sweeps.
"When you get to the conference playoff title, it's kind of what it's like in the NCAA, so we did a good job of doing our marathon over the year and a good job here with the tournament. It's like our sprint."
While the Big Ten tourney title was important, Lucia said the NCAA tournament bid that goes with the championship win is ultimately the bigger prize.
His team was virtually assured of an NCAA bid win or lose on Saturday night.
"Obviously, it's great to win the conference tournament because we opened our own door to get into the NCAA," said Lucia. "We didn't have to rely on anybody. But, the bottom line is if you win the thing or not this weekend, it's your body of work that gets you in the tournament. As it turns out, we were going to be in regardless of tonight.
"Most years, we've gone in not having to win it. You're playing for seeding more than anything else. So I don't know if that took the edge off, but this year was different.
"We knew going in that had we not won on Friday, that there was probably a likelihood that our season would end. I think our guys played a little bit nervous last night, to be honest."
"This time of year, we're playing against teams that their seasons are on the line," added senior forward Kyle Rau. "This year was our first year with that feeling in the back of our minds. We knew we could be done, too. I'm really happy for the guys and I thought we played some good hockey this weekend."
"I'm happy for our guys because they've experienced something they hadn't experienced before," Lucia said. "They've been through it all except for the one game we didn't finish off last season.
"This group has certainly had a taste of a lot of banners and a lot of championships and they've been a fun group. This year, it's been a journey and we've been up and down but the guys stayed with it. They understood how they have to play. They've been there before and I think that really helped."
Next weekend, the Golden Gophers will play in their fourth consecutive NCAA tournament and their 36th in program history.