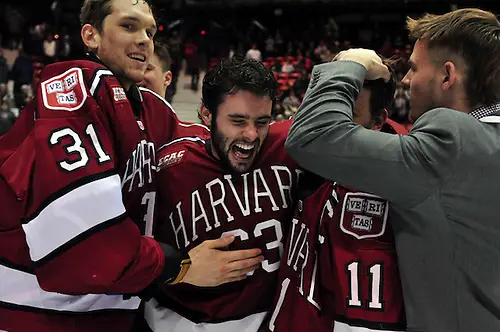 LAKE PLACID, N.Y. — "It certainly wasn't easy at a lot of points, but we stayed with it."
It was one of Harvard coach Ted Donato's opening lines in the postgame news conference Saturday. His remark was certainly in reference to the Crimson's challenging second half, but it may as well have been a reflection nine years in the making.
ECAC Hockey playoffs
See the tournament bracket and get links to schedules and stories at ECAC Hockey Playoff Central.
Harvard's eight-year drought between league tournament titles was its longest since the 20-year dry spell between 1963 and 1983. The Crimson hadn't missed out on the NCAA tournament eight straight years since 1958-68, and the program hadn't gone eight years without
either
achievement … ever. At least, not since the creation of the NCAA tournament in 1948.
It's not an easy stretch to take. It weighs especially heavy at Harvard, perhaps no more so than on Donato, who won two regular season ECAC championships, made the NCAAs twice, and won a national title by his sophomore year in Cambridge.
"Yeah. Absolutely," he said of the hardware gap. "It's been too long, so hopefully this will be something we'll be able to keep building on."
The Crimson beat Colgate 4-2 for the ECAC Hockey title, and the last time Harvard enjoyed a night quite like this one, Donato was in his second season behind his alma mater's bench, and his nine top scorers had been recruited by his predecessor, Mark Mazzoleni.
Since that time, Donato has courted, signed, coached and graduated dozens — perhaps approaching hundreds — of proud Harvard alumni, including six NHL players. However, his Crimson have struggled to piece together consistently triumphant campaigns. This year's squad is only Harvard's third winning team since its last NCAA appearance in 2006.
"I think that's for other people to worry about," he shrugged. "I think we had a goal as a team to try to get home ice, try to make the national tournament and try to win our league. Those are the things I worry about."
Donato also referenced how misleading recruiting records can be.
"If I look back at even this group of seniors, a guy like Peter Placek really never got off the ground with all the injuries he's had. Mark Luzar, all the injuries he had. Colin Blackwell's a heck of a player, as we saw over the last couple weeks, but he never really had a chance to be healthy enough for long enough. Pat [McNally] and Max [Everson] with the other issues. It's tough, but you just worry about what you can control."
McNally noted how steep the title ascent is for even the most storied programs. "We know how hard it is to get here, and how difficult it is even once you get here to win, so it's obviously a huge accomplishment to come in here and the win championship this weekend," he said.
"When it's all said and done, I'm proud of the fact that we've made it to the championship game in five of the 11 games I've been here, no matter whose recruits they are," Donato said. "Five for 11, that's not that bad, and now we've won a second one."
One thing the Crimson can do to further separate themselves from the dry spell is end an even longer drought: Harvard hasn't made the Frozen Four since the spring of 1994. It's in the program's second home this season, and there is nothing Donato — or the ghosts of Crimson past — would love more than to bury that particular streak.