The No. 1 overall seed in the NCAA tournament has advanced to the Frozen Four in three straight seasons and in six of the last seven. This year, that spot is occupied by Minnesota State, which leads a group of four into the Midwest Regional.
The Mavericks, however, are one of two teams in South Bend, Ind., that has never won a Division I NCAA tournament game; Omaha is the other.
Harvard has a national championship to its name (in 1989), and Rochester Institute of Technology advanced to the Frozen Four in its only other Division I tournament appearance in 2010.
Here's a look at the teams playing in the 2015 NCAA tournament Midwest Regional in South Bend, Ind., starting Saturday: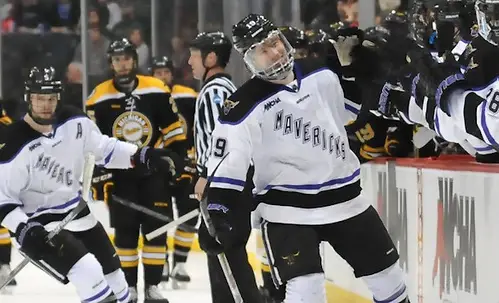 Minnesota State Mavericks
Team page | Statistics | Roster | Schedule/results | History
Coach: Mike Hastings, third season at Minnesota State and overall
Record: 29-7-3 (21-4-3 WCHA, first)
How they got in: WCHA playoff champion
Regional seed: First
Last NCAA tournament appearance: 2014
Best NCAA finish: First round, 2014, 2013, 2003
Why they'll get to the Frozen Four: Their depth has been noted all season, but it has really carried them late in the year, with third- and fourth-liners accounting for 12 of their 22 playoff goals. Freshman and third-line winger Brad McClure had a breakout weekend at the WCHA Final Five with five goals and an assist.
Why they won't get to the Frozen Four: The Mavericks have yet to win an NCAA tournament game at the Division I level, and even a first-round win would put the Mavericks into uncharted territory against either a rival in Omaha or a hot and healthy Harvard squad.
Minnesota State is hoping the third time is the charm.
"We haven't won a game in the NCAA tournament," coach Mike Hastings said. "Our goal is to win our first game."
And from there? Get to Boston, right?
"We never worry about Saturday when we have to worry about Friday," Hastings said, referring to his team's approach throughout the season. "We're looking at it as the same thing this weekend."
The Mavericks are the No. 1 overall seed in the tournament and will play Rochester Institute of Technology in the Midwest Regional on Saturday.
Three years ago, Minnesota State hired Hastings away from Omaha, where he was an assistant coach, and he inherited a 12-win team that hadn't been to the national tournament in a decade.
He also landed a team that had a group of promising players fresh off their first year of college hockey: Matt Leitner, Zach Palmquist, Jean-Paul LaFontaine, Chase Grant, Max Gaede and Brett Stern.
Hastings talked to those players about earning home ice for the WCHA playoffs, getting to the Final Five, qualifying for the NCAAs.
"There was a lot of hope going into that meeting but not a lot of belief," he said. "Now, I hope we've progressed to the point where we're capable of meeting it."
The Mavericks got to the national tournament in Hastings' first season and played poorly in a 4-0 loss to Miami in Toledo, Ohio. A year later, they won the Final Five and returned to the NCAAs, where they showed better but still lost, going down 2-1 to UMass-Lowell.
This year, they're in possession of both pieces of WCHA hardware, the MacNaughton Cup and the Broadmoor Trophy, and seek to "break that egg at the national tournament," as their most famous alum, the St. Louis Blues' David Backes wished last weekend in St. Paul.
Backes bemoaned never getting a sniff at a Final Five, let alone an NCAA tournament.
Leitner & Co. have been getting there under Hastings' tutelage, but a win on Saturday would be the next logical step for the program.
"I still feel," Leitner said, "like we have our best hockey to play."
— Shane Frederick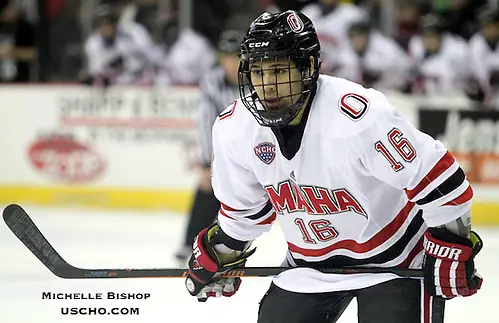 Omaha Mavericks
Team page | Statistics | Roster | Schedule/results | History
Coach: Dean Blais, sixth season at Omaha, 16th overall
Record: 18-12-6 (12-8-4-3 NCHC, third)
How they got in: At-large bid
Regional seed: Second
Last NCAA tournament appearance: 2011
Best NCAA finish: First round, 2011, 2006
Why they'll get to the Frozen Four: Omaha boasts five skaters — all of them underclassmen — with at least 20 points to their names. With that many key weapons for opponents to try to contain, UNO will be a tough out for anyone in South Bend.
Why they won't get to the Frozen Four: The Mavericks have yet to get out of the first round of the NCAA tournament. More worrying than that, however, is that UNO won only two of its last 11 games within 65 minutes.
The NCHC was the class of Division I's six men's college hockey conferences this season. The greatest proof of that came when six league members' names flashed up when the NCAA tournament field was revealed last Sunday.
If any one of those teams could be looked at as having backed into the tournament, however, Omaha is the name that comes up first.
The Mavericks failed to reach the NCHC playoff championship weekend after being swept at home by St. Cloud State two weeks ago in the league tourney's first round. It was the second time in less than a month that UNO had dropped two games to SCSU, as the Huskies also swept the Mavericks in St. Cloud, Minn., on Feb. 20-21.
UNO's recent troubles extend well past just their games against St. Cloud. The Mavericks have only won two of their past 11 games within 65 minutes, winning two others in shootouts.
Five of Omaha's seven losses in that 11-game stretch — one in a shootout against Colorado College on March 6 — took place inside the Mavericks' now-former CenturyLink Center home. UNO will be opening its own arena at the start of next season.
Even still, UNO was handed a No. 2 seed in the Midwest Regional and will face Harvard on Saturday. Speaking after the NCAA tournament field was released, Mavericks coach Dean Blais said he looks forward to just UNO's third-ever shot to make waves in the national showcase.
"Any time you get a NCAA selection out of the top 16 teams in the country, you've had a good year, and I think we're being rewarded for it.
"This is the highest Omaha's ever been in the NCAA rankings [going into the tournament], so definitely I think we've arrived. We've got great senior leadership, and going to South Bend, it is what it is but we have to take advantage of it."
— Matthew Semisch
Harvard Crimson
Team page | Statistics | Roster | Schedule/results | History
Coach: Ted Donato, 11th season at Harvard and overall
Record: 21-12-3 (11-8-3 ECAC Hockey, sixth place)
How they got in: ECAC Hockey tournament champion
Regional seed: Third
Last NCAA tournament appearance: 2006
Best NCAA finish: Champion, 1989
Why they'll get to the Frozen Four: Healthier and more confident by the day, the deeply talented Crimson will trump elite competition just as they did in the first half of the season.
Why they won't get to the Frozen Four: Brief lapses in concentration, focus and effort will burn the lethal but occasionally vulnerable team.
As noted numerous times this season, Harvard's 2014-15 campaign has been very Dr. Jekyll-and-Mr. Hyde. On New Year's Eve, the Crimson were 10-1-2; on Feb. 27, 14-11-3. Depending on one's proximity to the program and awareness of its day-to-day travails, opinions of — and latitude given — the Cambridge club varied greatly.
In the end, perhaps the most likely variable accounting for all the fluctuations was and is the health of the team's top lines. Without skilled skaters like winger Colin Blackwell, centers Alexander Kerfoot and Sean Malone, or puck-moving defenseman Patrick McNally, even the Jimmy Vesey-led Crimson crumbled into disarray.
Fortunately for Harvard and the fans — and unfortunately for Omaha and the field — the Crimson are healthy and hungry. With the momentum of the program's first ECAC Hockey tournament championship and NCAA berth in nine years behind them, the team appears as confident and competent as ever.
"I think that our best hockey is still in front of us," said coach Ted Donato. "We've had some great moments in games, but … we'll have to bring it out if we want to advance past the weekend. I think our depth up front is something that needs to be a strength and I think we're capable of putting together a real good group of games. I think we're peaking at the right time."
Hobey Baker Award finalist and Walter Brown Award-winning standout Vesey set an ECAC record with nine goals across Harvard's seven playoff games, including two each in the conference semifinal and final. The Nashville Predators prospect has 11 goals in his last nine games, lighting the lamp in all but one of those contests.
He is paired with center Kerfoot and right wing Kyle Criscuolo, and has been held off the score sheet only three times in 36 games.
Harvard is 17-1-1 when scoring first, as it has in six of its last eight games.
"We're going to have to be ready from the outset, and really focus on the things that allow us to have success," Donato said, "and that's using our speed and skill and being sound defensively. I think it's going to take some of our best hockey to play with a team like Omaha, and we're excited about that challenge."
— Brian Sullivan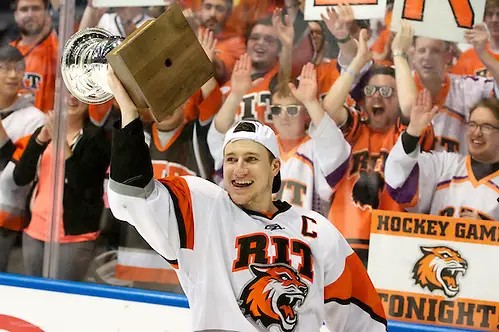 Rochester Institute of Technology Tigers
Team page | Statistics | Roster | Schedule/results | History
Coach: Wayne Wilson, 16th season at RIT and overall
Record: 19-14-5 (14-9-5 Atlantic Hockey, third place)
How they got in: Atlantic Hockey tournament champions
Regional seed: Fourth
Last NCAA tournament appearance: 2010
Best NCAA finish: National semifinalist, 2010
Why they'll get to the Frozen Four: The Tigers have a proven track record of knocking off higher-seeded teams.
Why they won't get to the Frozen Four: RIT is the lowest-seeded team in the tournament and just 38th in the PairWise Rankings.
RIT coach Wayne Wilson described his team's recent Atlantic Hockey championship as an "accomplishment" as opposed to its first in 2010, which he said was a "relief".
Despite sneaking up on the college hockey world by making it to the Frozen Four in 2010, that team won 28 games and dominated Atlantic Hockey.
This squad was picked to finish seventh in the league and languished in the bottom half of the standings before coming together after the holidays and putting together a solid second half. The Tigers are 14-4-2 over that span, including seven wins in a row.
RIT features the second-highest scoring line in the nation with Hobey Baker Award finalist Matt Garbowsky (26-27–53), Brad McGowan (23-22–45) and Josh Mitchell (15-35–50). They've had a hand in 54 percent of the Tigers' goals this season.
Those three are also RIT's shut-down line, with Garbowsky also picking up the league's best defensive forward award.
There are no seniors on the Tigers' defensive corps, and getting three freshmen up to speed is one of the things Wilson pointed to as a reason RIT got better as the season went on. Rookie Brady Norrish (4-18–22) and junior Alexander Kuqali (4-17–21) were all-league performers.
Senior goaltender Jordan Ruby (2.11 GAA, .923 save percentage) battled sophomore Mike Rotolo for the starting spot all season, and after Rotolo went down with an injury just before the playoffs began, Ruby has shined (1.50 GAA, .945 save percentage).
While no one on the roster is left from that 2010 Frozen Four team, Wilson said these Tigers players have seen some good competition to prepare for the NCAA tournament.
"We've played the Big Ten champion Minnesota in Minnesota," he said. "We played Yale at Yale. We've played St. Lawrence … we've played Boston College, we've played Lowell. We know what's expected."
— Chris Lerch