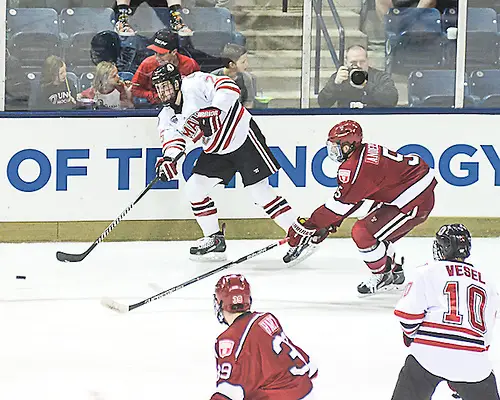 SOUTH BEND, Ind. — Saturday's game between Harvard and Omaha featured two programs with very different stories. Harvard played its first game Jan. 19, 1898. UNO played its first Division I hockey game nearly 100 years later, Oct. 17, 1997.
In spite of their contrasting histories, both the Crimson and the Mavericks came to this year's NCAA tournament not just to advance but to establish something lasting for each of their programs.
2015 NCAA Midwest Regional
See all of our coverage of the Midwest Regional on our regionals page.
The 4-1 win over Harvard was the third NCAA tournament game in Omaha history and the program's first win. While the accomplishment wasn't lost on the UNO team, the Mavericks players said that they don't have time to pause and reflect — yet.
"It's a great feeling, but at the same time it's not satisfying," said senior goaltender Ryan Massa, who had 33 saves in the win. "It's not what we came here to do. Yeah, we came here to win that first game to get us to an opportunity to compete in the Frozen Four in Boston, but we still have a full 60 minutes tomorrow night against a good hockey club that beat the No. 1 seed, so for us it's pretty short enjoyment.
"It's nice reaching a milestone as an organization, but our work's far from over."
"You look at a lot of great players that have come through UNO," said junior defenseman Brian Cooper. "This is for them, too. It's a huge step for our program, but like Ryan said, we're not satisfied yet. We want to extend the season for as long as we can."
UNO coach Dean Blais is no stranger to NCAA tournament success. Between North Dakota, where he served as head coach from 1994 to 2004, and Omaha, Blais has led teams to eight NCAA tournament appearances, and he coached North Dakota to national titles in 1997 and 2000.
With the benefit of his perspective, Blais understands the real significance for this first win for the Mavericks. Winning breeds winning.
"It's everything," said Blais. "In North Dakota, we were expected to win championships. It means a lot for this program, for the first win out of the three times they've been in the NCAA tournament. [The championship] just another milestone that we're going to have to keep working toward."
For Harvard, this was the 22nd NCAA tournament appearance in program history, but the first since 2006. The Crimson have reached the Frozen Four a dozen times, but they haven't been that close to a national championship since 1994.
Harvard ended its 2014-15 season with 21 wins — one more win than the Crimson amassed in the past two seasons combined. Senior defenseman Max Everson said that he's seen the team transformed in his time in Cambridge.
"Coming in freshman year, I had a decent idea of what to expect because my older brother was a couple years ahead of me there," said Everson. "We had a really good year that year. In the second half of that year, we came on strong and just missed the national tournament, lost the ECAC final.
"It was a strong year, but … my sophomore and junior year there were some struggles on and off the ice that we had to deal with. Not nearly as many wins as we wanted, a lot of setbacks in different areas and injuries and other stuff going on.
"Those were a couple of tough years, but we were able to put all that behind us this year. We evaluated the talent we had in the locker room and evaluated the strength and the character of our guys, and we knew what we could accomplish."
"First two years, both were 10-win seasons," said junior forward Jimmy Vesey. "This year, we finished with 21 wins, ninth in the PairWise, national tournament berth."
Vesey had a renaissance of his own this season with 32 goals — eight more than he produced in his freshman and sophomore years combined.
"If you look at our lineup," said Vesey, "we're still very young, very talented, and we have a great coaching staff so I'd say that Harvard hockey is here to stay in the long run in the national picture."