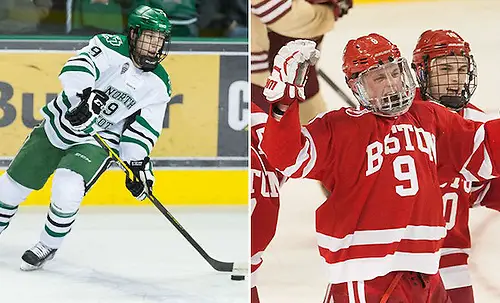 As an old adage goes, speed kills. North Dakota has plenty of it.
When UND faces off on Thursday against Boston University in the second Frozen Four semifinal game at TD Garden in Boston, it will need all of the speed it can muster, as the Terriers have several highly skilled forwards who will cause great havoc if allowed free space on the ice.
2015 Frozen Four
Follow all of USCHO's coverage at Frozen Four Central.
"It's going to be a great matchup for sure," said an opposing coach. "It will come down to Boston's high-end talent — can it beat North Dakota's high-tempo play?"
In years past, North Dakota has relied on high-end forwards like Jonathan Toews, T.J. Oshie and Zach Parise to carry it through deep playoff runs. UND has made the NCAA tournament 13 years running.
It also has made the Frozen Four 10 times in the past 19 years.
However, this season's group is special for another reason: There is not that guaranteed scorer on the roster. North Dakota has rattled off an impressive 29-9-3 record this season without having one skater averaging a point per game.
Junior Drake Caggiula may be the closest skater that North Dakota has to a bona fide star. He leads the team in goals (18) and points (36) in 41 games played. However, his team-high 22 points in NCHC play placed him in a tie for 13th in conference scoring.
North Dakota has 10 forwards with at least 13 points, making it extremely deep.
"They are very balanced," said an opposing coach. "They can roll four lines. That really is a weapon for them. You know, when you don't have a Toews or an Oshie but you can roll four lines, that becomes a weapon on its own."
Backstopping North Dakota is one of the best in college hockey in Zane McIntyre, one of the 10 finalists for the Hobey Baker Award and one of five finalists for the Mike Richter Award.
In 41 games this season, McIntyre has posted a 29-9-3 record with a 2.00 GAA and a .931 save percentage.
He appears to be just as comfortable making 19 saves as he did in the regional final against St. Cloud State as he is making a season-high 43, which he did on March 6 against Miami.
"McIntyre is playing with great confidence," said an opposing coach. "He doesn't get rattled. He has been there all year for them."
With confidence in what is in goal, North Dakota can make life miserable for opponents.
"They play an up-tempo game," said an opposing coach. "They take time and space away from you. They play with a really good mindset. They are tough mentally."
They will need to be tough mentally to handle the likes of the Terriers' top line of Jack Eichel — perhaps the NCAA's best freshman skater since Paul Kariya — along with Evan Rodrigues and Danny O'Regan.
Eichel leads the nation in assists (43) and points (67). He has been so strong as an 18-year-old that NHL teams are falling all over themselves to get into a position to potentially draft either him or Connor McDavid of the Erie Otters in this summer's draft.
Rodrigues is second in the nation in scoring with 21 goals and 61 points. O'Regan is tied for ninth with 22 goals and 48 points.
"They have a lot of high-end people, starting with Eichel," said an opposing coach. "They like to use their skill and their speed."
Not as well known to teams outside of the East are skaters such as Ahti Oksanen, Cason Hohmann, Matt Lane, Robbie Baillargeon, Nick Roberto and Nikolas Olsson. All six of these forwards have at least 11 points.
"Their depth probably doesn't get enough credit because of all that high-end talent," said an opposing coach. "They can be very effective despite not getting their time in the sun like the others do."
The Terriers have gone 27-7-5 on the season, winning the Hockey East regular season and playoff titles. While that top line has been impressive, junior goaltender Matt O'Connor has been every bit as good in goal.
O'Connor, one of the nation's best-kept secrets until the start of the Beanpot tournament, has gone 24-3-4 with a 2.11 GAA and a .928 save percentage.
At 6-foot-6, the Toronto native has earned comparisons by many to the Tampa Bay Lightning's Ben Bishop, a former Maine goalie who stands 6-7.
"They have a big goaltender who rises to the occasion," said an opposing coach.
His 24 wins this season are more than he earned in his previous two seasons combined.
For North Dakota to beat the Terriers, it will have to stick to keeping the game from becoming a track meet. The simpler, the better.
For the Terriers, it will take solving McIntyre early. North Dakota lost both games it played in the NCHC Frozen Faceoff in part because it was playing from behind after the first 20 minutes.
Part of the problem was late goals. Of the four goals UND gave up in their first periods over those two games, three came in the final 2:10 of the period.