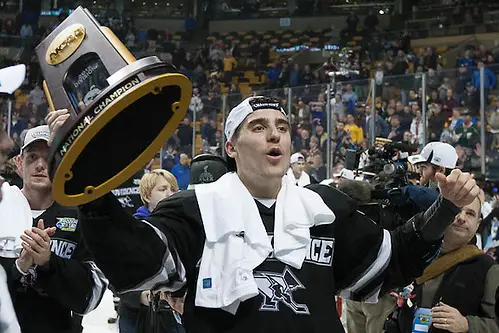 BOSTON — Brandon Tanev might not know his history, but he knows how to make history.
The junior forward scored the game-winning goal with 6:17 to play to lift the Providence Friars to a 4-3 win over Boston University in the national championship game Saturday.
It was the first national title for Providence, but Tanev, when asked about the 1985 Friars team that lost 2-1 to Rensselaer in the championship game, didn't know that Providence came up short in that one.
"I think we can both call ourselves national champions and share the amazing bond they had in '85," said Tanev, who was quickly (and jokingly) corrected by his teammates.
But Tanev's game-winner, his 10th goal of the season and third in the NCAA tournament, was right on the money.
Kevin Rooney won the face-off in the BU zone and found Tanev, who snapped a quick wrist shot past goaltender Matt O'Connor to give the Friars a lead that they would not relinquish.
"It was a heck of a face-off call by [associate head coach Steve] Miller and Kevin did a great job of winning it back," said Tanev. "I was fortunate enough to get the puck up and get a clean shot off and it happened to go over O'Connor's shoulder."
"'Tanny' had an unbelievable release on that shot," said Providence goaltender Jon Gillies. "I don't think any goalie stops that."
"They make a bang-bang play of the faceoff," said Boston University coach David Quinn. "We had our chances after that, a couple of glaring chances after that to tie it, and it was just a little too late."
Providence coach Nate Leaman said winning draws in the third period was one of the keys to the game.
"They kicked our butts on faceoffs earlier in the game but we got better on faceoffs as the game went on," he said. "Coach Miller drew up a heck of a play [on the winning goal]."
Leaman said it was gratifying that Tanev and Rooney combined for the biggest goal in Providence history.
"You win with guys that are gritty at this time of the year," he said. "I think they're two guys that rise to the occasion. It's very fitting that they got the game winner."
Leaman was able to chuckle at Tanev's miscue after the game. On the ice, he made no mistake.