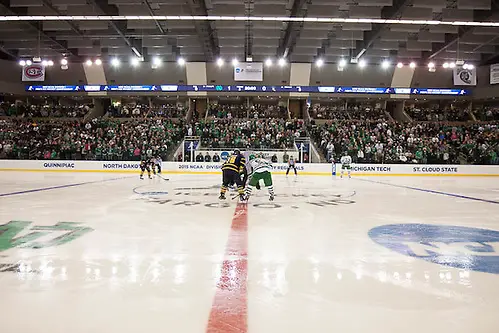 Poor attendance at some NCAA regional sites has led to some talk that the format should be changed, but feedback from the American Hockey Coaches Association meeting last week indicated that most coaches aren't in favor of such a move.
"The voice from the coaches was that the overwhelming majority wanted to keep it as it is," said Army West Point coach Brian Riley, president of the AHCA.
Riley also is a member of the NCAA Division I men's ice hockey committee, and he said that body will meet in June and discuss what the coaches said last week in Naples, Fla.
In March, North Dakota athletic director Brian Faison, also an NCAA committee member, signaled that he would push for a return to campus sites for NCAA tournament games.
Since 1992, NCAA tournament games leading up to the Frozen Four have taken place at predetermined regional sites, but attendance has suffered in recent years as those venues have almost exclusively been off campus.
Don't expect any change in the tournament selection process, either.
"I think from a PairWise standpoint there didn't seem to be a feeling that anything needed to be changed," Riley said.
Several minor issues like NCAA practice and hotel times were addressed, but no major changes to the tournament appeared imminent.
However, there is a movement to address adding practices before the start of the season. The official start date for the 2015-16 season is Oct. 3, and some teams begin official games on that day while others play exhibitions or hold intrasquad scrimmages, Riley said.
"There's a group that think how we do it now, we're forced to get on the ice," Riley said. "People want to get their games in. A lot of nonconference games people can't afford to give up on the first weekend. By adding practice time, that would allow teams to practice and be prepared for that first weekend."
The downside to adding practices before the start of the season is that many junior leagues hold showcases during September, meaning coaches would have to decide whether to miss out on recruiting or practice.
The size of coaching staffs also was a point of discussion. The NCAA allows schools to have three full-time paid coaches on staff. Riley said there was talk to expand that.
One idea was to make the director of hockey operations, which most teams have on their staff, an additional coach.
"It would give an opportunity for young coaches to get involved in the profession," Riley said.
Other issues discussed included the recruiting verbal agreement, often known as the "gentlemen's agreement," that coaches stop recruiting a player once he's given a verbal commitment.
"All coaches understand that some schools don't agree with it and aren't going to adhere to it," Riley said. "For the most part, the majority of coaches want to keep the gentlemen's agreement."
While it wasn't a rule-change year — the NCAA rule book can only be amended every other year — there appears to be momentum for addressing goalie interference.
Many in the sport feel that goalies are overprotected and goals that should count are being taken away because of the current rules. Riley said video of several disallowed goals under the current rules were shown, and virtually everyone in attendance thought they should count.
"I'm all for protecting the goalies inside the crease but we're also trying to find a way to score more goals," he said. "We've kind of put ourselves in a tough spot. You might see some changes next year."
Last year's meeting was where Arizona State's move from a club team to Division I began to take hold. The Sun Devils announced in November that the school will play a mostly Division I schedule this fall as it transitions to full varsity status.
While there's no immediate plans for more schools to add Division I hockey, expect the sport to continue to grow.
Before last week's convention, Mike Snee, executive director of College Hockey Inc., said the idea of schools on the West Coast adding hockey has been growing, with many people around the sport expecting more schools to follow Arizona State's move to Division I.