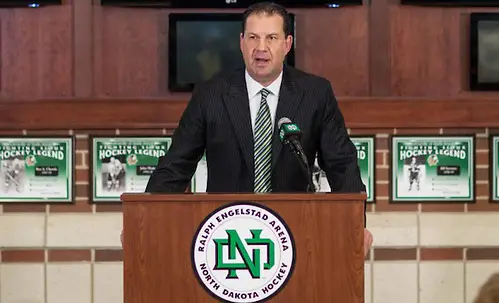 GRAND FORKS, N.D. — Brad Berry spent Monday morning on the phone with North Dakota recruits, this time calling as their future head coach and ensuring them the UND hockey program was headed in the right direction.
UND athletic director Brian Faison announced Monday that assistant coach Berry had been hired as the head coach of the men's hockey program. He replaced Dave Hakstol, who was named head coach of the NHL's Philadelphia Flyers earlier in the day after leading UND to seven Frozen Four appearances in 11 years.
Although Hakstol's jump to the NHL came as a surprise to many, his void will be filled by the sixth former UND player to take over the position, and a coach who plans on upholding the strong tradition and culture built by those before him.
He made sure to let current and future players know that, too.
Their reactions were positive — everyone Berry talked to that morning was still deeply committed to UND's program.
"There was no weak moment here," Berry said. "There was a plan of attack right away we got to it. Everyone we talked to today is all in."
Berry has become the 16th head coach in UND men's hockey history.
"I'm very honored and humbled and very excited about the opportunity going forward," Berry said. "I'm replacing an icon of a coach that had the standards pretty high here, and I want to try to keep those standards there and even raise them. …
"It's a dream come true. It's a very special place and there are always opportunities to go different places, but we truly are blessed with what we have here with the rink and the people around us. It's something real special that you don't want to deviate from or leave."
Berry kept himself rooted in North Dakota for significant portions of his career, while also spending time with other programs.
A UND defenseman from 1983 to 1986, Berry returned to his alma mater for two stints as an assistant coach from 2000 to 2006 and since 2012. His combined nine years of serving as an assistant coach for UND accompanies an assistant coaching role with the NHL's Columbus Blue Jackets from 2010 to 2012 and the AHL's Manitoba Moose from 2006 to 2008.
Moving through the process
Hakstol turned down the position with the Flyers twice. But the team's general manager, Ron Hextall, wouldn't take no for an answer and continued pursuing Hakstol.
The process became serious about two weeks ago, according to Faison, and picked up speed last Thursday and through the weekend. The stability and continuity from the institution and the plans that were set in place allowed for a quick transition.
Faison said he felt what Berry had already contributed to the program and his commitment to the culture set in place was what was best for North Dakota, although a national search wasn't out of the question.
"Certainly that's always a possibility," Faison said. "With our current standpoint with student athletes, that's a concern. The other thing is since we're in North Dakota, it's an open records state. It can have an impact on candidates and whether they get involved in the process or not. And so for us, this just made perfect sense. We've got the right people here; let's get it done."
Berry's proven record as a recruiter and coach and his understanding of the core values of the program presented him as the right coach to lead North Dakota toward new heights, Faison said.
"He's got a passion, you can tell that," Faison said. "I think the big thing for me is he gets 'it.' And 'it' is that culture in that locker room that has made this program so incredibly successful over so many years. That's a lot of things, but they know how to make it happen, and it doesn't happen everywhere. … He knows that culture. He gets it. He's part of it. That's so important."
Carrying on tradition
There seemed to be a common theme among current and former players' reactions.
"I was absolutely shocked to hear of Coach Hakstol leaving," former defenseman Nick Mattson said. "I don't think anyone saw that coming at all, but Coach Berry is going to do a great job and we're all really excited for him. He earned it for sure."
Berry was quick to credit his predecessors, including Hakstol, Dean Blais and Gino Gasparini, each of whom he said was instrumental in shaping the program into the caliber it is today.
"A few words that remind me of those guys and bring substance to our culture are humility, work ethic and respect, which breeds culture," Berry said. "And we talk about culture every day in our locker room, and those guys laid the blocks for that. We've got to make sure we uphold that with the players we bring in here."
One of Berry's first orders of business will be establishing his internal staff and finding another assistant coach.
Both Berry and assistant coach Dane Jackson have worked with Hakstol for many years and pride themselves in their transparency and a high level of trust, something they plan to carry with them.
After a whirlwind 48 hours for UND's newest head coach, he has accepted the new role with hopes of upholding the program's well-established tradition.
What Berry learned while working with Hakstol was more than just factors of the game.
"He's got the time of day for just about every person he'll want to know," Berry said. "A coach of his magnitude, the respect he has for other people and players — I think one thing I want to pride myself on is communication with the players, and giving them respect and making sure we're in this together."