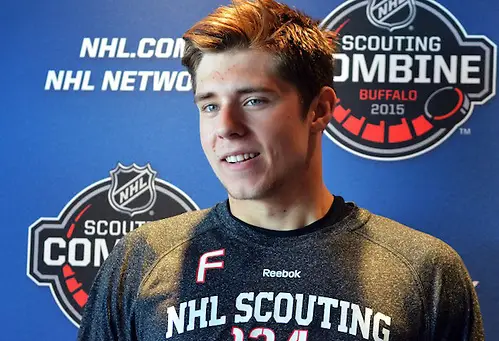 BUFFALO, N.Y. — Come for Jack, stay for A.J.
That's what hordes of NHL amateur scouts who flocked to Boston University last year to view the gifts of enormously talented freshman center Jack Eichel did.
2015 NHL Entry Draft
June 26-27, Sunrise, Fla
Selections: College players and recruits picked
Gallery: College players at the draft
First round: Record three players picked in top eight
Second round: Four Terriers players picked in top 50
Notebook: 27 college teams represented over 56 picks
A.J. Greer: At NHL scouting combine, Boston University forward sells his value in playing roles
10 years ago: Unusual draft launched memorable pro careers for college players
Zach Werenski: Young Michigan defenseman has high draft hopes but isn't sure on future plans
Noah Hanifin: Boston College defenseman serious about hockey on and off the ice
Jack Eichel: Top prospect distances himself from 'generational' talk
And while they were compiling the book on Eichel, they also got a chance to watch another freshman forward, A.J. Greer, whose numbers were far from gaudy (3-4–7), but whose multi-faceted skill set could make him one of those "diamonds in the rough" that scouts love to uncover.
Throughout the past week, those same scouts, not to mention strength and conditioning coaches, general managers and player personnel chiefs from each of the NHL's 30 clubs got to watch Greer — oh, and Eichel, too — in a far different setting at the league's scouting combine.
Greer, along with about 100 other prime prospects for the 2015 NHL Entry Draft, to be staged June 26-27 in Sunrise, Fla., underwent a thorough probe of psyche and physique, including a battery of interviews with interested teams and an arduous regimen of physical tests concluding with a leg-cramping stationary twirl on the infamous Wingate bike.
"The whole combine experience was fun," said Greer, who hails from the Montreal-area city of Joliette, Quebec. "It was definitely something I'm thankful I got.
"The tests were enjoyable. They were a lot of pressure. It was tough, and I like competition. The Wingate Cycle Ergometer was tough and it's something I definitely do not want to talk about."
Greer was ranked 69th in the NHL's final rankings of draft-eligible North American skaters, which projects to a possible fourth-round pick in the seven-round draft.
He was one of four combine invitees who played in college last year — joining Terriers teammate Eichel, Boston College's Noah Hanifin and Michigan's Zach Werenski.
And while the other three are all projected to become top-line NHLers likely to be taken within the first dozen picks of the first round, Greer's selling points are not measured in point production but in smarts, heart and versatility — qualities coveted by every NHL team and found on every Stanley Cup winner.
It seems that Central Scouting thinks so, hence the respectable ranking and the combine invite.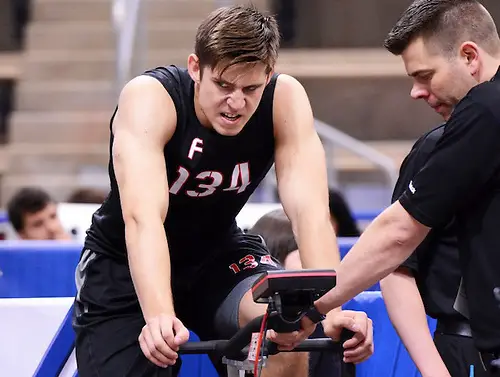 "I think it's all about the role," said Greer, who came to BU a year ahead of schedule after initially committing to Penn State. "Being introduced to college hockey a year earlier [than scheduled] was a challenge. It was hard at times. The first half of the year was tough. I was on the fourth line at times, got some third-line ice. Some power play, a little bit.
"But coach David Quinn worked with me the first part of the year. It made me gain that confidence. The maturity and the confidence I gained on and off the ice was definitely something special. It helped me with the second part of the year. During the most important part of the year — the playoffs — I got second-line ice. I tried to make the most of it.
"I said to every team I talked to here, I think I'm underrated. I know what I'm capable of doing, both at the college hockey level and in the future. I'll be the hardest worker out there. I'll be excited to see what I can do next year because there will be a bigger role for me [at BU]. I want to step up and show people what I can do."
At their request, Greer met with the several NHL clubs and he thought he left the best possible impression with each.
"They got to know me as a person," Greer said.
Clubs have been known to throw curve ball questions at knock-kneed teenagers during these sessions, seeing if they can stickhandle their way out of those corners. For his part, Greer said there was no way to prepare for those, nor any point in trying.
"Not at all," he said. "You get the question, you've got to answer it from my heart. I called my dad every day this week, and he'd go, 'So what'd they ask? How did you answer?' I said, 'Dad, I don't know. It just kind of came out.' That's the most important part of the meetings. You've just got to be truthful."
One such moment of truth came during his meeting with Buffalo, which is a virtual lock to take Eichel with the second overall pick.
Buffalo had earlier signed Eichel's Terriers linemate, Evan Rodrigues, as a free agent.
"It was kind of intimidating," Greer said. "There were 20 guys in there. But I think I did really well. The only thing I could do was try to sell myself. Now it's up to them to trust me."
Naturally, Eichel's name came up.
"They kind of asked me how he was," said Greer. They asked me if I was going to do better than him in the [combine] tests. But I think they have a great feel for him."
The same might be said for Greer, too.
After all, if they come for Jack …