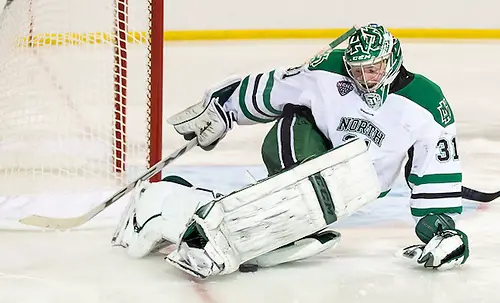 After initially announcing on May 13 he would not return to North Dakota for his senior season, goaltender Zane McIntyre officially signed a two-year contract with the Boston Bruins on Tuesday.
McIntyre, UND's Glenn "Red" Jarrett Male Athlete of the Year, capped a record-breaking career with the most decorated season by a UND goaltender. He was named the 2015 recipient of the Mike Richter Award, was one of three Hobey Hat Trick finalists, won the NCHC Goaltender of the Year award and was an All-NCHC First Team selection.
In 2014-15, McIntyre appeared in all 42 of UND's games, going 29-10-3 with a 2.05 GAA and a .929 save percentage. McIntyre led the nation in wins, appearances, starts and minutes played (2493:21), and ranked second in saves (1,111), fifth in winning percentage (.726), and 12th in save percentage.
McIntyre, a 2010 draft pick of the Bruins, departs as UND's all-time leader in career GAA (2.10) and save percentage (.926). He also ranks third all-time in wins (58), sixth in appearances (92), and seventh in winning percentage (.687) and saves (2,384).