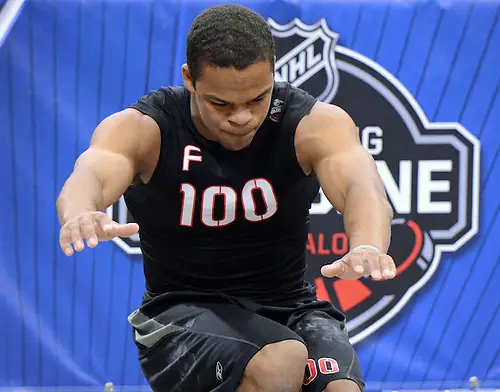 SUNRISE, Fla. — NCAA hockey made an impact at the 2015 NHL Entry Draft, with players that either skated in college last season or are committed to a college team making up more than a quarter of the picks.
After a record three current NCAA players — Jack Eichel, Noah Hanifin and Zach Werenski — were taken in the top eight of the draft on Friday, 53 current college players or committed recruits representing 27 different college programs followed in the remaining 203 picks at BB&T Center.
Twenty-six of the NHL's 30 teams chose at least one NCAA prospect in the draft, which concluded Saturday with the final six rounds.
2015 NHL Entry Draft
June 26-27, Sunrise, Fla
Selections: College players and recruits picked
Gallery: College players at the draft
First round: Record three players picked in top eight
Second round: Four Terriers players picked in top 50
Notebook: 27 college teams represented over 56 picks
A.J. Greer: At NHL scouting combine, Boston University forward sells his value in playing roles
10 years ago: Unusual draft launched memorable pro careers for college players
Zach Werenski: Young Michigan defenseman has high draft hopes but isn't sure on future plans
Noah Hanifin: Boston College defenseman serious about hockey on and off the ice
Jack Eichel: Top prospect distances himself from 'generational' talk
Michigan led all schools with six players drafted, including first-round picks Werenski and Kyle Connor and third-rounder Brendan Warren. Boston College, Boston University, Minnesota, North Dakota and Wisconsin each saw four players selected.
"I'm happy for Noah and Jack," Werenski said after being selected by Columbus on Friday. "They're really players and they bring lots to college hockey. I think it says a lot about college hockey and just how good it is."
Minnesota's Novak has to wait
Thomas Novak had to wait a lot longer than he wanted to on Saturday.
Ranked No. 28 among North American skaters in the final rankings from NHL Central Scouting, Novak, a center committed to Minnesota for next season, said the experience was nerve-racking. He eventually was taken in the third round at No. 85 by the Nashville Predators.
More stressful, perhaps, was that Novak was missing summer classes at Minnesota to attend the draft with his friends and family.
"On Thursday, I left a little early," Novak said. "I'm taking classes there through the summer."
Luckily for his grades, Novak will be back in time for his "Nature in the City" class on Monday.
"I just emailed them before I left," he said with a smile. "I think I'm all right."
A connection with the home team for Bachman
Karch Bachman was selected in the fifth round at No. 132 by the Florida Panthers, much to the delight of the hometown fans at BB&T Center. But as Bachman learned on his way to the interview room, he may have another, more meaningful connection with the Panthers organization.
"I just learned on the way here that the owner went to West Point," Bachman said. "Coming out of Culver [Academy], I have that military background which teaches a lot of discipline and teamwork. I think coming from Culver helps me out a lot."
Bachman is committed to Miami next season, and he said playing college hockey gives him a chance to grow his game.
"Going to Miami will provide an educational background for me," he said. "Plus, it'll give me the time to develop. I'm 5-foot-11, 175 pounds. I'm not going to make it to the NHL with that frame. I have to work off the ice and get stronger in the weight room as well."
Bracco's pick a first for his hockey-playing family
Jeremy Bracco, committed to Boston College for next season, comes from a family deeply rooted in college hockey.
"Hockey has always been in the Bracco blood," he said, donning a Maple Leafs uniform after Toronto chose him 61st overall. "My dad played at Dartmouth, my uncle played at St. Lawrence, my other uncle played at Plattsburgh. … For them, they never got to this point so they're really proud of me."
Bracco's mother, he said, has become passionate about the sport. Being chosen by Toronto will only add fuel to that fire.
"She's a huge fan of Tim Hortons," he said. "She's come a long way for sure, not knowing what offsides was and all that in college. Now, she's sitting up there with her knees trembling."
Bracco also took the time to give some press to his brother, Donato, a 7-year-old defenseman who plays with a physical edge.
"He likes to hit a little bit more than I do. He's kind of physical," Bracco said. "He wants to be a goalie for whatever reason. We have to get that idea out of his head.
"I'm always there any time I can support him or be there for him."