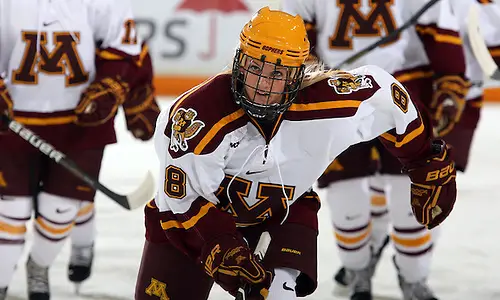 The Grand Forks Herald is reporting that Minnesota will be without Amanda Kessel for what would have been her senior season of 2015-16.
A former Patty Kazmaier Award winner, who led Minnesota in scoring for three seasons, sustained a concussion while playing for the U.S. National Team and hasn't played hockey since the 2014 Winter Olympics in Sochi, Russia.
She sat out last season with concussion-like symptoms and hasn't participated in any U.S. National Team activities since Sochi.
Kessel used her first redshirt to play in the Winter Olympics and her second one last year. She did not attend classes last year.
Minnesota coach Brad Frost said Kessel may try to finish school.
"It's just not worth it for her and her health," Frost said in the Herald article.
Kessel posted 97 goals and 231 points with the Gophers. including 101 points as a junior when she won the Kazmaier Award and helped Minnesota to a national championship as part of a 41-0 perfect season.