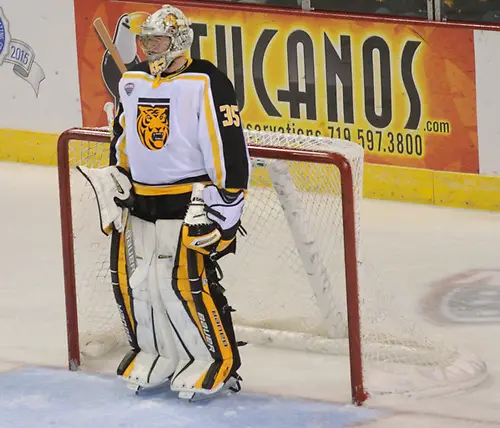 According to the Colorado Springs Gazette, goalie Chase Perry has left Colorado College and returned to the Wenatchee Wild, formerly part of the NAHL, but joining the BCHL for the 2015-16 season.
The Gazette report states that CC coach Mike Haviland was not caught off-guard by the move.
"He wanted to talk to his folks about it and make a decision this offseason," Haviland said in the report.
Perry went 1-8-1 with a 3.97 GAA and a .876 save percentage in 15 appearances last year after being a fifth-round draft pick (136th overall) by Detroit in the 2014 NHL draft.
The Tigers will have three goalies next season with incoming freshman Jacob Nehama and juniors Tyler Marble, who emerged as the starter last season, and Derek Shatzer, who did not play in 2014-15.
"I chose to return to Wenatchee because of the high quality coaching, the strength of the Wild organization and the support of the entire Wenatchee community," Perry added in the report. "I know with Coach Bliss [Littler] we will have a team of high intensity players looking to reach the next level and an opportunity to play for a BCHL championship."
The article also said forward Dan Labosky will not return to the team after seeing the ice in just two games in 2014-15 as a freshman.