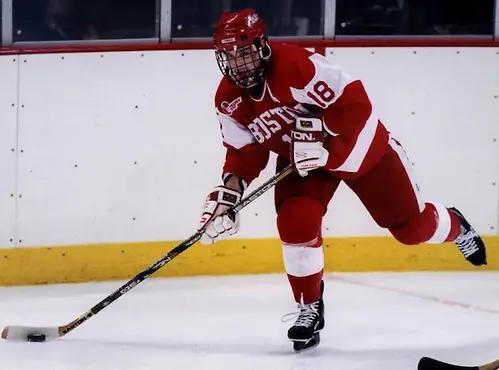 Three former college hockey players — Boston University All-American and Hobey Baker Award winner Chris Drury, Harvard All-American and Patty Kazmaier Award recipient Angela Ruggiero and former Middlebury goaltender Ron DeGregorio — are among the four individuals announced Monday as the U.S. Hockey Hall of Fame class of 2015.
The class, which also includes former standout NHL defenseman Mathieu Schneider, will be formally inducted at a ceremony on Thursday, Dec. 17, at the Renaissance Boston Waterfront Hotel.
"This is a tremendous class," USA Hockey executive director Dave Ogrean said. "As the years go by, we are installing people who are friends, who I've worked with or watched play.
"As time goes by, the history of American hockey gets richer and richer and the candidates of the classes get stronger and stronger."
A 12-year NHL veteran, Drury captured the 2001 Stanley Cup as a member of the Colorado Avalanche. But before landing in the NHL, his collegiate career was among the most memorable of any player in the storied history of Boston University.
Drury played at BU from 1994 to 1998 and amassed 214 points in 155 career games. He was a member of the 1995 national championship team as a freshman, was Hockey East's player of the year in 1997 and '98 and won the Hobey as a senior in 1998 after being a finalist the previous two seasons.
A year later, Drury won the Calder Memorial Trophy as the NHL's rookie of the year, making him the only person to capture the Hobey Baker and Calder trophies.
"USA Hockey has always meant the world to me and my family," said Drury, whose brother Ted, a Harvard grad, also played for multiple U.S. national teams. "Certainly, without USA Hockey and coaching at 15, 16 and 17 years old, I may never have made it. I am certainly humbled today.
"When you look at the list of [Hall of Famers], there are so many who I wanted to be like. It's special to now be alongside them."
Ruggiero is a four-time Olympic medalist representing Team USA and played more games in an American uniform (256) than any other ice hockey player in the country's history.
But Ruggiero also left her mark at Harvard, helping lead the team to a national title as a freshman in 1999 and capping her career with the Patty Kazmaier Award in 2004. In 127 games for the Crimson, Ruggiero totaled 243 career points from the blue line.
"I'm so excited today and so happy to be part of this class," said Ruggiero, who checked in Monday from Malaysia, where she is tending to her duty as a member of the International Olympic Committee. "I can't say enough for USA Hockey and what they have done for my career.
"Fortunately, I found hockey at a very young age when I was 7. I was able to compete on my first [national] team in 1998 and can't say enough about the opportunities I have had because I wore the [U.S.] sweater for so long."
DeGregorio may have had the most modest college hockey career of the trio at Middlebury in the 1960s, but his achievements after his playing days left his permanent mark on American hockey.
His 40-plus-year career with USA Hockey included a 12-year span as the organization's president ending in June. He was instrumental in the formation of USA Hockey's National Team Development Program, which has evolved into a revered program that has enhanced elite player development and U.S. success in international competition.
He also was instrumental in the development of USA Hockey's American Development Model, which was launched in 2009 and has been widely acclaimed, including today being used as the basis for the U.S. Olympic Committee's athlete development program.
Among other signature programs, DeGregorio also championed the implementation of USA Hockey SafeSport as well as USA Hockey's Progressive Checking Skill Development Program. His leadership is also evident in the insurance and risk management arenas and in use of technology, including the push to online player registration and online education modules in coaching and officiating education.
"This is quite an honor," said DeGregorio. "USA Hockey is blessed with so many great leaders gathered to grow the game. From the grassroots level to the NHL to the international, we've had such great success."